Holt SAC North Norfolk National Sea League 2018-19 Round 1 (Report)
Sunday 14th October 2018 - Bacton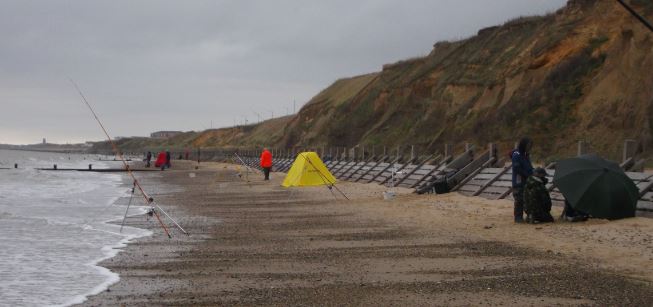 Holt SAC's Round 1 of the North Norfolk National Sea League was held at BACTON on SUNDAY 14TH OCTOBER fishing 12:30-5:30 HW 10:45 4.6m. Draw for this match was in the Castaways Cliff Top Inn where team members were able to stock up on the usual bacon and sausage rolls along with the usual tea, coffee and other beverages. Many thanks once again to Anna and Richard for allowing us the use of their premises for parking, the draw and presentation at the end.
Not an early start but the troops were arriving more than 3 hours before kick-off, that's dedication for you or were they just after the bacon rolls. There were a few locals with others coming from the areas of Gt Yarmouth and Oulton, Norwich, Kings Lynn, Ely, Corby, Kettering, the usual Humber man, along with other unknown places plus of course that man from distant Staffs, well done Dave! Just 6 teams this year although there is still time for other teams to join as one worst match score is dropped and all teams will qualify for the 2019 Final. Although just 6 teams they are all 5 strong with reserves and as will be seen from this match's result they are all evenly matched so it's going to be a good competitive competition this season. For this match there were 5 full teams and one Individual, 31 anglers in total.
Match stretch for this one was as usual in front of the Gas Site which could be the last time we fish this stretch in the Sea League. This is because starting in spring 2019 they are planning to do some Sandscaping in front of the Gas Site as well as in front of Bacton and Walcott similar to an existing project in the Netherlands. This will consist of placing between 1.5 and 1.8 million cubic metres of sand on the beach with 1 million cubic metres in front of the Gas Site. This will cover the revetments and extend out passed the end of the current pipes and it is believed there will be a submerged rock reef a few 100 metres further out. This will totally change the topography of the beach and cover any existing worm beds which could result in the disappearance of those stonking Bacton Flounders. The submerged reef is a concern but there it could give us a totally new environment where fish find a new habitat and even new species could move in. They say it is planned to last for 20 years but they've probably underestimated the power of the North Sea along this stretch particularly after last winter's predominant easterlies. It could all be swept to Mundesley and beyond within a couple of years or less, we shall see! More info can be obtain from www.north-norfolk.gov.uk/sandscaping.
Back to the present, so pegging for this one was 3 Zones (C,D&E) between Pipes 1 & 2 and 2 Zones (B&C) between Pipes 2 & 3. For this one the bay east of Pipe 1 was omitted due to the large deep hole in this bay exposed during the last Club match here 2 weeks prior. Forecast for the afternoon was wet, wet and very wet with lightish westerlies swinging north west 20 to 30 mph and disappointingly they got this almost spot on although 20 mph was rather conservative.
At the whistle everyone was able to set up in front of the revetments and were settling for a nice pleasant match in decent conditions with an almost flat sea. A few fish start to appear immediately including a few of those stonking Bacton Flounders but it certainly wasn't hectic. A situation that led to plenty of beach banter and the obligatory Flounder walk in what was then rather benign conditions. The ebbing tide was reluctant to go and even 3 hours after High it only moved a short distance from the revetments but there it wasn't a particularly big tide. However, all was about to change as the wet stuff started to switch on and the wind went up a few notches and switched to north westerly.
This change in conditions brought on a slight surf which prompted a switch in tactics to silly close (10-20 metres) in Zones A & C resulting in a number of those good Flounders being picked and good points on cards. As the tide at last started to recede the wind picked up even stronger and they weren't wrong with their 30 mph gusts and they could have been even more. Coupled with lashing rain which was now permanent the conditions had become horrendous . An almost flat sea had turned into 4 – 5ft waves rolling in but surprisingly still fishable if you could get out.
Wind and tide colluded with the help of a little (very little!) weed to roll leads eastward within minutes of casts particularly if you didn't have fixed wire leads. However, fish were still there with a few Dabs and odd Whiting at distance and some Flounders slightly closer along with the odd Bass. Rumours of a big Bass flowed along the stretch which prompted many to adopt drastic measures like standing in the surf with rod held high to try and prevent bait being swept eastward. Others or maybe just one ventured into the surf to cast over the white water in front, nice one Bev!
For some the conditions were too much particularly your Jack Topping who was really struggling with the wind and called it day but he'll be back as enthusiastic as ever. Others like the 'Asian Ace' had to retire as you needed a little distance to stay out and that was not his forte but he already had a Bass, well done Peter! Perseverance was now the name of the game and even birthday "boy" Willy stuck it out to the end whereas a few were forgoing the last 15 minutes for an early walk, well done Willy! For this one the final whistle could not have come early enough and it was an experience we don't want repeated.
Even in these conditions there were quite a few good fish there but it was that man who always reads the sea superbly who did the business and that was Big Catch Tackle's HENRY RANDELL (Peg 9). With a Flounder of 35cm (52pts) and a Whiting on his first cast we all knew he was in top form particularly when he then went silly close before the weather really broke and found a raft of 30+cm Flounders. However, top marks must go to him for his last cast where after knowing that someone had a big Bass and it was going to be close he hammered out a 3 hook flapper with 5 worms (Blakeney worms!) on each and 10oz lead and held his rod high in the surf for 20 minutes. Result a 28cm Flounder which effectively won him the match with 6lb 5oz from 7 Flounders ,2 Whiting and a Dab, well done Henry! Runner up was the man with the Bass in Angling Direct Norwich's LEON SMITH (Peg 27) with 6lb 2oz which included a 58cm (182 pts) Bass, 3 Flounders, 1 Dab and 1 Whiting. Final podium slot went to JOHN CARTER fresh from his trip to County Wexford with 4lb 4oz from 6 good Flounders and a Whiting.
In the Teams it was the winner's team that took the victory in BIG CATCH TACKLE with just 8 penalty points from 2 x Zone wins, 1 Zone 2nd and 4th with 4th place dropped. There was a tie for runners up slot between ANGLING DIRECT NORWICH and ANGLING ADDICTS both on 11 penalty points with the former having a Zone win, Zone 2nd, Zone 3rd and Zone 5th with a Zone 5th dropped and the latter 2 x Zone 2nds, a Zone 3rd and Zone 4th with a Zone 6th dropped.
The Heaviest Flat fish was that 35cm (1lb 1oz) Flounder taken by HENRY RANDELL (Peg 9) with 34cm Flounders to MATT BREWER (Peg 12) and BILLY TEMPLE (Peg 29). Heaviest Round was that 58cm (3lb 13oz) Bass to LEON SMITH (Peg 27) with a 38cm Bass to NEAL SMART (Peg 19), a 37cm Bass to BILLY TEMPLE (Peg 29) and two 36cm Bass to MATT BREWER (Peg 12) & PETER LOKE (Peg 38). Altogether there were 118 fish (54 Dabs, 43 Flounders, 14 Whiting and 7 Bass) were recorded weighing 50lb 14oz.
In the Zones, HENRY RANDELL (Peg 9) of Big Catch Tackle took Zone A with 302 points from 10 fish followed by SIMON BONE (Peg 10) of Angling Direct Norwich with 72 points from 5 fish. Zone B was taken by PAUL MARSHALL (Peg 18) of Big Catch Tackle with 116 points from 6 fish followed by a tie with MATT BREWER (Peg 12) of Angling Addicts with 103 points from 3 fish and NEIL SMART (Peg 19) of Gorleston Tackle also on 103 points from 4 fish.
Zone C went to LEON SMITH (peg 27) of Angling Direct Norwich with 295 points from 6 fish followed by JOHN CARTER (Peg 22) of Angling Addicts with 204 points from 7 fish. Zone D was taken by IAN CHILDERHOUSE of Charlies Angels with 102 points from 7 fish followed by PHIL READ (Peg 40) of Big Catch Tackle with 54 points from 5 fish. Zone E was taken by MIKE TOPPING (Peg 43) of Gorleston Tackle with 113 points from 11 fish followed by MIKE WATTS (Peg 41) of North Norfolk Lads with 94 points from 8 fish.
Considering the weather this was a cracking match and if the wind had not got up there would have been a lot more Flounders but they were still there even in those conditions. Unlike last season this is going to be a very close competitive league this year. With just 7 points covering all six teams it is going to be tight all the way through. Next Club and Open match is Round 2 of this League at GT YARMOUTH South Beach on SUNDAY 4TH NOVEMBER fishing 10:00-3:00 LW 12:09 4.5m. Draw will be from 8:30 at the Monument (NR30 3PX) … Tony T
Top 10 Individuals (on the day) …
1...Henry Randell........6lb.4 2/3oz..(10 Fish) (Peg 9)
2...Leon Smith............6lb.2 1/3oz..( 6 Fish) (Peg27)
3...John Carter..........4lb.4oz……….( 7 Fish) (Peg 22)
4...Dave Shorthouse...2lb.8oz........( 6 Fish) (Peg 24)
5...Paul Marshall.........2lb.6 2/3oz..( 6 Fish) (Peg 18)
6...Mike Topping.........2lb.5 2/3oz..(11 Fish) (Peg 43)
7...Billy Temple..........2lb.3oz........( 3 Fish) (Peg 29)
8=.Neil Smart............2lb.2 1/3oz...( 4 Fish) (Peg 19)
8=.Matt Brewer..........2lb.2 1/3oz...( 3 Fish) (Peg 12)
10.Ian Childerhouse...2lb.1 2/3oz...( 7 Fish) (Peg 33)
Teams on the Day …
1...BIG CATCH TACKLE………………...8 Points
2=.ANGLING DIRECT NORWICH….11 Points
2=.ANGLING ADDICTS………………...11 Points
4...NORTH NORFOLK LADS…………..13 Points
5...CHARLIES ANGELS………………….14 Points
6...GORLESTON TACKLE……………….15 Points
------..------