Holt SAC North Norfolk NSL 2021 Round 2 and H. Mack Cup (Report)
Sunday 21st November 2021 - Gt Yarmouth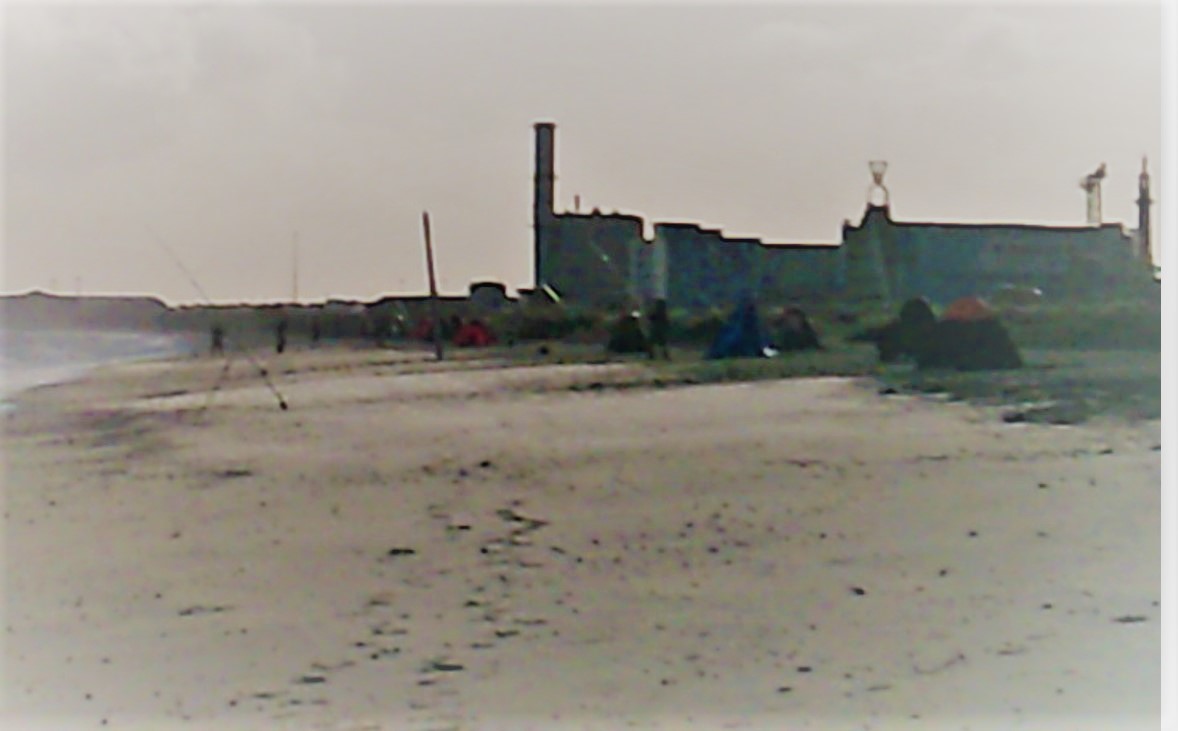 Round 2 of Holt SAC's North Norfolk National Sea League match including for the Club's H.Mack Cup was held at GT. YARMOUTH on SUNDAY 21ST NOVEMBER fishing 10:00 until 3:00 with a biggish 4.7m HW at 9:43. After a tough NSL Final at Skeggie the previous weekend everyone was optimistic that the fishing and conditions would improve from that one. Unfortunately, that was not the case as like Skegness the fish were there one minute and gone the next and that dreaded weed tried to muscle in on the act but not quite as bad as that weekend.
The Club's Covid friendly draw was done at the Monument in double quick time. Many apologies for being a tad late to conduct this and I will take up Mike Toppings offer to organise the pegging next time. With pegs being nicked (for what purpose goodness knows) we were not fishing 1 – 40 but 101 – 140 which looked a bit odd. We'll get them sorted one day.
Another good turn out of 7 almost full teams and one Individual with two of the teams one man short and two other teams fielding a super reserve each who did the business for them. It was good to see the new teams sticking it out and although they struggled a bit their time will come when they find out how to master cracking the others, we have all been and some are still there. Lads, don't let this depress you and deter you from keeping up the challenge in the remaining rounds.
Pegging for this one was one zone to the left (North) of the Welly in front of the Se Life centre on the Central beach and the rest right (South) of it in front of the Pleasure beach on the South beach. With the start just after high water there was just enough space in front of the low sand dunes in the last 4 zones to comfortably set up camp.
Forecast for the day was a chilly moderate northerly with the odd brief shower and broken sunshine which was spot on. After the balmy temperatures of the previous days this was certainly a shock to the system and when the wind dipped a little easterly it certainly made the sails on Scrobie Sands wind farm quiver a bit reaping some real energy from the northerly blast. So not so much in your left ear flow but a chilly in your face blast. Normally, the seas are quite protected here but with the wind nudging east and picking up a notch or two the sea responded accordingly creating white horses out to sea along with a slight swell rolling along. All of this put a reasonable colour in the water and everyone was optimistic of a cracking session with plenty of fish.
Optimistic to an extent that Mr Organiser decided to hand out extension cards for more than 52 fish just as he did at Skeggie. Well what a wrong move that was with the same result as at Skegness. Lack of numbers of fish with no one using the extra cards as Mike Watts had the most fish of 49. Apart from finding fish the first challenge for everyone was parking and how to find a route through to the prom and the sea. At the end there were no complaints about this so assume all used their ingenuity to navigate to their sandy peg.
At the whistle all rods began to nod immediately although disappointingly due to the chilly wind rather than acres of fish. However, some were as a result of fish and single, doubles and trebles started appearing on cards within ten minutes of the start. Mainly Whiting mostly small with a few over 30cm and a few Dabs. No real distance needed for these but the weed did create a few problems where distance would big up the stuff and move the lead round or close in would cover the line and be a damn nuisance when retrieving. Being just after the top meant a 60-80 yard chuck with rods held high to avoid the close in weed.
In the first hour everyone carded, some more than others with a few really struggling. At the start and the beginning of the ebb saw a good tide ripping through helping to bring those double and treble shots being hauled in on first casts. Unfortunately, this was not sustained as the ebb picked up into the 2nd hour the tide eased and so did the fish with empty traces with untouched baits being retrieved. Even those that had been totting up the Whiting early on were just finding the odd one or two. By the time the 3rd hour arrived the Whiting had all but gone, the Whiting switch had been turned off
This now needed a change of tactics like that taken by Yarmouth Ace Clyde Leggett (Peg 106) who knows this beach like no other so out came his Dab rigs. This did the trick whilst others were barren he was recording doubles and trebles of Dabs in that 3rd hour albeit small with the odd Whiting but a steady flow of points on his card. To add to these he found a 33cm Flounder worth a whopping 44 point, Flounder that size at Gt. Yarmouth, where did that come from? Although this kept the flow of points going there were others who kept finding quality Whiting during this hour putting more serious points on their cards. Then there were others who just found the odd Whiting or none at all.
For some, despondency set in as traces were being retrieved untouched during the 4th hour with others continuing to catch. For most, even those who had been catching this was the dire part of the match but then the tide started to pick up and switch direction as slack water turned into a full blown ebb. Although the last hour brought back the weed it also brought back the Whiting and doubles and trebles started to appear again. For those that already had healthy cards this meant a further top up and trying to stay ahead or overtake those in a similar position. For the others it was just a bit too late as the damage had already been done early on and not enough time to catch up.
At the whistle it was a double shot of Whiting worth 29 points on his last cast that gave Big Catch Tackle's DAVE READ (Peg 102) victory with 11lb 14oz from 44 fish consisting of 37 Whiting and 7 Dabs. Five treble shots of quality Whiting in the last hour with 4 fish over 30cm did the real business for him. Runner-up was North Norfolk Lads' MIKE WATTS (Peg 134) with 11lb 12oz from 49 fish comprising 33 Whiting and 16 Dabs. Consistently catching throughout as usual but needed another Whiting to go with his 29cm version on his last cast to secure victory but not to be this time. Final podium slot went the Big Catch Tackle's newest recruit in DAVE SHORTHOUSE (Peg 109) with 11lb 4oz from 42 fish comprising of 34 Whiting and 6 Dabs. Again consistency was the name of his game throughout but 3 double shots and 2 trebles in the last hour did the business include a treble worth 24 points on his last cast.
In the Teams, with 8 penalty points each victory was shared by BIG CATCH TACKLE with 3 x Zone wins, a Zone 5th and a 5th place droppedand NORTH NORFOLK LADS with a zone win, 2 x zone 2nd, a zone 3rd and a 5th place dropped, Final podium team place went to TEAM MANIK with 9 penalty points with 3 x Zone 2nd, a Zone 3rd with a Zone 3rd dropped.
The heaviest Flat fish was that 33cm (15oz) Flounder taken by CLYDE LEGGETT (Peg 106) and Heaviest round a 33cm (9oz) Whiting taken by DAVE READ (Peg 102). Altogether there were 856 fish (583 Whiting, 267 Dabs, 2 Bass, 2 Flounders and 2 Coal fish) recorded weighing 202lb 13oz.
In the Zones, DAVE READ (Peg 102) of Big Catch Tackle took Zone A with 569 points from 44 fish followed by ADRIAN BORDIANU (Peg 103) of Team Manik with 539 points from 43 fish. Zone B was taken by DAVE SHORTHOUSE (Peg 109) of Big Catch Tackle with 540 points from 42 fish followed by KEVIN GREEN (Peg 115) of North Norfolk Lads with 342 points from 30 fish.
Zone C was taken by PAUL MARSHALL (Peg 117) of Big Catch Tackle with 464 points from 35 fish followed by another new team recruit PAUL THORBURN (Peg 123) of Team Manik with 433 points from 42 fish. Zone D went to ALAN DOY (Peg 132) of Gorleston Tackle with 502 points from 41 fish followed by DAVE WRIGHT (Peg 127) of North Norfolk Lads with 325 points from 27 fish. Zone E was taken by MIKE WATTS (Peg 134) of North Norfolk Lads with 563 points from 49 fish followed by MARIAN SPERIA (Peg 133) of Team Manik with 532 points from 48 fish.
Expectations were high for this one with the anticipation of plenty of fish. All those who participated in the NSL Final at were looking forward to a better experience than that weekend. Although a few of the usual performers did find the fish in numbers the remainder did not leaving them rather disappointed and way short of that expectation. This venue normally seriously performs for this match at this time of year, maybe we got something wrong.
Seeing the local Freddie England's Jubilee Club thundering up to the north end of Central beach for a 12:30-4:30 was the clue to what we did wrong. They knew the ebb and bottom of the tide fishes better here so that's what they were doing resulting in a lot of big Whiting on their cards at the end of their match. We would have normally been fishing this match the previous weekend and then the state of the tide would have been perfect but of course we were at the Final in Skegness. Food for thought and scheduling our 2022 match here.
Anyway it was the same for everyone although it did exaggerate the peggy parts of the zones. In the end a very competitive match with some very close results and with some positions won by a mere point.
Next Club match should have been tomorrow (28Nov21) at Salthouse but Arwen has intervened …Sheringham Seafront Webcam - Visit Sheringham so for obvious reasons it has been cancelled, sensible decision! Next Club match and Open will now be Round 3 of the North Norfolk National Sea League and for the J. Long shield at KELLING via Muckleburgh Collection on SUNDAY 5TH DECEMBER fishing 10:00-3:00 HW 6:31 5.1m. More info will be provided by usual weekly text. Will team members please place the extension card in their box as you may need them in future particularly with the number of Whiting around at present.
Please note that this match was originally scheduled for Cley but because they now have a policed ticket machine in the beach car park we decided to move to Kelling where parking is under our control. Please also note that if we still have cold bad northerlies we will move to Gorleston if conditions are ok there.
Giving everyone a heads up on an event happening the following weekend SUNDAY 12TH DECEMBER at GT. YARMOUTH Central and South Beaches. This will be a Tony Hewitt Memorial match in memory of this popular local match angler and organiser. The match will be run by Freddie England (07512876951) and the Jubilee Club. As Holt SAC do not have a match that day we will treat this as a Club match and take the result from the match results for Holt SAC members like for the Gorleston Tackle Open. Entry will be £10 tickets paid in advance and optional £5 pools on the day. Tickets will be available directly from Freddie or Gorleston Tackle or Pownalls in Gt. Yarmouth. Alternatively, Bev Self will be collecting Club entry fees for this particularly one next Sunday at the To5 match, thanks Bev.
Let's hope the weather quietens down for next weekend … Please stay save … Tony T
Top 10 Individuals (on the day) …
1...Dave Reed..........11lb.13 2/3oz……(44 Fish) (Peg 102)
2...Mike Watts………...11lb.11 2/3oz……(49 Fish) (Peg 134)
3...Dave Shorthouse.11lb.4oz……….....(42 Fish) (Peg 109)
4...Adrian Bordianu…11lb 3 2/3oz......(43 Fish) (Peg 103)
5...Marian Speria......11lb.1 1/3oz….…(48 Fish) (Peg 133)
6...Alan Doy…….........10lb.7oz………....(41 Fish) (Peg 132)
7...Paul Marshall.........9lb.10 2/3oz….(35 Fish) (Peg 117)
8...Paul Thorburn………..9lb 0 1/3oz…..(42 Fish) (Peg 123)
9...Mike Topping………...8lb.15 1/3oz….(35 Fish) (Peg 138)
10.Paul Harvey............7lb.6 2/3oz…...(27 Fish) (Peg 101)
Teams on the Day …
1=.NORTH NORFOLK LADS .……8 Points
1=.BIG CATCH TACKLE..………….8 Points
3...TEAM MANIK …………………..…9 Points
4…GORLESTON TACKLE …….….13 Points
5=.NAC A TEAM…………………..…20 Points
5=.ANGLING ADDICTS…………..20 Points
7...NAC B TEAM………………...……19 Points
Teams to date after round 2 …
1...NORTH NORFOLK LADS ……13 Points
2…BIG CATCH TACKLE..………….20 Points
3...TEAM MANIK ………………….…22 Points
4…GORLESTON TACKLE …………26 Points
5=.NAC A TEAM……………………...35 Points
6…ANGLING ADDICTS…………….37 Points
7...NAC B TEAM…………………….…42 Points
------..------