Holt SAC North Norfolk NSL 2021-22 Round 1 and Sid Ernie Cup (Report )
Sunday 10th October 2021 - Bacton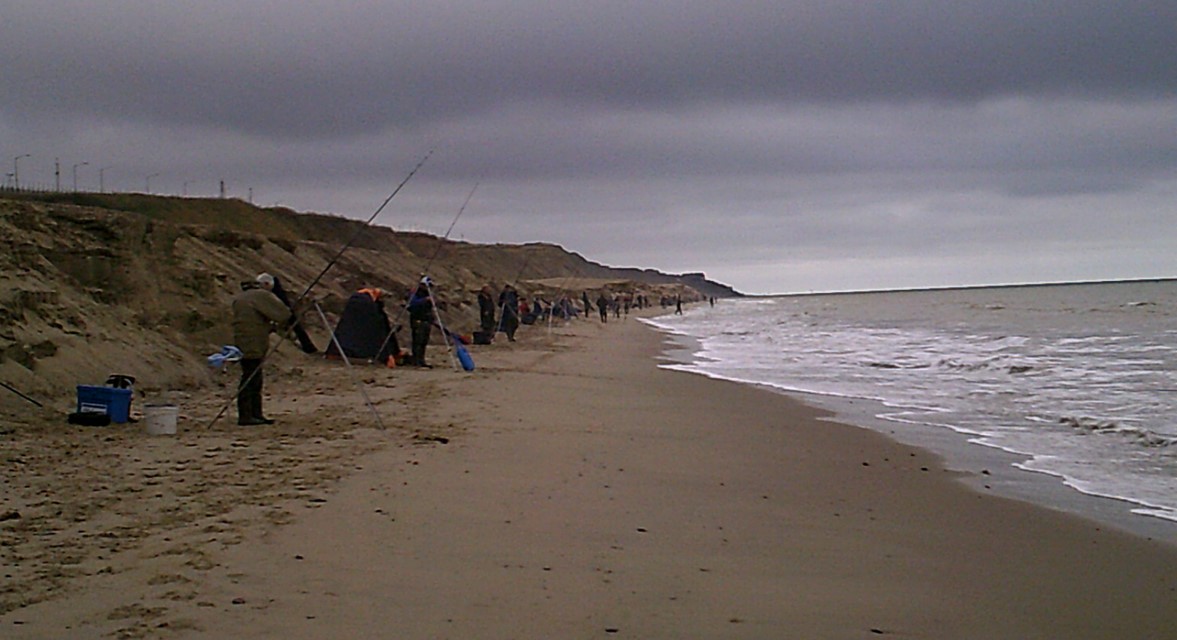 Round 1 of Holt SAC's North Norfolk National Sea League match including for Club's Presidents Cup was held at BACTON via Castaways on SUNDAY 10TH OCTOBER fishing 11:00 until 4:00 with a big 5.2m HW at 9:31. With a mid-morning start all could make a leisurely journey (some more leisurely than others) to the Cliff Top Inn to partake in bacon and sausage butties washed down with the usual beverages. Many thanks again to Anna and Richard for allowing us to use their premises for parking, draw and presentation at the end.
A good turn out of 7 almost full teams and one Individual which is two more teams than last season. Good to see two strong teams from the local Norfolk Angling club joining us this year, welcome aboard lads! A bit of a struggle for most of your team members in this one but Bacton is an unforgiving and unpredictable venue for everyone so please don't be despondent and come back full of that enthusiasm you had at the start of this one for the next round at Gt. Yarmouth, it will be better!
Pegging for this one was one zone to the right (East) of the old 1st pipe and the rest left (West) of the pipe. A few muted moans from those that said we should have gone all right of the pipe, however our test match two weeks earlier on a similar tide showed some depth of water west of the pipe and a few fish. It was further demonstrated at the end that we'd got it right with a deep gully shore-side of the close in sand bar and acres of flat sand further east all of which would made it totally unfair for those who could not cast any distance.
A flat sea before the match with inclement overcast weather but as predicted that very quickly changed with a chilly north westerly just before the start and some fine drizzle as the cold front went through. Although the sun did break through a little later to take off a little of the chill. Everyone was moaning before the start about the amount of red weed on the beach and after reports of horrendous amounts of weed at Cromer and along that stretch. Everyone was prepared for a tough weedy session but as it happened the majority of it was in the weedy soup close in and a few clumps further out. Keeping rods high would avoid the close in stuff and a tap tap on the rod would release the majority of the weed on the line so the weed was not really a problem just annoying.
Starting 1 ½ hrs after high meant there was plenty of space in front of the new cliff to set up and as it was a latish 11:00 start everyone was soon down there getting prepared. However, as he is normally very late on the beach Mr Organiser decided to get ahead of the game by parking his trolley and equipment on the new cliff at the bottom of the ramp from the Gas site prior to pegging the beach. Unfortunately, Bacton Gas site is seen as a terrorist target and has 24/7 armed police patrolling. According to NAC A Team captain Roger Cunnington when he passed the trolley two armed officers were gingerly inspecting it as suspicious and his immediate reaction was to yell out "don't blow it up" (that would really have made a mess of the bait). Of course they probably wouldn't have done this but just shows they are vigilante and do notice anything they cannot understand. They are probably more nervous these days and suspicious of anything untoward. Maybe in future we should be informing the necessary authorities about any match of 40-60 anglers fishing at the perimeter of such a sensitive site. Another task for Mr T or for our resident local officer.
Anyway, back to the fishing and at the whistle everyone was contemplating how to handle the weed. Shortish casts of 40-60 yards was probably the optimum choice and any distance might get into the distant gully but would pick up more weed. Any chance of a bit of distance with a slider was out of the question with the weed soup in the waves.
For the first hour many struggled, well all except Big Catch Tackle's captain young Henry Randell on Peg 5 who was into fish straight away clocking up 5 fish in that hour including a 42cm Bass worth 74 points. Those around him watched in amazement as he hauled in fish after fish whilst their rods remained motionless. This is a habit of Henry and he does this all the time leading to a comment from one in his zone that he brings the beach with him. Not exactly a practical answer but he does have the knack of finding fish when those next to him don't, well done Henry.
Not many recorded fish in that first hour but Marian Spirea (Peg 13) did manage a double shot of 31cm Bass and 43cm Hound to go with a couple of Whiting. Altogether in that first hour just 30 fish were recorded by 17 members so not exactly terrific. As the tide ebbed and the sand started to show things really didn't improve and in fact got worst with just 27 fish recorded by 16 members in the second hour. Although, as usual metronome Mike Watts (Peg 38) found 5 of them, a mixture of Dabs and Flounders which did include a 31cm version of the latter. A returning Russell Taylor (Peg 11) to the scene thought his luck had changed with 3 fish in that hour but unfortunately could not sustain that performance finding just one more fish in the rest if the match. Young Jack Topping (Peg 9) was also on form finding 3 fish including a nice 42cm Bass, well done Jack!
Things really didn't improve at all in the third hour with just 18 recording fish of which just 28 were found and a similar pattern to the previous two hours. However, a few did manage 3 or more fish during this period these included Will Sprules (Peg 2), John Spalton (Peg 37), yet again Mike Watts (Peg 38) and Adrian Bordianu (Peg 39). However, star of this hour was Dave Wright (Peg 12) and although he only had 3 fish one of those was a nice 48cm Bass worth 110 points putting him in contention for the top spot.
Fortunately, for the fourth hour after 2:00 things did improve dramatically much to the relieve to some finding their first fish. Altogether 43 fish were recorded in this period with the majority recording at least one fish. After find where the fish were Dave Wright (Peg 12) continued his challenge for victory with 4 fish including a 37cm Bass and a double shot of 31cm & 28cm Flounders and serious points on his card. Next door Marian Spirea (Peg 13) tried to keep up with 3 fish but could only find a 39cm Bass to compete.
The final hour of the match saw at least 55 fish recorded with those who caught early struggling and those who didn't finding fish. Will Sprules (Peg 2) continued his previous success with 5 fish and Mike Topping (Peg 3) also finding 5 fish. After a quiet middle period Henry Randell (Peg 5) got his mojo back with 5 fish including a 41cm Whiting worth 51 point, just where does he find such at this time of the year? Kevin Green (Peg 7) finally found 4 fish to make his card more respectable and Paul Harvey (Peg 6) found a 32cm Flounder to take him over a pound. Tom Gibbs (Peg 19) was struggling early on but managed to find 3 fish in this hour including a 35cm Bass. Also finding a 35cm Bass was Nelu Serban on the stroke of 3:00 to make his score more competitive.
A slow start for Dave Read but 3 flatties in last hour including a 31cm Flounder made his card more respectable. Some stuttered in this final hour including the metronome but Adrian Bordianu (Peg 39) on next peg got his act together finding 3 fish including a 32cm Flounder. Unfortunately, two usual contenders at this venue could not find a fish in this hour leaving Bev Self (Peg 36) and John Carter (Peg 40) with both just 4 fish whole match and not a good day for them, They'll do better next time.
In that last hour North Norfolk Lads DAVE WRIGHT (Peg 12) topped up his card with 25cm, 30cm & 32cm Flounders to take victory 8lb 6oz from 14 fish comprising of 6 Flounders, 4 Dabs, 2 Bass and 2 Whiting. Runner-up was Big Catch Tackle's HENRY RANDELL (Peg 5) with 6lb 9oz also from 14 fish comprising 6 Flounders, 4 Dabs, 3 Whiting and 1 Bass. Final podium place went to North Norfolk Lads' MIKE WATTS (Peg 38) with 6lb 1oz from 15 fish comprising 7 Flounders, 7 Dabs and 1 Whiting.
In the Teams, it was NORTH NORFOLK LADS who took victory by a healthy margin with just 5 penalty points from 3 x Zone wins, a Zone 2nd with a 5th place dropped. Runners-up slot went to BIG CATCH TACKLE with 12 penalty points from 2 x Zone wins, 2 x Zone 5th and one no show. Final podium team place was a tie with 13 penalty points between GORLESTON TACKLE with 3 x Zone 3rd, 1 x Zone 4th with a Zone 6th dropped.
The heaviest Flat fish was a 37cm (1lb 4oz) Flounder shared by WILLY GROOMBRIDGE (Peg 24) and TONY THOMAS (Peg 32) and Heaviest round that 48cm (2lb 5oz) Bass taken by DAVE WRIGHT (Peg 12). Altogether there were 188 fish (86 Dabs, 58 Flounders, 24 Whiting, 13 Bass, 4 Hounds, 2 Sole and 1 Coal fish) recorded weighing 77lb 8oz.
In the Zones, HENRY RANDELL (Peg 5) of Big Catch Tackle took Zone A with 315 points from 14 fish followed by WILL SPRULES (Peg 2) of NAC A TEAM with 204 points from 12 fish. Zone B was taken by DAVE WRIGHT (Peg 12) of North Norfolk Lads with 402 points from 14 fish followed by MARIAN SPIREA (Peg 13) of Team Manik with 193 points from 8 fish.
As last year Zone D went to two adversaries of the Blakeney Greasy Pole in the mid 60's but with roles reversed and more fish. Top man this year was BILLY TEMPLE (Peg 25) of Big Catch Tackle with 152 points from 8 fish followed by TONY THOMAS (Peg 32) of North Norfolk Lads with 134 points from 6 fish. Zone C was taken by WILLY GROOMBRIDGE (Peg 24) of North Norfolk Lads with 155 points from 7 fish followed by TOM GIBBS (Peg 19) of Angling Addicts with 108 points from 6 fish. Zone E was taken by MIKE WATTS (Peg 38) of North Norfolk Lads with 290 points from 15 fish followed by ADRIAN BORDIANU (Peg 39) of Team Manik with 158 points from 8 fish.
Generally Round 1 at Bacton is tough one and for some it was with two not able to find a single fish, they will of course remain anonymous. Last year we fished the same stretch but on the flood and fish numbers were down but this year we went back to our traditional fishing ebb. Fish numbers were certainly up as well as the quality of the fish particularly the Flounders. Out of the 58 that were recorded 18 of them were 30cm or over, so looks like for now those stonking Bacton Flounders are returning. Contrary to what was suggested last year we continued to peg our usual stretch left of the old pipe groyne as our recent match there showed that where we should be. The stretch to the left now looks very flat and a deep gully in front of the sand bar would have made it difficult for those pegged along it.
The sand scaping keeps changing the profile of the beach but that gulley between the ends of the old pipe groynes seems to be establishing itself again and attracting those stonking Flounders. We had more fish in the last two hours than in the first three so we should have started a lot later to get more of the bottom and start of the flood, a point that poor old Dick Able would have insist on. We shall take note of this next time. Next Round 2 of this League is at GT YARMOUTH South Beach on SUNDAY 21ST NOVEMBER fishing 10:00-3:00 HW 9:43 4.7m. Draw will be from 8:30 at the Monument (NR30 3PX), Covid-19 rules and procedures will apply
The Club's next match will be for the Sid Ernie Cup at TRIMINGHAM on SUNDAY 31ST OCTOBER fishing 10:00 – 3:00 LW 9.11 4.1m. Draw will be in the Trimingham beach carpark from 8:30, Covid-19 rules and procedures apply. … Tony T
This will be followed by Holt SAC Annual Open & Roy Waller Memorial which I have had to bring forward by a day due to clash with other matches at BACTON via Castaways on SATURDAY 6TH NOVEMBER fishing 10:00 – 3:00 HW 6:47 5.3m. Draw will be from 8:30 in Castaways Cliff Top Inn and breakfasts etc. will be available from 8:00, Covid-19 rules and procedures apply. Please stay safe! … Tony T
Top 10 Individuals (on the day) …
1...Dave Wright.........8lb.6oz.........(14 Fish) (Peg 12)
2...Henry Randell……..6lb.9oz.........(14 Fish) (Peg 5)
3...Mike Watts...........6lb.0 2/3oz….(15 Fish) (Peg 38)
4...Will Sprules……….…4lb.4oz..........(12 Fish) (Peg 2)
5...Marian Speria........4lb.0 1/3oz...( 8 Fish) (Peg 13)
6...Mike Topping........3lb.9 1/3oz...(10 Fish) (Peg 3)
7...Jack Topping.........3lb.6 1/3oz...( 5 Fish) (Peg 9)
8...Adrian Bordianu. …3lb 4 2/3oz...( 8 Fish) (Peg 39)
9...Willy Groombridge.3lb.3 2/3oz..( 7 Fish) (Peg 24)
10.Billy Temple...........3lb.2 2/3oz…( 8 Fish) (Peg 25)
Teams on the Day …
1...NORTH NORFOLK LADS ……5 Points
2…BIG CATCH TACKLE..………..12 Points
3=.GORLESTON TACKLE……….13 Points
3= TEAM MANIK………………..….13 Points
5…NAC A TEAM……………….....…15 Points
6...ANGLING ADDICTS…….…….17 Points
7...NAC B TEAM………………….....19 Points
------..------