Holt SAC Annual Open 2021 and Roy Waller Memorial (Report)
Saturday 6th November 2021 - Bacton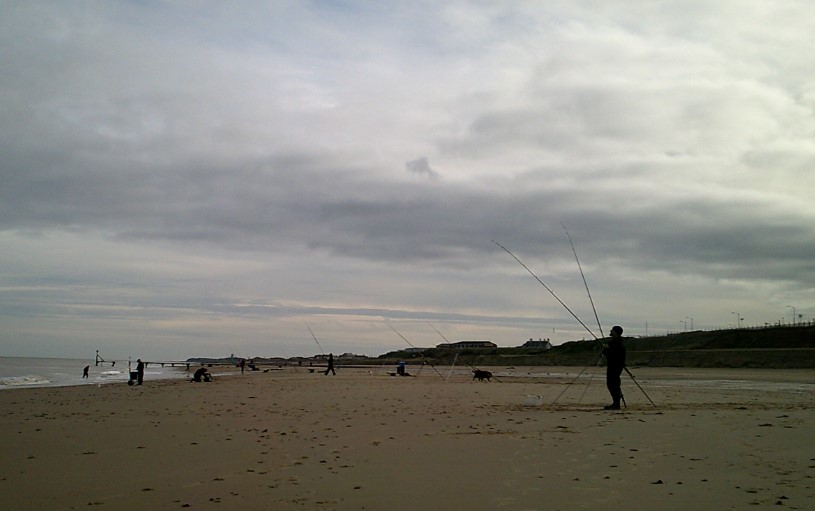 Holt SAC held its 2021 Annual Open & Roy Waller Memorial match at BACTON on SATURDAY 6TH NOVEMBER fishing 10:00 to 3:00 on a big 5.3m tide with HW at 6:47. A small turn out for this one of just 17 which included the usual regulars and 3 quests, thank you for your support. Also fishing was a new junior member in Rhys Jones, Jeff Stannard's grandson, welcome aboard Rhys. Even though he is only 11 he gave some of the old'uns a run for their money including grandad. Do we have another Henry in the making?
Draw was supposed to be in Castaways Cliff Top Inn but due to a Covid situation it was decided to do it outside and thanks to Anna & Richard for arranging the bar staff which we did use, many apologies. However, we were still able to park there so again thanks to Anna & Richard for allowing us to continue using their site for parking. Hope you both along with the others get better soon.
Unfortunately, Covid was the first of our problems as we found the strong northerlies had washed away more of the sand scaping sand along with our usual access to the foreshore down the new cliff. This was not really a problem as "skipper" Dave Wright and "retired" Kevin Green were soon hatching a plan and organising the troops. A bait digging spade comes in handy when you have to excavate down an 8ft cliff. Bev Self also put his engineering skills to good use after finding a railway sleeper bench which had fallen over the cliff. The speedy sand shifting work soon paid dividend for the trolley brigade who were soon able to steam down the cliff to their allotted slot on the beach.
Regarding the fallen bench, this was part of a bigger structure of a barrel table and benches placed there on their beach by Castaways for those promenading to rest and purchase sustenance from their Cliff Top Inn. There were in fact two of these structures on the beach. The optimum word here is "were" as I got a call Sunday morning from Castaways asking if we had seen any suspicious persons on the beach as over Saturday night the two table and bench structures had been nicked. Don't know how they did it they weighed a ton, what is this world coming to.
Anyway, pegging for this one was between the first and second old pipe groynes towards Mundesley. Starting more than 3 hours after high meant plenty of room in front of the cliff to set up and prepare to follow the tide as it ebbed. The recent taking of sand from the cliff has slightly built up the beach and there was no real close in gulley as in recent matches here.
After a bit of a northerly blow a couple days previous the sea had calmed off a bit with just a 1-2 ft swell rolling in and good colour. However, our previous experiences a week ago with weed at Trimingham and other recent reports of a similar situation at nearby venues made everyone a bit apprehensive of what was to come. However, looking on the beach there was little there but we all knew it was there lurking in the surf.
Forecast for the day was light southerly with broken sunshine and no hint of the wet stuff and it turned out to be just that. A very pleasant day for Bacton beach.
The full trolley brigade were soon ready for the whistle including Mr Organiser who was a tad late with the Whistle but only a few seconds, many apologies! It was obvious from the start that everyone who could were going for a bit of distance as it could be seen that there was not too much water close in. Unfortunately, our weed fears were soon realised as any line not pulled tight and dropping into the waves would be covered in that red weed immediately. Not difficult to get off but just a nuisance. Any distance would pick up a whole load of the stuff and anyone who had not checked their line beforehand were finding their rigs and line staying at sea as they unfortunately parted.
Even with this horrible red stuff in the water fish were soon been recorded mainly single Whiting with the odd doubles. The weed would slow the whole process down particularly the retrieving but a second rod baited up would help speed things up. For some the weed made it difficult to operate in particularly young Rhys Jones (Peg 8 ) and Grandad (Peg 7) who decided to stop for a while to see if it would clear.
Thankfully after an hour the weed eased and although it was still there everyone could start fishing normally. For some the fish were now coming in regularly with many triple shots but the beach appeared to be very peggy. The high order pegs towards the old 1st pipe groyne were certainly finding the fish, the lower order pegs were struggling somewhat with numbers and quality (small) of fish. For a few, fish were coming in regularly each cast with one or two having a fish every cast throughout. Others were slow to start and at one stage the fish just switched off for them particularly in the low peg numbers.
At the end it was our regular metronome member MIKE WATTS (Peg 15) who just had the edge on those around him to take victory with 19lb 14oz from 72 fish comprising 65 Whiting, 6 Dabs and a Flounder. After using 6oz leads for years found a bit more distance using 7ozs after advice from Nathan (E) which probably earned him a few more quality fish than those around him. Mind you he was disappointed not to take the Club's most fish in a match record of 76 by Bev Self at South Beach a couple years back. Runner-up was bad back man PAUL THORBURN (Peg 18) with 18lb 13oz from 65 fish comprising 62 Whiting and 3 Dabs. Final podium slot went to KEVIN GREEN (Peg 19) with 18lb 1oz from 70 fish comprising of 66 Whiting and 4 Dabs.
With no zones it was decided to take the overall prize monies down to 4th and 5th place. So in 4th place was NEIL SMART (Peg 13) with 10lb 6oz from 39 fish comprising 38 Whiting and a Dab. Final 5th place was ADRIAN BORDIANU (Peg 3) with 8lb 6oz from 28 fish comprising 26 Whiting and 2 Dabs. Heaviest Flat fish was a 36cm (1lb 2 2/3oz) Flounder taken by CHARLIE FRARY (Peg 14) and Heaviest Round fish was a 40cm (1lb) Whiting taken by PAUL THORBURN (Peg 18). Altogether 520 fish (473 Whiting, 42 Dabs, 3 Flounders and 2 Bass)
A good competitive match with plenty of fish which demonstrated that the Whiting are back for the winter season. A few decent specimens and a lot around the 24cm and the trouble with so many around is that they don't allow other species to get a look in. Disappointing the number of Flounders, would have expected more at this time of year at this venue, maybe it's the Whiting situation. The profile of the beach has yet again changed leading to more fish in pegs closer to the old 1st pipe groyne. Anyway looks like nature is returning the beach to its previous form so we'll see what the winter storms bring after which we'll see if it is still a suitable beach to be included in the 2022 Bass Festival.
After the National Sea League Final at Skegness on 13th/14th November the next Club match will be Round 2 of the North Norfolk National Sea League at GT. YARMOUTH South Beach on SUNDAY 21ST NOVEMBER fishing 10:00-3:00 HW 9:43 4.7m. Good luck to all local teams at Skegness, please stay safe … Tony T
Top 10 Individuals (on the day) …
1...Mike Watts.......19lb.14oz……...(72 Fish) (Peg 15)
2...Paul Thorburn…18lb.12 2/3oz…(65 Fish) (Peg 18)
3...Kevin Green…….18lb.1 1/3oz…..(70 Fish) (Peg 19)
4...Neil Smart……….10lb.6 1/3oz....(39 Fish) (Peg 13)
5...Adrian Bordianu..8lb.5 2/3oz….(28 Fish) (Peg 3)
6...Pete Simmons.....7lb.11 1/3oz..(35 Fish) (Peg 12)
7...John Carter….......7lb.1 2/3oz….(30 Fish) (Peg 17)
8...Bev Self………..……6lb 6 1/3oz...(24 Fish) (Peg 6)
9...John Spalton..…….5lb 15oz……..(24 Fish) (Peg 9)
10.. Charlie Frary …….5lb 4 1/3oz...(17 Fish) (Peg 14)
------..------