Holt SAC 2021 Sid Ernie Cup (Report)
Sunday 31st October 2021 - Trimingham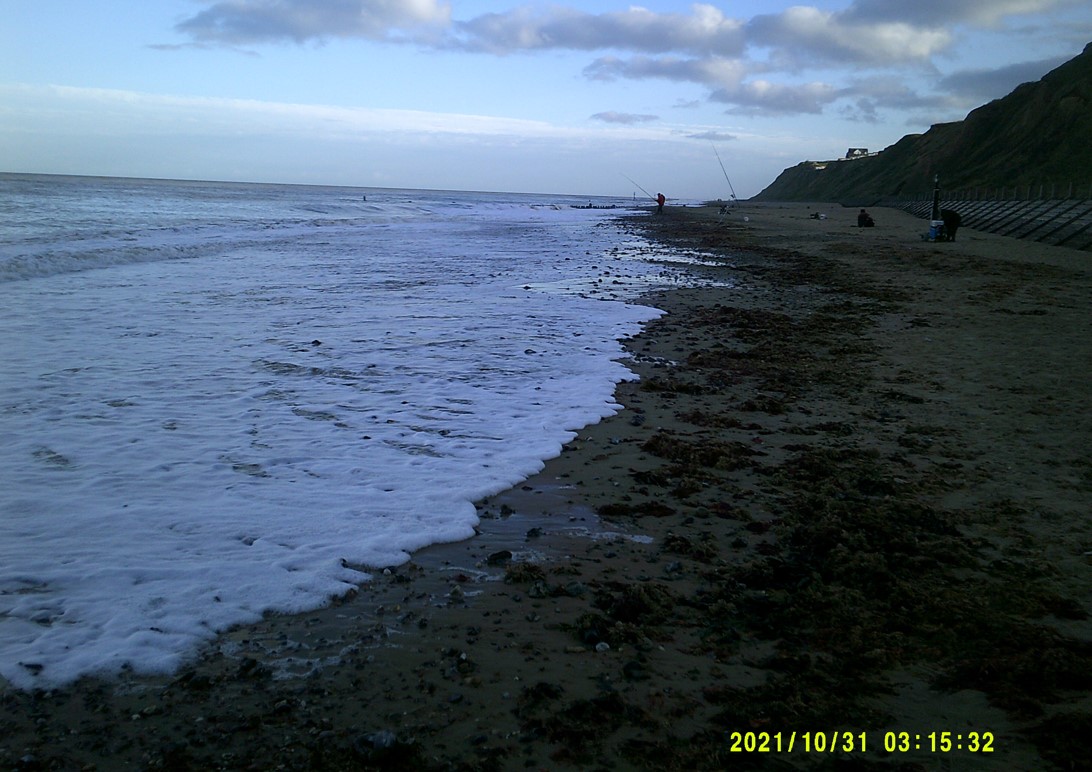 Holt SAC held its Sid Ernie Cup match at TRIMINGHAM on SUNDAY 31ST OCTOBER fishing 10:15 to 3:15 on a small 4.2m tide with HW at 3:19. A small turn out of just 8 of the regulars suffering the vagaries of the weather which probably persuaded booked Charlie Frary to give it a miss and the Charlies Angels man Charlie Needham after a long sabbatical couldn't quite make it with serious cold symptoms. Deciding instead, even though he had dug his bait the previous day to give it a miss and avoid infecting the rest of us, well done Charlie and hope you get better soon to make that long outstanding return to thrash us.
Forecast for the day was wet and windy and it was precisely that with the deluge starting thankfully just after the draw and lasting for the first 3 ½ hours and then cleared up to broken sunshine. The wind was then the main problem and with it being south easterly at about 40mph we should really have been sheltered by the cliffs behind. However, the direction and strength was such that it was whipping over the cliff and along the beach as though it was easterly, not good! but did relent a bit for the last hour.
Trimingham is historically the Club's match venue for this early autumn period to target the Codling which used to be prolific here at this time of the year, bit of a joke now! So keeping to tradition pegging was initially in the 2nd bay left(west) from the car park bay in an attempt to get deeper snag free water. However, there had been a cliff fall in that bay which went right up to the revetements and with us fishing the flood up to just before high would have been right up to the revetements at the end. This meant we could not go behind the revetements with all the slurry and cley at high and when Mr Watts saw the situation, gestured the stretch was a none starter. The next bay west was fine but at high water and end of match we would be trapped because of the cliff fall and we could not clamber over it. It was then decided to move to the 1st bay to the right of the car park which we knew and was snaggy with 15mins being added to the start and end to ensure we suffered a full five hours. Apologies lads for not using some initiative with the pegging after observing the cliff fall.
With the strong wind, the flat sea of previous day had turned into a 3-4 ft swell rolling in giving it a really good colour and fishy sea. Everyone had been pessimistic beforehand with reports of serious weed making it unfishable and if this had been the case we would have upped sticks and gone to Kelling. However, initially the weed was mainly in the edge and keeping rods high avoided it and being a small tide there was not too much current for the first 4 hours. This meant that even at distance lines were not picking up too much weed and what was there was easily picked off. In contrast, in the last hour when the tide picked up the weed became rather more serious and acres were being brought in. Thankfully 80% of the match avoided most of this.
Better mention the fishing! At the whistle, wind and rain made the start rather uncomfortable and for one in particular the lack of checking line condition before the match saw trace ending up free flowing into the gutter and not good if fish were there in numbers at the start. Unfortunately, that was just the case as it was soon apparent that the Whiting were back as Mike Watts (Peg 6) was hauling in double shots of the species cast after cast in his usual metronome fashion. He was making the most of his cracking Morston lug finding them mainly at a little distance. Mostly Whiting with the odd Dab and surprisingly a few Rockling, where did they come from?
Similarly, on next peg 7 the returning Paul Thorburn (Peg 7) was also finding the fish, mainly Whiting but not quite at Mike's rate. For once he was well prepared particularly getting to his peg by giving his big wheeled trolley an airing but as the match progressed he realised that he was not quite as fit as he used to be with his back slowly giving way to the incessant casting.
For the first hour the Whiting were there in numbers and Neil Smart (Peg 8) found a few along with a Dab to make his card respectable but as usual still suffered from finding numbers of fish. In contrast, John Carter (Peg 9) on next peg was having a slow start once he had sussed out how to keep his rod up to avoid the weed. A double shot to start with and then few single Whiting almost every cast helping to keep his card topped up. However, as the Whiting started to thin out amazingly the Rockling appeared to take charge with 9 on his card before the end.
Slow start for young Jack Topping (Peg 10) but a double shot of Whiting just before the hour woke him up and then a monster 36cm specimen shortly afterwards helped to give him a reasonable score. In contrast poor old Bev Self (Peg 11), not really that old was having a dire day. Although he was finding the odd Whiting and Rockling he was also finding the hefts preventing him fishing seriously. After his problems of recent matches losing 8/9 sets of gear just made matters worse resulting in him indulging in a bit of Docwra therapy in the preceding days. It was a quick recovery for him after the match with a trip booked on North Norfolk railway's Holt express that evening, smashing!
Final man on end peg, Mike Topping (Peg 12) got off to a flyer with a treble shot of Whiting on his first cast but then nothing until a double shot more than an hour later. Like Bev he suffered from lack of water and also found a few hefts but not losing as much as Bev. Fortunately, he was next to the groyne and was able to cast way past it clear of the hefts. Such tactics kept his card being topped up not with Whiting but again with Rockling resulting in 11 recorded by the end.
At the other end, on his traditional end peg Tony Thomas (Peg 5) was also struggling after losing that rig at the start without having even touched the water and then another half way through on rocky or chalk ground. Missing a couple of casts when the Whiting are around could mean immediately 6 fish behind and it was just like this with Mike on next peg. However, a double shot of Whiting within the first 30 minutes and then a 31cm followed by a 36cm Whiting before the end of the first hour helped to create a reasonable score but the damage had already been done in those missed casts when the Whiting were around and a card with 4 rockling is not going to get you anywhere.
The Whiting in numbers were certainly there for the first hour and then dwindled to the odd double shot and single fish. Consistency was the name of the game in this one and MIKE WATTS (Peg 6) certainly showed this to take victory by a healthy margin. His metronome style helped him to bring in fish every cast, even when the weed came through towards the end he was still recording single and double shots of fish. A stella performance to record 13lb 2oz from an amazing 42 fish comprising 36 Whiting, 3 Dabs and 3 Rockling. Close to the end said whilst packing up early after the weed had beat him confidently said it would take a 56cm Bass to beat him. The conditions were such that this could have happened lucky for him it did not, maybe next time. Runner-up and finding a bit of form that has eluded him of late was JOHN CARTER (Peg 9) with 6lb 12oz from 22 fish comprising 13 Whiting and 9 Rockling. Final podium slot went to the returning maestro PAUL THORBURN (Peg 7) with 5lb 5oz from 18 fish comprising 17 Whiting and 1 Dab.
Heaviest Flat fish was a 26cm (6oz) Dab taken by NEIL SMART (Peg 8) and Heaviest Round a 36cm (11oz) Whiting shared by JACK TOPPING (Peg 10) and TONY THOMAS (Peg 5). Altogether there were 134 fish (106 Whiting, 21 Rockling and 7 Dabs) recorded weighing 40lb 9oz.
A very strange match mainly dictated by the weather and the ground. At least the Whiting are back on this stretch and a few quality fish at that. Surprising how many Rockling were recorded and equally surprising no Flounders which are normally there at this time of year. The Dabs were also scarce on a stretch of beach that normally throws up a bucketful. Suspect the sea state and conditions played a part in doing this as these were very unusual on this day.
Next Club match is the Club's Annual Open and Roy Waller Memorial at BACTON via Castaways on SATURDAY 6TH NOVEMBER fishing 10:00-3:00 HW 6:47 5.3m. This match has been brought forward a day to avoid the Maritime at Felixstowe. There is a chance that this could be a new venue to be add to the 2022 Bass Festival so this is an ideal match to become familiar with the beach. Currently, we have just a few bookings so some are going to miss out on this opportunity but there is still a few days to book. Please text 07780793141 if you are interested.
Finally, this was going to be a very short report but our ex Asian Ace Peter Loke has persuaded me otherwise. Likes to spend at least an hour in the Forum library reading these stories, highlight of his day even week. He says he won't be fishing Saturday as it now takes him 2 weeks to get ready for next match after a match which is therefore not enough time to prepare for the Sea league Final at Skeggie the following weekend where he is really looking forward to participating with his fellow Addicts. With this sort of scheduling requirement there will then be plenty of time for the revitalised Asian Ace to prepare for another of his favourite competitions, 2022 Irish Pairs where he is planned to team up with super coach Mr Hippo, good on you Lokie.
Please stay safe! … Tony T
Top 10 Individuals (on the day) …
1...Mike Watts.....13lb.2 1/3oz.....(42 Fish) (Peg 6)
2...John Carter……..6lb.12oz…..……(22 Fish) (Peg 9)
3...Paul Thorburn...5lb.5 1/3oz…...(18 Fish) (Peg 7)
4...Mike Topping…..4lb.9oz...........(18 Fish) (Peg 12)
5...Tony Thomas....3lb.8 2/3oz…...(12 Fish) (Peg 5)
6...Neal Smart.......3lb.4 1/3oz.....( 9 Fish) (Peg 8 )
7...Jack Topping.....2lb.4 1/3oz…..( 7 Fish) (Peg 10)
8...Bev Self………..…1lb 11 1/3oz...( 6 Fish) (Peg 11)
(No other weighers)
------..------