Holt SAC North Norfolk National Sea League 2018-19 Round 6 (Report)
Sunday 7th April 2019 - Bacton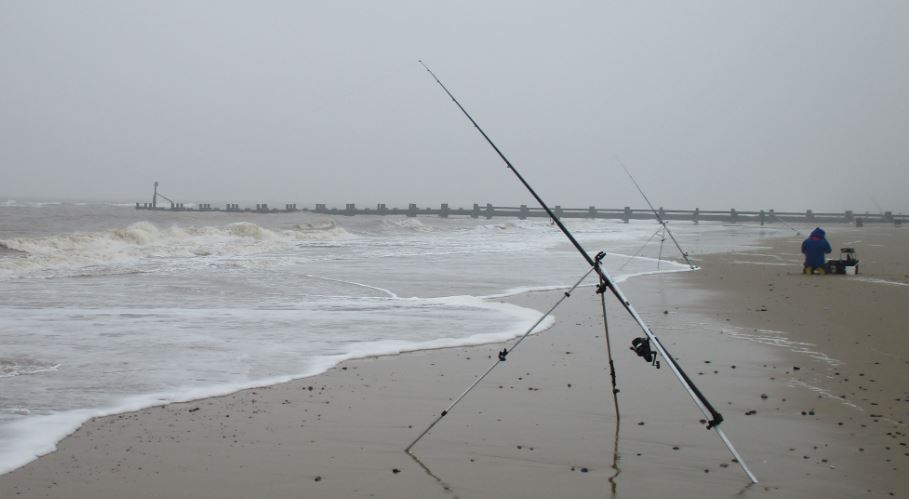 Holt SAC's delayed final Round 6 of the North Norfolk National Sea League & 1st Leg Summer Accumulator was eventually held at BACTON on SUNDAY 7TH APRIL fishing 11:30-4:30 HW 8:34 4.7m. The weather was yet again dictating this one with the forecast of 5-6ft swell and strong north easterlies at the start of the week reducing to 2-3ft swell with moderate wind by the end of the week with no real dampness. They sort of got this wrong with thick mist and rain lashing down for most of the match and a moderate to strong north westerly.
HQ for this one was as usual Castaways Holiday Park and many thanks again to Anna & Richard providing breakfasts before the start and the buffet afterwards before the annual meeting and presentations. As usual, an early start for most with many of the team members coming some distance and it was good to see the Humber crowd supporting us as Individuals, many thanks.
Pegging for this one was Zone A west of pipe 3, Zones B & C either side of pipe 2 and Zones D & E either side of pipe 1. A long walk for those in Zone A but with the tide well into the ebb it was easy on the relatively hard sand. However, this will be our last three pipe match at Bacton as very shortly they all the pipes will be removed and replaced by one out-flow pipe. In addition, they will be building the beach up with tons of "Scrobie" sand from in front of the Gas site to well past Walcott. Enough sand to allow sand yacht racing on it as they advertise so it will be interesting to see what this does to our stonking Bacton Flounders and whether it will remain there.
Anyway this match got underway in some testing conditions, nothing like the balmy weather the Ipswich Boys were experiencing round the corner on Orford. This was the day's weather front line with wind and rain driving into your left eye for most of the match as the 2-3ft swell increased to 3-4ft creating periods of white water 100 plus yards off as the match progressed and tide dropped. These were true match conditions as the fish were there but finding them was the real challenge. In theory this was a perfect Bass sea and although a few were recorded someone had forgotten to tell them it was just that.
Fishing a big chunk of the ebb meant there was at least some depth of water at the start particularly in Zone A where some Schoolie Bass were recorded early on. Surprisingly the Whiting were still hanging around in numbers where that white water bank seemed to dictate where they were with it being 200 yards off in Zone A to just 100 yards in Zone E. Those that got over the bank in Zones D & E found those Whiting early on although not particularly large whereas there was only the odd one of any size in Zone A. As the tide ebbed it seemed to encourage a few decent Whiting to come close in particularly in Zone E & D. Of course this is a very generalised pattern of Whiting activity and Whiting were found along the whole stretch particularly to those who could cast.
The bottom of the tide at this venue does tend to bring on the Flounders particularly the stonking variety along with the odd bigger Bass and this is exactly how this match played out. Big Flounders means serious points and for some who played the waiting game for this species saw their zone positions suddenly leap from last to first in the last hour as they found and locked into these specimens. A bigger Bass at last managed to get on a match card as the minutes ticked down helping to produce a more respectable score for that team member. Those points at the end made a big difference in the final result of this match.
In the end it was North Norfolk Lads MIKE WATTS (Peg 35) in Zone D who at last did the business with 4lb 14oz from 17 fish which included a few quality Flounders and Whiting. Also with 17 fish was runner-up JOHN CARTER (Peg 48) of Angling Addicts in Zone E with 4lb 9oz consisting of a card full of Whiting and a cracking 34cm Flounder. Final podium slot went to Individual International GEORGE SMITH (Peg 47) also in Zone E who made his long early morning trip worthwhile with 4lb 5oz from 16 fish with a few good Whiting and quality Flounders at the end. The heaviest flat on the day was a stonking 35cm (1lb 1oz) Flounder shared by ADRIAN BORDIANU (Angling Direct Norwich) (Peg 11), IAN CHILDERHOUSE (Charlies Angels) (Peg 37), GARRY HUTSON (Individual) (Peg 40) and JEFF STANNARD (Gorleston Tackle) (Peg 21). Heaviest round was that 44cm (1lb 13oz) Bass taken by CLYDE LEGGETT (Gorleston Tackle) (Peg 15). Altogether 238 fish (153 Whiting, 36 Dabs, 33 Flounders, 11 Bass and 5 Rockling) were recorded weighing 69lb 9oz.
In the teams on the day it was CHARLIES ANGELS who continued their impressive end of season charge who took the day with 8 penalty points from a zone win, two 2nds and a 3rd. Runners-up were NORTH NORFOLK LADS with 10 penalty points from a zone win, 2nd, 3rd and 4th followed by GORLESTON TACKLE with 11 penalty points from a zone win, two 3rds and a 4th.
In the zones, Tony Thomas (North Norfolk Lads) (Peg 1) in Zone A saw his score of just under 100 points from Bass and Flounders in the first hour come to an abrupt end whereas zone winner International HENRY RANDELL (Big Catch Tackle) (Peg 4) saw his leap from 34 to 170 points in the last hour from 10 fish. Runner-up was CHARLIE NEEDHAM (Charlies Angels) (Peg 8) who found a 6 point Whiting on his last cast to nick that slot by 3 points with 141 points from 9 fish. Zone B was taken by LUKE CHILDERHOUSE (Charlies Angels) (Peg 18) by just 3 points after finding an 18 points Bass at the end for 135 points from 9 fish. Runner-up was ADRIAN BORDIANU (Angling Direct Norwich) (Peg 11) who after finding a raft of Whiting at the start deployed his Flounder skills at the end to pick up two including one of those 35cm specimens to give him 132 points from 10 fish.
Zone C was taken by JEFF STANNARD (Gorleston Tackle) (Peg 21) with 172 points from 12 fish which included one of those 35cm Flounders and another 29cm specimen or 28 points at the end. Runner-up was BILLY TEMPLE (Big Catch Tackle) (peg 26) with 143 points from 10 fish seriously helped by a 31cm Flounder (36 points) and 34cm Bass (40 points). Zone D was won by the day winner MIKE WATTS (North Norfolk Lads) (Peg 35) with 235 points from 17 fish which included quality Flounders and Whiting plus a 30cm Bass worth 28 points. Runner-up was IAN CHILDERHOUSE (Charlies Angels) (Peg 37) with 181 points from 10 fish seriously helped by that 35cm Flounder. Final Zone E was taken by day runner-up JOHN CARTER (Angling Addicts) (Peg 48) with 219 points from 17 fish which included some good Whiting, a couple of Bass and a 34cm Flounder worth 48 points. Runner-up was third on the day International GEORGE SMITH (Individual) (Peg 47) with 207 points from 16 fish which included 13 Whiting at the start and 3 Flounders worth 70 points at the end.
This was not really an Individual's match but a Team's one and the last of the 2018-2019 season and it certainly lived up to its billing as potentially being an interesting match. This is because two teams were level pegging at the start with their worst score dropped, this is how the final points is determined, worst score dropped. These teams were BIG CATCH TACKLE (BCT) with 34 points with a worst score of 11 dropped and GORLESTON TACKLE (GT) also on 34 points with 15 points dropped. Both teams had a somewhat lack lustre day with BCT recording 12 points and GT slightly better with 11 points. This meant that BCT's 12 points was their worst score of the series and would be dropped giving them 45 points (34+11). Whereas GT's score was better than their worst and they too then had a total of 45 points (34 + 11) and left the two teams again tying on points.
The ruling is that in the case of a tie the first criteria to break it is the lowest dropped score which means BIG CATCH TACKLE of Henry Randell (Capt.), Dave Burr, Paul Marshall, Phil Read and Billy Temple become the 2019 North Norfolk National Sea League Champions and received the perpetual NN NSL Shingle Ridge Shield. Runners-up were GORLESTON TACKLE of Jeff Stannard (Capt.), Alan Doy, Bev Self, Neil Smart, Mike Topping and Clyde Leggett (Reserve) with NORTH NORFOLK LADS on 53 points in third place of Tony Thomas (Capt.), Kevin Green, Willy Groombridge, Dave Shorthouse, Mike Watts, Ivan Allison (Reserve) and Tom Gibbs (Reserve).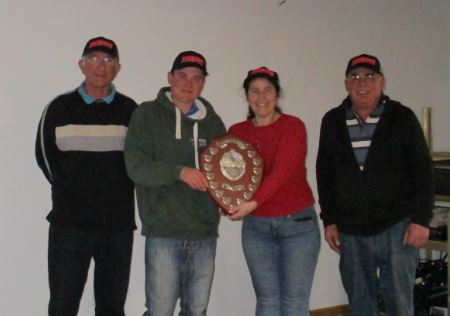 The league also contained heaviest fish competitions over the six match series open to all team members but not individuals. Top three heaviest flat and round received prize money and this too was an interesting competition. Top flat fish of a 1lb 1 1/3oz Flounder was shared by 4 team members so they shared the top three prizes of £155 in total and these were HENRY RANDELL (Big Catch Tackle) in round 1 at Bacton in October and ADRIAN BORDIANU (Angling Direct Norwich), IAN CHILDERHOUSE (Charlies Angels) and JEFF STANNARD (Gorleston Tackle) in this round 6 match at Bacton in April. The heaviest round fish was a 3lb 13oz Bass taken by LEON SMITH (Angling Direct Norwich) in round 1 at Bacton in October winning £75. Runner up was CLYDE LEGGETT (Gorleston Tackle) with a 1lb 12 2/3oz Bass in round 6 at Bacton in April winning £45 followed by ALAN DOY (Gorleston Tackle) with a 1lb 8oz Whiting in round 3 at Gt. Yarmouth in December winning £35.
This has been an extremely competitive league this year with all teams having some glory in at least one of the rounds. A consistent performance by Big Catch Tackle throughout gave them the title but it may have all been different if Gorleston Tackle had not had a bad start in round 1 at Bacton. North Norfolk Lads had a mediocre season but did win round 2 at Gt Yarmouth. Charlies Angels were the stars at the end with a disastrous start in the first 3 rounds but a 2nd in the fourth, sharing 1st in the fifth and winning the sixth. Angling Direct Norwich's finest hour was winning round 4 at Gorleston but could not match it in the rest. Angling Addicts shared 2nd place in round 1 at Bacton but struggled to find a full team towards the end.
The 2019-2020 North Norfolk NSL has already been mapped out and the round 1 is on 13th October at Bacton provided we have a beach. Hopefully this year's teams will continue next season and we already have potentially two new teams so maybe another competitive season. Many thanks to all the teams and their members for support the league.
Next Club match is the 2nd Leg Summer Accumulator at KELLING on SUNDAY 14TH APRIL fish 11:00 – 4:00 HW 8:40 (4.7m) LW 3:19 and we will be watching the weather very closely as strong North Easterlies are forecast … Tony T
Top 10 Individuals (on the day) …
1...Mike Watts………....4lb.14 1/3oz.(17 Fish) (Peg 35)
2...John Carter…….....4lb.9oz.........(17 Fish) (Peg 48)
3...George Smith…..…4lb.5oz..........(16 Fish) (Peg 47)
4...Ian Childerhouse..3lb.12 1/3oz..(10 Fish) (Peg 37)
5...Jeff Stannard........3lb.9 1/3oz....(12 Fish) (Peg 21)
6...Henry Randell……..3lb.8 2/3oz.....(10 Fish) (Peg 4)
7...Mike Topping........3lb.8oz...........(14 Fish) (Peg 36)
8...Garry Hutson........3lb.7oz..........(12 Fish) (Peg 40)
9...Billy Temple….......2lb.15 2/3oz...(10 Fish) (Peg 26)
10.Charlie Needham…2lb.15oz..........( 9 Fish) (Peg 8)
Teams on the Day …
1...CHARLIES ANGELS…..…………… 8 Points
2...NORTH NORFOLK LADS……….. 10 Points
3...GORLESTON TACKLE……………. 11 Points
4...BIG CATCH TACKLE……………… 12 Points
5...ANGLING DIRECT NORWICH ..13 Points
6...ANGLING ADDICTS.………………..18 Points
Final Team Positions …
1...BIG CATCH TACKLE……………….45 Points…(Dropped Score 12)
2...GORLESTON TACKLE …………….45 Points…(Dropped Score 15)
3...NORTH NORFOLK LADS …………53 Points…(13)
4…CHARLIES ANGELS………………….55 Points…(17)
5...ANGLING DIRECT NORWICH 61 Points…(19)
6...ANGLING ADDICTS ……………….80 Points…(22)
The figures in brackets are the teams worst scores which are dropped which means that the top two teams tied. However, team with the lowest deducted score breaks the tie and wins
------..------