Holt SAC Mackerel Bash 2019
Friday 2nd August 2019 - Cley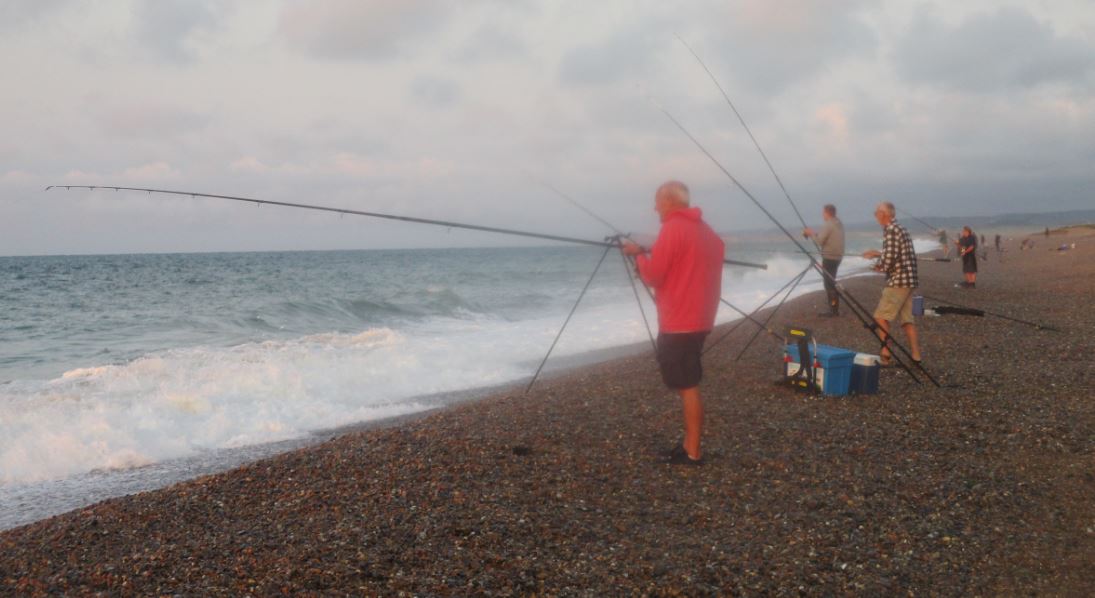 Holt SAC's Annual Mackerel Bash was held at CLEY on the evening of FRIDAY 2ND AUGUST. A match that is so dependent on the direction of the wind and of course the appearance of those frisky creatures and this one was no different. High Water was 8:30, spot on! A cloudless blue sky, spot on but that stiff northerly for last couple of days had put a good lump on making things a bit dubious. A small show for this one although that is the norm but seeing nice blue water beyond the usual close in colour we all had to go for it.
For some, shorts was the gear of the day and for others the normal beach attire and one the winter set up with chesties and a couple of layers. With that cool stiff northerly it didn't take long for the shorties brigade to put on another layer, it is always handy to be prepared on our beaches, "just in case".
Match format for this one was very simple, number of Mackerel whatever their size and no other fish counts. The normal rule applied of three hooks but multiple feathers (4, 6, etc) were allowed but only 3 Mackerel could be counted per cast. There was none of this running around getting cards signed, this was all self-stewarding.
For this one techniques varied from the traditional feathers to pop-ups baited with Mackerel and the odd bit of worm for those who found feathers rather tedious. The latter worked last year to find a nice Mullet but of course that didn't count. The majority kicked off with this pop-up idea waiting for the featherers to find fish before resorting to them. Unfortunately, they had miscalculated the amount of weed, that green cabbage like stuff coming off the marshes at Morston and Stiffkey and spent more time getting the stuff off than having bait in water. For most this method was soon abandoned and it was back to tedious feathering for all.
An hour past and not even a sniff of a fish, just plenty of that flat green weed but not too much to stop feathering. Then Tony Thomas decided to put a bit of "range" into his home made Irish feathers and low and behold locked into a 31cm Mackerel, he was off and running. Then a couple of casts later at "range" another sizeable 30cm version with everyone else not getting a look in. Another couple of casts later Tony was about to quickly wind in the last few yards when there was a jerk (not a real one!) on his line and started to go as if something was swimming it in. That something was a 40cm Bass (1lb 5oz) which was in superb condition and was quickly returned. Unfortunately, like last year it was not a Mackerel so did not count but did give the opportunity for a Suffolk style photo shoot before return. With all this action TT thought he was on a roll but not to be and could only find one more 26cm Mackerel to add to his score.
Whilst all this action was going on Richard Ling in his penultimate Club match before emigrating to Spain had felt a Mackerel on and saw it coming through the breakers. Unfortunately, it decided to peer at him give a "wave" and disappear back into the briny. With no more takes, not Richard's day as he had never caught a Mackerel from the shore so looks like he never will as he is off to Spain in September. Mind you he's purchased a fishing trip boat out there so he'll have plenty of fish with his customers but may be not a Mackerel from the beach, Good luck Richard! Anyone for a trip to Alicante!
Things were looking grim for the others as the sun started to dip to the horizon. You can always tell that the nights are drawing in because when we normally have this Bash in mid-July the sun goes down way north and out to sea. However, for this one the sun barely went down in the sea, it must be August and it'll soon be Christmas.
Another one struggling to find even a single Mackerel was Willy Groombridge who like Richard has had plenty on the boats but never caught one from the shore. Tried everything even the pop-ups without out a touch although he did complain of poor vision as his glasses did get clogged up with the spray. Maybe next time Willy.
Like his taxi man Willy, Kevin Green was also struggling and persevered longer than most with the pop-ups. The weed was bad enough but when the 4-5 ft swells top the bank at High Water and almost washed his box away he must have wondered what the hell am I doing here. However, he kept smiling as he always does and eventually he found two undersize Mackerel which of course gave him a score.
Whilst all this drama was unfolding the ever competitive Mike Watts was plugging away or should we say feathering away. None of this pop-up stuff for him just relentless casting through the whole session. Mind you the 13 Hounds he had at Trimingham earlier in the day started to take their toll on him as he was resorting to winding in sitting on his box by the end. Anyway, this effort paid off as he had a small undersize half way through and four sizeable ones as dusk and High Water approached
This meant, back at the car park as the sun had descended the horizon Mike took the honours with 5 Mackerel, Tony runner-up with 3 Mackerel (Bass did not count) and Kevin third with 2 Mackerel. Richard was technically fourth as he did have a Mackerel on and saw it so he was given the honour of presenting the envelopes. As for Willy, he was given the photographer's role so that we could have a Suffolk style shoot with the envelopes.
Well that's it for another year and I'm sure we'll have another small group doing it in 2020 although could have some competition from the Olympics. Don't know how I've managed to write so much for such a short session, boring!
Next Club match is the Charity Open in aid of Mundesley Independent Lifeboat at KELLING on SUNDAY 1ST SEPTEMBER fishing 10:00 to 3:00 HW 8:21 5.4m . Draw from 8:00 in Muckleburgh Collection Café with Breakfasts served from 7:00 … Tony T
------..------