Holt SAC 5th Leg Summer Accumulator (Report)
Sunday 13th June 2021 - Cley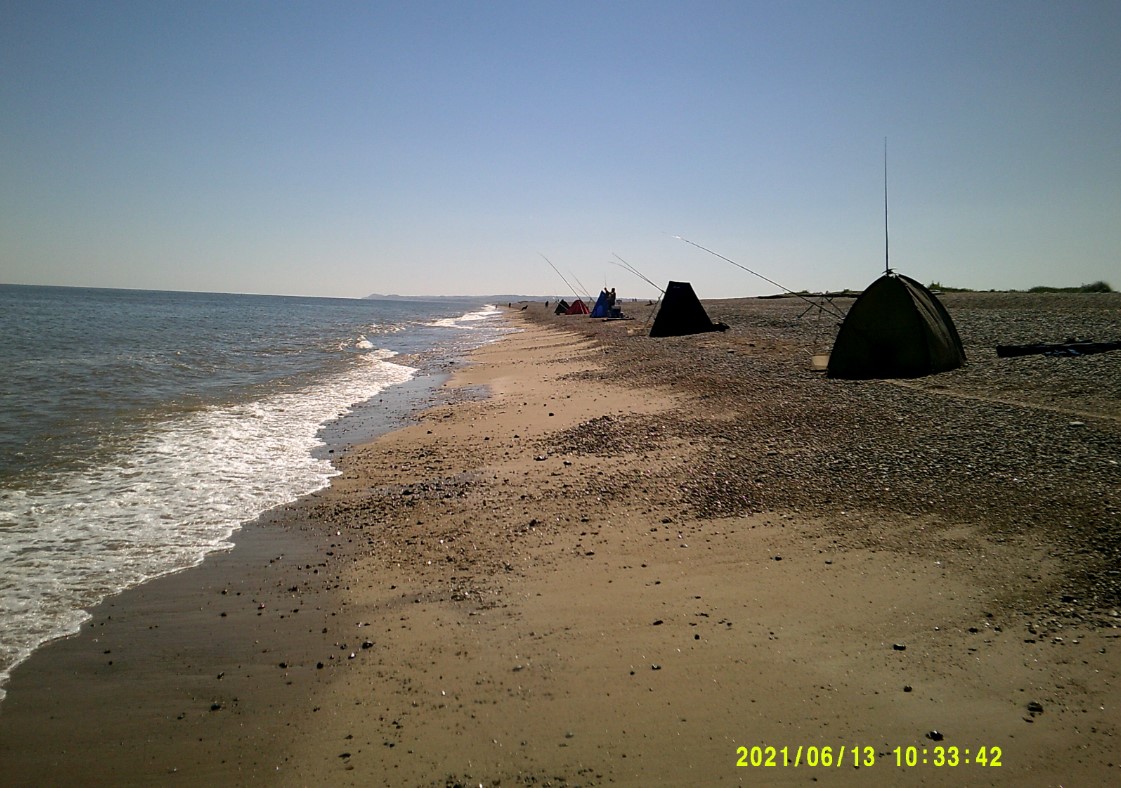 Holt SAC held it's last beach match of the 2021 summer season, the 5th Leg Summer Accumulator at CLEY on SUNDAY 13TH JUNE fishing 10:00 – 3:00 on an ebbing tide from HW 8:54 4.7m down. A good gathering of 14 were soon arriving at an almost full Cley beach car park even at 8:00 a.m. A few caravans and motor homes to be observed obviously stretching the "no overnight stay" byelaw but who's to police that.
Pegging for this one was for a change in front of the wreck to see if we could entice a few Bass to play ball. However, we were warned by Mike Watts that any distance there would produce lost gear after his scouting trip there a few days earlier. Unfortunately, he was correct as a few sets of gear remained there after the match. Fishing top down meant following the tide on the sand which meant a change from the steep shingle slopes further along the coast.
Weather was very kind to us with warm sunshine and a gentle westerly turning north to north east during the match. This gave a flat sea with just a hint of colour but that horrible slimy algae was there to put the fish off but none of that terrible may weed, thank goodness. We have been lucky this summer as it just hasn't appeared on our coast this year.
With everyone creamed up all were more than ready to get started before the whistle. Well nearly all except Adrian Bordianu who came scurring along the beach with 5 mins to go to collect his card. He was on a tight schedule after his two Bass success at Sandilands Skeggy the evening before, well done Adrian for his tied third place Bass. Fortunately, he was well prepared, setting up, baiting up and casting out at the whistle in a record five minutes for him.
Mike's warning had been heeded by most and 40 to 60 yards was the norm and thankfully this correct action will all traces being retrieved intact. A couple of pleasure anglers fishing just to the right of the "bus shelter" had ben there since 5:30 a.m. and reported no fish so there was a bit of pessimism in the camp . That was soon dispelled as fish started to come ashore on first casts which included a small Whiting to Mr Organiser. Whiting in June whatever next, mind you that was the only Whiting caught.
In the first couple of hours it was mainly flatties that were being recorded, not the usual arm aching numbers from the shingle but just as few and all at close range. The majority coming from the close pegs (1-6) with a few further along. With lack of action some decided to head towards the wreck in particular Mike Watts (Peg 7), Dave Wright (Peg 8), Bev Self (Peg 10) and Adrian Bordianu (Peg 11) and for most of them the initial foray left traces on the wreck or surrounding debris. After the first flurry of a few fish early on saw them almost totally disappear during slack water.
With plenty of sand being exposed as the tide ebbed all the way from Salthouse to Blakeney Point and mixed with the warm sunshine brought out the promenading general public and some with their posh pooches that were in the main thankfully under control. Even more bizarre was looking west in front of the boats and beyond there were hordes of groupings enjoying the warmth, very reminiscent of recent pictures of Brighton and Southend. Has Covid-19 gone away then?
Back to the fishing … however, the last couple of hours saw things improve and a slight change of tactics of into the gutter, Peter "lucky" Loke (Peg 2) found 2 x 33cm and a 34cm Flounder worth in total a whopping 136 points and challenging for a podium slot. Next to Peter on Peg 3 was Charlie Frary who found 3 Flounders and a nice 34cm on his penultimate cast to give him good points but it was just a bit too late for more. Likewise, on the other side of Peter, Dave Burr (Peg 1) found his first fish a small Bass in the last half and then a 34cm Flounder on his last cast but again all too late. Further down the stretch, Kevin Green (Peg 13) was using his knowledge of the shingle to great effect. Catching steadily throughout the day, not loads of fish but a few decent flatties and a nice 37cm Bass took him towards a podium notch.
Then there was the man who really did do the business just to the right of the wreck on Peg 11 in ADRIAN BORDIANU. Uncharacteristically arriving late due to that previous evening escapade and then losing gear on the wreck he eventually found a small schoolie Bass. That was enough to show exactly where to cast which was just a few yards inshore to the right of the wreck. Unlike others he had found a clean spot near the wreck from where he could safely retrieve. He then put his prime peeler and rag cocktails to good use to find 4 decent Bass with the final two being 40cm. He easily took victory with 5lb 8oz from those 5 Bass and two 23cm Dabs.
Just shows you that you don't always have to be on time, just have the right peg although he did think he was casting close two seals that were "playing" off shore. However, they were not seals but two structures from the wreck that started to appear as the tide ebbed. Shows you don't even need good eye sight for this sport. Well done Adrian! you either need to go to spec savers or take off those polarised sunglasses.
Runner-up with a rare visit to the podium was PETER "LUCKY" LOKEY (Peg 2) ex Asian Ace, with 3lb 9oz from 5 fish comprising of those 3 cracking Flounders, a small Bass and a small Dab at the end. Using his crafty skills along with excellent fresh peelers he observed what others were doing around him and then placed his concoction in his favourite spot, the gutter. That's where he found those splendid Flounders with less than an hour left to the end. He thought he had done well he offered to buy Mr Organiser a coffee for the peelers if in the frame. As usual he was shooting off at the end to get his usual king prawns but when he was made aware he was in the frame backed off to collect his dosh. Well done Lokey!
Final podium spot went to the man who was working hard throughout, dashing up and down the beach and that was KEVIN GREEN (Peg 13) resplendent in his usual summer outfit with 2lb 14oz from 6 fish comprising of 2 Dabs, 2 Flounders and 2 Bass, well done Kevin!.
Finding a reasonable Bass was key in this one and it was range and bait selection that was important to achieving this. Although you might need just a bit more as Bev Self (Peg 10) pegged next door to Adrian "the winner" demonstrated at the end how he could place his bait just yards from the wreck structure and retrieve successful but could only find a small 19cm Bass on his last cast. Like his travelling partner "Smarty" Neil Smart (Peg 12) who couldn't find an Eel in the river last match but found a nice 52cm specimen at this one. Maybe he'll save it (technique) for the next river match.
Heaviest Flat was a 34cm (1lb) Flounder shared by PETER LOKE (Peg 2), DAVE BURR (Peg 1) and CHARLIE FRARY (Peg 3). Heaviest Round a Bass of 40cm (1lb 5oz) taken by ADRIAN BORDIANU (Peg 11). Altogether just 42 fish (16 Bass, 13 Dabs, 11 Flounders, 1 Whiting and an Eel) were recorded weighing 22lb 14oz.
A relatively good match where for once the targeted species (Bass) was achieved with the most caught near the wreck. If you are prepared to lose gear then that was where to fish as Dave Wright (Peg 8 ) found out but could only find a small Bass but nothing serious. Some good Flounders recorded slightly away from the wreck and again at silly close range. Anyway, that's the beaches for the Club this summer apart from the Mackerel Bash unless catch reports attract us to run another summer beach match. Next true beach match will be our Charity Open at Kelling on SUNDAY 5TH SEPTEMBER.
Next Club match and Open is 3rd Round of West Norfolk Challenge & 6th Leg Summer Accumulator on SUNDAY 20TH JUNE at KINGS LYNN East Bank Central/North (PE30 2HS) fishing 11:00 – 4:00 HW 2:57 4.3m.
Please stay safe!!! … Tony T
Top 10 Individuals (on the day) …
1…Adrian Bordianu…..5lb.8oz………...( 7 Fish) (Peg 11)
2...Peter Loke…….......3lb.8 2/3oz…..( 5 Fish) (Peg 2)
3…Kevin Green…..…....2lb.13 2/3oz…( 6 Fish) (Peg 13)
4...Tom Gibbs…………...1lb.11oz………( 2 Fish) (Peg 5)
5...Charlie Frary ……….1lb.9 1/3oz….( 3 Fish) (Peg 3)
6…Dave Burr……………...1lb.6 2/3oz….( 2 Fish) (Peg 1)
7…Chris Spall…………....1lb.3 2/3oz …( 3 Fish) (Peg 14)
8=.Neil Smart............0lb.15 2/3oz.( 2 Fish) (Peg 12)
8=.Mike Watts............0lb.15 2/3oz.( 1 Fish) (Peg 7)
10.Tony Thomas.........0lb.15 1/3oz.( 4 Fish) (Peg 9)
------..------