Holt SAC Xmas Open and Town Team Challenge 2018 (Report)
Sunday 23rd December 2018 - Kelling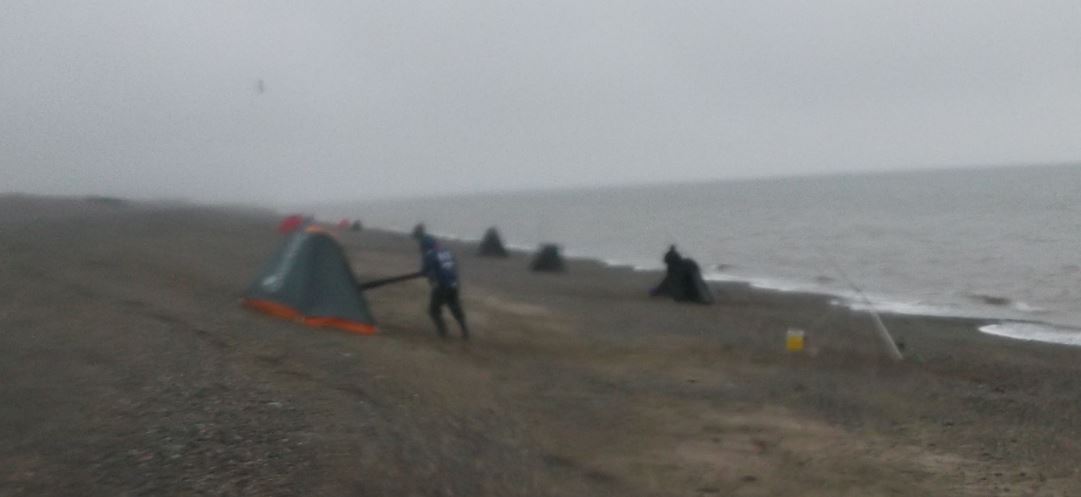 The Holt SAC Xmas Open & Town Team Challenge match was held at KELLING via the Muckleburgh Collection on SUNDAY 23RD DECEMBER fishing 10:00 to 3:00 with Low Water at 1:18 on a big tide of 5m so fishing over the bottom. Forecast for the day was a lot of dampness throughout with light winds and they got that one right. This was a another tough match weather wise with rain all the way through from the draw to the presentation and not just normal rain but that horrible fine stuff that gets everywhere getting onto your hands and making them hard to work with the cold.
The usual excellent turn out just shire of 50 which would have been just that if the Ipswich Smiths hadn't taken heed of the forecast, they certainly made the right decision. For the rest, once you got the bait you're coming and they certainly did through rivers of water from as far afield as Clacton, Ipswich and District, Ely, Corby, the Humber, Gt Yarmouth & Lowestoft area, Hales, Diss, Norwich, Kings Lynn, Heacham and a few unknown places and of course there was the local contingent. Many thanks for supporting the Club in such atrocious conditions.
Pegging for this one was from the block house at Kelling to just shy of the wreck at Weybourne. There were two zones with Zone A from the block house to the west end of the small cliff in front of the radar and Zone B from that point to the wreck. The recent spate of small tides and lightish off shore winds had built up a nice low shingle bank to operate from and the majority parked on top of this. Although it was a big tide the water did not recede too far and most followed it down to avoid the trudging up and down the shingle but it was the incessant drizzle that was the pain. The sea had just a slight swell and plenty of colour, ideal conditions for the fish to come in close, well so we thought.
It was apparent from the whistle that it was not going to be barren as the Dabs started to be recorded all along the stretch. It also became apparent that we were going to be plagued by those undersized Dabs which seem to have frequented Kelling of late and also at times by some mini Whiting. A surprisingly strong right to left tide with a little made a few to think tactics and lead choice but if your line had gone round a lot you knew you probably had fish on board.
With the majority of Dabs small and with a few Flounders appearing one or two decided to focus on those big points Flounders and some rued that decision at the end. There was fish being recorded throughout the match even when the tide eased but as usual the appearance of fish is so unpredictable, one cast would yield treble shots followed by a barren stint and then more multiple shots. To add to this the whole stretch can be somewhat peggy with a few pegs just bringing in just single fish whereas just 3 or 4 pegs away bringing in double or more shots throughout the match and a lot of top match anglers in this one succumbed to this situation.
On the bigger scale it is generally the case that Zone B nearest the wreck fishes slightly better than Zone A in front of the radar and guns up to the block house and for this match it was certainly the case. For this reason it was decided to split the main income for the match between the two Zones and the overall winners would be rewarded by the slightly lesser pay out of the Optional Pools. The Zone payout was therefore 1st £150 2nd £100 3rd £70 4th £50 and 5th £30 and for the Super Pools 1st £110, 2nd £65 and 3rd £45. There was also a Heaviest Flat & Round pay out of £40 each.
Zone A was taken by the local young England International HENRY RANDELL (Peg 15) with 5lb 14oz from 27 fish. Runner up was MATT FROST (Peg 3) with 5lb 12oz helped by a 39cm Flounder worth 68 points from 25 fish. Third was KEV SEELEY (Peg 24) with 5lb 10oz from 29 fish. Fourth was CHRIS SPALL (Peg 12) with 5lb 5oz from 30 fish. Finally, fifth was MARK GOOCH (Peg 1) with 4lb 15oz from 26 fish.
Zone B was taken by well known long time England International GEORGE SMITH (Peg 37) with 8lb 1oz from 35 fish helped by a 36cm Whiting worth 34 points and right at the end a 32cm Flounder worth 40points. Runner up was RICHARD LING (Peg 50) with 7lb 14oz from 40 fish who took full advantage of his near wreck end peg. Third was KEITH MORLEY (Peg 27) with 7lb 4oz also from 40 fish. Fourth was MIKE WATTS (Peg 28) with 6lb 1oz from 42 fish which was the most fish caught. Fifth was LEE CALEY (Peg 40) with 5lb 13oz from 29 fish.
The Super Pool was taken by GEORGE SMITH, RICHARD LING and KEITH MORLEY the top three in Zone B. The Heaviest Flat went to MATT FROST with his 39cm (1lb 7oz) Flounder and Heaviest Round went to GRORGE SMITH with his 36cm (11oz) Whiting. Altogether there were 964 fish (837 Dabs, 109 Whiting, 11 Flounders, 6 Rockling and 1 Codling (19cm)) were recorded weighing 180lb 1oz.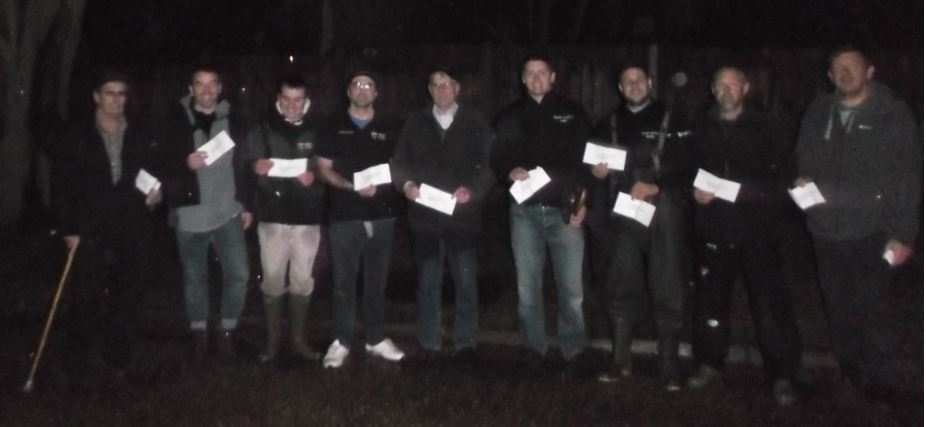 This match also included the Town Team Challenge where all were entered into a Town Team close to where they live although some West Norfolk guys had be moved to Diss. There were 11 teams mostly with 4 members but 4 with five. Each team would be awarded points equivalent to their Zone positions. The team with the lowest aggregate score with worst score dropped for teams with 5 members would be deemed the winners. No cash at stack here just bragging rights and the Town's name put on the Town Team Challenge Shield.
The winners were WOODBRIDGE comprising of LEE CALEY, MATT FROST, KEV SEELY & TONY SEELEY repeating their 2016 success with just 24 zone points, well done lads. Runners up were ELY comprising of PAUL HARVEY, RICHARD LING, PAUL MARSHALL & MIKE WATTS with 30 zone points. Final podium slot went to ALDEBURGH comprising of VINCE CRAWFORD, PAUL HARRISON, COLIN PROVINS & CHRIS SPALL with 32 zone points.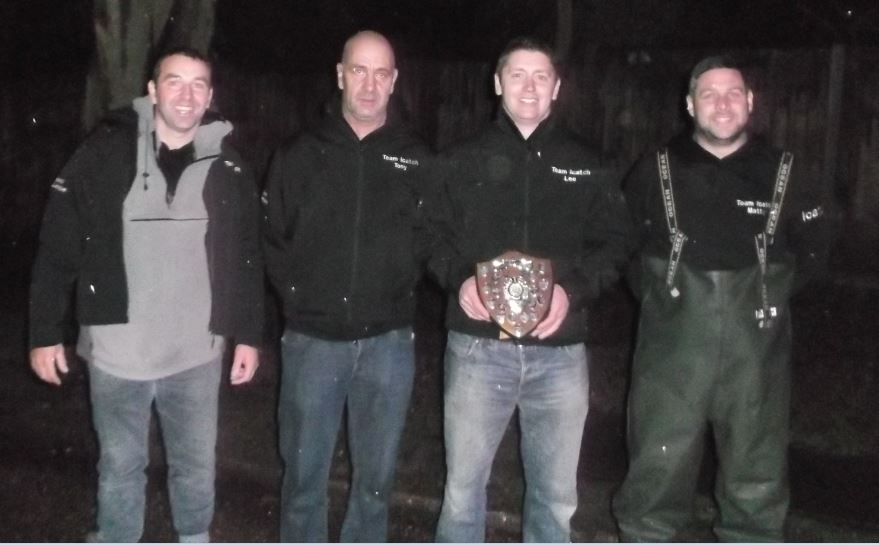 Another excellent match at Kelling but seriously marred by the weather. The Whiting did at last show but not in the quantity and quality we are used to at this time of the year but maybe they'll appear in January. In any case, the good old reliable Dab as ever was there to fill in but a lot of them are frustratingly and unusually very small and undersize. Due to the weather the raffle was abandoned and the prizes will be held over to the next raffle at a Club Open match, many thanks to all those who contributed.
To continue its series of Open matches over this holiday period Holt SAC has the Rocket House Open at Salthouse on Sunday 30th December and New Year Open at Kelling on Tuesday 1st January. Both will be fished on a flooding tide from 10:00-3:00 and will receive Penn Points . Let's hope the weather plays ball this time. Bookings to 07780793141.
Have a Merry Christmas and Happy New Year … Tony T
Top 10 Individuals (on the day) …
1...George Smith....8lb.1 1/3oz..(35 fish) (Peg 37)
2...Richard Ling......7lb.14oz…….(40 fish) (Peg 50)
3...Keith Morley......7lb.4oz ………(40 fish) (Peg 27)
4...Mike Watts........6lb.1 1/3oz...(42 fish) (Peg 28)
5...Henry Randell...5lb.14 1/3oz.(27 fish) (Peg 15)
6...Lee Caley.........5lb.13 1/3oz.(29 fish) (Peg 40)
7...Matt Frost.........5lb.12oz........(25 fish) (Peg 3)
8...Kev Seeley.......5lb.10oz........(18 fish) (Peg 24)
9...Vince Crawford.5lb.6 2/3oz....(31 fish) (Peg 45)
10...Paul Thorburn.5lb.5 2/3oz....(22 fish) (Peg 44)
Town Team Challenge Result …
1...Woodbridge..24 zone points
2...Ely...............30 zone points
3...Aldeburgh.....32 zone points
4...Grimsby.......35 zone points
5...Diss……………..38 zone points
6...Gt Yarmouth.39 zone points
7...Holt………………50 zone points
8=.Lowestoft…….64 zone points
8=.Norwich……….64 zone points
10.Ipswich…………71 zone points
11.Cromer…………79 zone points
SAMF Qualifiers for Masters 2019
Dave Aldous
------..------