Holt SAC 2020 Charity Open (Report)
Sunday 6th September 2020 - Kelling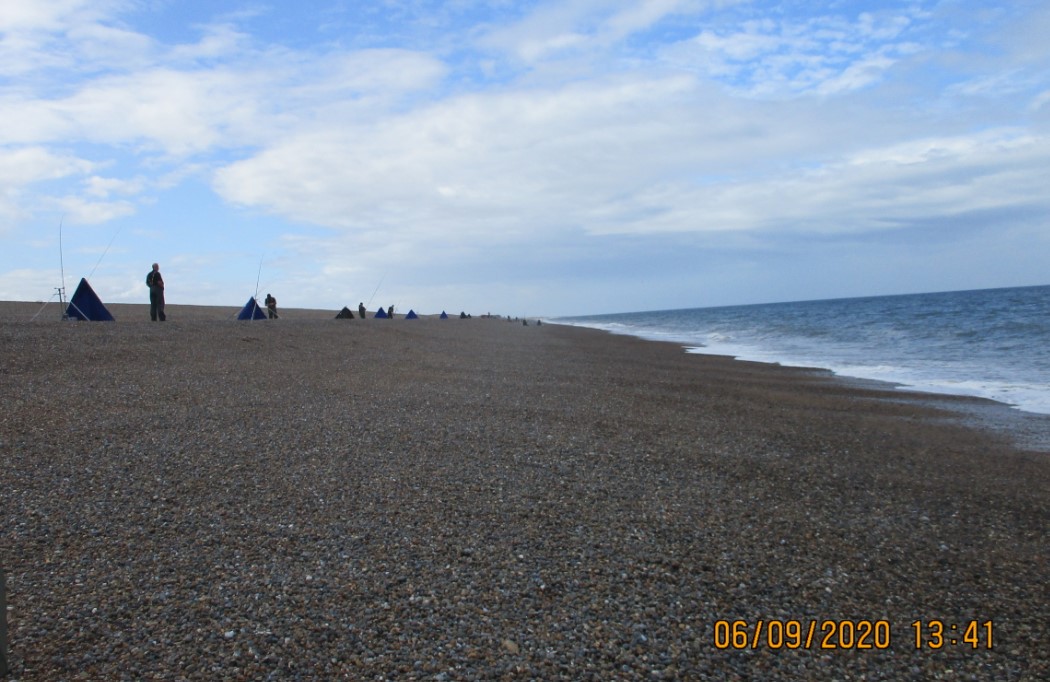 Holt SAC's 2020 Charity Open and 7th Leg Club's Summer Accumulator in aid of Mundesley Independent Lifeboat was held at KELLING via Muckleburgh Collection on SUNDAY 6TH SEPTEMBER. A mid-morning start meant that everyone could partake in a Hamed's special breakfast at social distanced Muckleburgh Collection Café. Many thanks Hamed for opening up nice and early for us. A better than usual turn out for the Club's Annual Charity Open comprising 20 Club members and others from East Anglia, Lincolnshire and a couple of places further afield.
The draw was conducted under the Club's now well practiced Covid-19 rules which worked well although many still struggle with the use of a face mask although just about got the social distancing right. The only way we are going to beat this horrible virus is for everyone and I mean Everyone with a capital "E" to do their bit individually. I know we want to allow everyone to do their own thing but we may have to be dictatorial and make face masks mandatory at the draw to safeguard the safety in the running our matches. Although with the way things are going, I suspect the Government will be stepping in and banning any form of gatherings which will include our matches particularly for the older set which probably is at least half our match scene, we all must do our bit.
Pegging for this one was from to the east halfway between the access gate and Weybourne wreck to a few pegs west of the pillar box at Kelling. Apologies to those on the lower order pegs particularly our Asian Ace for giving inaccurate info at the draw saying pegs would finish just short of the pillar box. Henry's legs are getting longer and producing bigger strides, many thanks to Henry for pegging the stretch. One less task for me but need to get you a key!!!
Weather for the day was broken sunshine with a fresh west to south westerly and the occasional bit of drizzle. Sea was not a flat calm and had a slight swell rolling in putting a little colour in the water although not a lot. Certainly not a Gar sea much to the disappointment to those that tried. However, did lend itself to a few Bass, some reasonable Flounders, a few Dabs and a few other species. Mackerel were also on the agenda with first two caught on baited trace counting along with undersize (<18cm) fish accruing 2 points just in case it was really barren but there it was not. Fishing top down meant all parking on top of the shingle bank at the start with a few following the tide down later.
A long walk for some, sorry Mr Lokie and all were gagging to get started as Mr Organiser's watch was as usual slightly slow. Starting just after high water there was some optimism that there would at least be a few Bass and maybe the odd Mackerel early on. This proved to be the case as within 6 minutes Constantin Botezatu on end peg 5 just past the block house at Kelling had a 38cm Bass on his card worth 55 points. A first cast Mackerel also appeared for Peter Simmons on peg 16 placing 12 points on his card within 5 minutes of the start Well that was it for a first cast Bass and Mackerel but the ever reliable Dab joined the party as this stage of the match for some, appearing surprisingly early for the winter season. The Dabs were joined by a few Flounders during the first few casts, not particularly huge but points on the card.
To add to the excitement George Smith on peg 29 at 10:20 thought he was into a nice Bass and was carefully retrieving as it went down tide. Unfortunately, the adrenalin fix soon ceased as a small Mackerel came flying through the surf and just 12 points on his card, he needed those Bass points. That is exactly what Dan Eagle got 20 minutes later at 10:40 as he was seen sliding a 44cm silver bar up the beach worth 86 points, nice one Dan! Likewise Clacton ace Rob Tuck on peg 10 was using all his North Norfolk skill to find a slightly smaller 36cm Bass worth 47points just a few minutes later at 11:05.
As rigs started to pile up around buddies most were struggling to find the best set up to find fish. Sometimes this venue can be such an unpredictable place to find fish whether in the gutter, short or medium distance or at range. In the end everyone opted for the rigs that they were comfortable with and at a distance they were also comfortable with. For one or two their game plan was Gars as in a previous year and persisted in targeting Gars even when the message of Bass had got around only resulting in the odd mackerel. As the tide eased and slack water arrived the fish switched off or more than likely just weren't coming through resulting in just 13 fish being recorded in the hour after midday.
As the tide picked up again the Dabs, Flounders and even the odd Whiting and Mackerel started to appear. However, it was the Bass that were the main prize and perseverance by Suffolk's Steve Adams on peg 33 produced a 39cm Bass worth 59 points on his very last cast to help keep up the Adam's family tradition at this match. A Bass of 36cm worth 47points to Suffolk man Chris Spall on peg 45 near the end at 2:49 along with further Bass also 36cm to Dan Eagle at 2:00 and one of 35cm worth 43 points to Constantin Botezatu at 1:55 topped up the Bass count along with a few other smaller Schoolies towards the end.
However, surprisingly around slack water time it was further Bass of 40cm (63 points) at 12:15 and one of 39cm (59 points) at 1:15 that gave Essex ace Rob Tuck an unassailable score by the final whistle. ROB TUCK (Peg 10) did the business with 4lb 14 1/3oz from 8 fish comprising 3 Bass, 4 Flounders and 1 Dab. Runner-up was England International GEORGE SMITH (Peg 29) with 3lb 14 1/3oz form 15 fish comprising 11 Dabs, 2 Flounders and a Mackerel but no Bass. Final Podium slot went to Saxmundham's DAN EAGLE (Peg 36) with 3lb 8 2/3oz from 6 fish comprising 4 Dabs and 2 Bass.
Heaviest Flat Fish was a 31m (12oz) Flounder shared by LEON SMITH & GEORGE SMITH. Heaviest Round Fish was that 44cm (1lb 12 2/3oz) taken by DAN EAGLE (Peg 36). Altogether 213 fish (130 Dabs, 63 Flounders, 13 Mackerel, 11 Bass and 2 Gobies) were recorded weighing 56lb 12oz.
In the Zones, Zone A was taken by the Winner ROB TUCK (Peg 10) with 4lb 14 1/3oz from 8 fish followed by CONSTANTIN BOTEZATU (Peg 5) with 3lb 7 2/3oz from 7 fish (3 Bass, 3 Dabs and 2 Flounders). Third in zone was JOHN CARTER (Peg 13) with 2lb 4 2/3oz from 9 fish (6 Dabs and 3 Flounders) and forth was PETER FAIRCLOUGH (Peg 21) with 2lb 1 1/3oz from 8 fish ( 5 Dabs and 3 Flounders). Zone B was taken by the runner-up GEORGE SMITH (Peg 29) with 3lb 14 2/3oz from 15 fish followed by DAN EAGLE (Peg 36) with 3lb 8 2/3oz from 6 fish. Third in zone was CHRIS SPALL (Peg 45) with 3lb 0oz from 12 fish ( 10 Dabs, a Bass and a Mackerel) and fourth was STEVE ADAMS (Peg 33) with 2lb 7oz from 7 fish ( 5 Flounders, a Dab and a Bass).
At this time of year it can be grim and there was a lot of pessimism about at the start of the match that it would be just that. However, unlike some previous years catches were reasonable and there were no real Blanks assuming those (2) that didn't hand their cards in registered at least one fish. Even so to have some success in this one required a few things like, the right rigs, the right bait, a good peg and more importantly the skill to read the water. A nice swell helped to bring some Bass on with 9 good specimens placing their captors in one of the podium slots. All in all a good competitive and enjoyable match where our Covid-19 rules and procedures seem to work reasonably well, thank you!
The match was in aid of Mundesley Independent Lifeboat and as we were not able to do a raffle everyone gave a donation, thanks to Tom Gibbs for managing this. This raised around £80 and Holt SAC will top it up to £100 the same as last year which will be presented to the Lifeboat at one of our up and coming Bacton matches, Thanks to everyone for their contribution.
This Covid-19 situation is an ever moving target and the new Government gatherings limit of 6 has put our match scene into jeopardy. However, an Angling Trust statement on Competitions dated 09Sep20 confirms that we can continue matches provided we abide by their guidelines which I understand have been accepted by the Government. Holt SAC Covid-19 rules and procedures comply with these guidelines so we are in a position to continue with our matches provided EVERYONE participating complies which means face masks to be used at the appropriate times.
We have therefore added another match to our immediate fixture list which will be at BACTON via Castaways on SATURDAY 26TH SEPTEMBER fishing 1:00 – 6:00 HW 3:40 4.0m. Draw will be at Castaways from 11:30 and will everyone please wear a mask. This fixture has been added because we have the first Sea League match of this season there 2 weeks later on a similar tide which is over the top on a small tide which is completely the opposite to when we normally to fish Bacton. More info for both these matches will be text out closer to the date. Stay safe and well away from this Covid-19 stuff! … Tony T
Top 10 Individuals (on the day) …
1...Rob Tuck…………………4lb. 14 1/3oz…( 8 Fish) (Peg 10)
2…George Smith…………..3lb.14 2/3oz….(15 Fish) (Peg 29)
3...Dan Eagle…………………3lb 8 2/3oz…….( 6 Fish) (Peg 36)
4...Constantin Botezatu..3lb.7 2/3oz.......( 7 Fish) (Peg 5)
5...Chris Spall…………………3lb 0oz…………..(12 Fish) (Peg 45)
6…Steve Adams……………..2lb 7oz…………..( 7 Fish) (Peg 33)
7…John Carter.……………...2lb.4 2/3oz…….( 9 Fish) (Peg 13)
8…Mike Watts…..………..…2lb.2 2/3oz…….( 9 Fish) (Peg 32)
9=.Alan Doy…….……………..2lb.1.1/3oz ……(10 Fish) (Peg 26)
9=.Peter Fairclough………..2lb.1 1/3oz…….( 8 Fish) (Peg 21)
------..------
ANGLING TRUST RECENT GUIDELINES