Holt SAC 2021 Charity Open and 8th Leg Summer Accumulator (Report)
Sunday 5th September 2021 - Kelling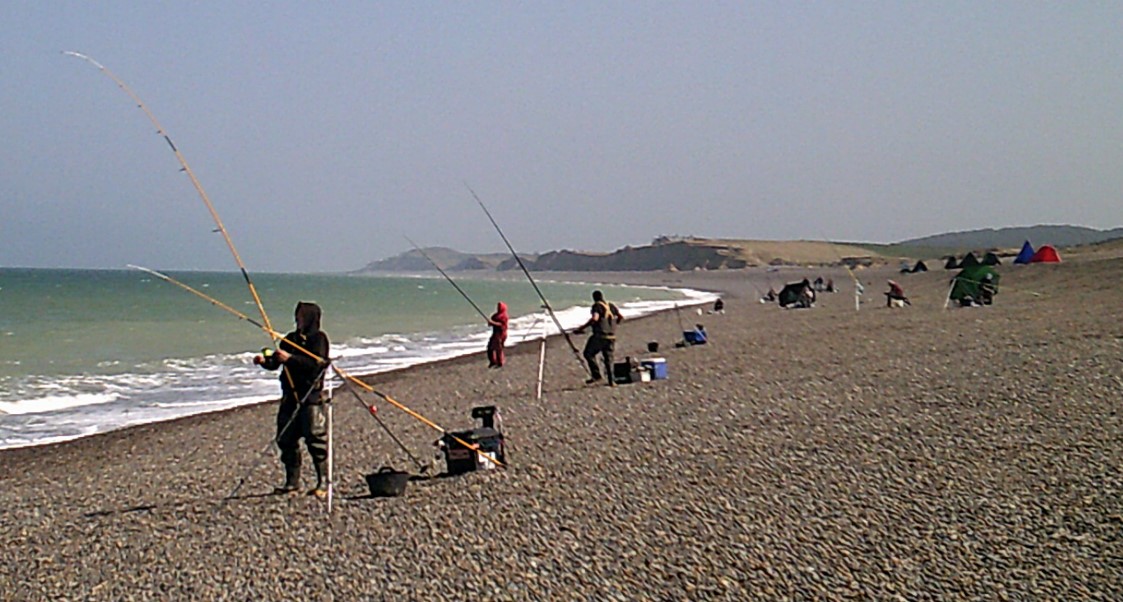 Holt SAC's 2021 Charity Open and 8th & final Leg Club's Summer Accumulator in aid of Mundesley Independent Lifeboat was held at KELLING via Muckleburgh Collection on SUNDAY 5TH SEPTEMBER. A very early start to catch the best of the ebb meant that everyone could partake in a Hamed's special breakfast at social distanced Muckleburgh Collection Café. Many thanks yet again to Hamed for opening up nice and early for us. A good turnout of 41 participated and many thanks to all those that had booked actually turning up. These consisted of the usual turn out for the Club's Annual Charity Open comprising 19 Club members and others from East Anglia, Lincolnshire and Kent. Many thanks to Saul for drumming up support from Kent way for this match and they certainly made their journeys worthwhile with their impact on the final result.
Pegging for this one was from to the east halfway between the access gate and Weybourne wreck to the now non-existent block house. Plenty of distance between the pegs and many thanks to Henry for pegging the stretch.
Weather for the day was overcast into bright sunshine with a freshish eastly with a bit of north. Sea was not a flat calm and had a slight swell rolling in which didn't produce much of a colour in the water but a really good Bass sea. Certainly not a Gar sea so those traces were left at home for another year. However, did lend itself to a few Bass, some reasonable Flounders, a few Dabs and a few other species. Mackerel were also on the agenda with first two caught on baited trace counting along with undersize (<18cm) fish accruing 2 points just in case it was really barren but thankfully it was not. Fishing top down meant all parking on top of the shingle bank at the start and then following the tide down later.
At the whistle everyone were in their own modes, distance, gentle lob or in the gutter. However, it soon came apparent that the Bass sea observation was correct as Rob Tuck (Peg 12) was soon hauling in a silver bar on his first cast, a nice 42cm Bass and 74 points on his card at 9:10. Similarly, Dan Jackson (Peg 7) found a slightly smaller one of 28cm also on his first cast at 9:05 which must have taken it as soon as it hit the water. In contrast Ian Bowell (Peg 16) found a nice 25cm Dab on his first cast at 9:10 and then a 46cm and 35cm Bass on the next two casts which meant 157 points on his card by 9:30.
At this early stage there were Dabs and the odd Flounder coming in but the presence of Bass certainly set the scene for the rest of the match. It's alright targeting Bass but it's another thing catching them. If you managed to find one during the first half of the match you inevitably found more. Some struggled to even find one and had to resort to the odd flattie. The lower pegs in zone A around where the old block house used to be seemed to produce the most Bass along with quite a few Flounders.
Some high zone A pegs and low zone B pegs seemed to struggle early on but of course they were in-front of the radar which in the past has falsely been dubbed a crap stretch. However, things were certainly lively on the high pegs in zone B where world champion Saul Page (Peg 37) found a treble shot of Bass at 10:53. All in the low 30cm range, not large but 93 points on his card, not bad! However, in the first couple of hours most in this part of the zone had to be satisfied with flatties. Not big points but if you find plenty of decent Flounders like our England International Henry Randell (Peg 41) your score leaps up.
A first cast small 18cm Flounder at 9:15 on a slider forced him to fish in the gutter for the first hour producing 5 Flounders with one being 33cm and another 32cm giving him 84 points between them. Surprisingly, just 3 more Flounders came out around him, he just thinks like a fish to find them. At the same time, not to be out done Adrian Bordinanu (Peg 43) thought he was on to a nice Bass as it tore off with the tide but unfortunately it was a Mackerel at 10:20 even though he had left his gar rigs at home.
Further down zone B stretch on Peg 31, Nathan Elliot had found a couple of Flatties and then commented that he was not after bits as he blasted his fresh yellas to the horizon. Good strategy, as during the second hour he was hauling in a double shot of Bass worth 99 points and then continued to find them for the rest of the match including a decent one of 44cm worth 86 points. For others things started to slow down in the third and fourth hours as the tide turned and slack water appeared. However, some at the high end of zone B bucked this trend in particular end peg 44 man Martin Lee who found 5 Bass between 12:10 and 12:40. Not exactly big but good points which included a triple shot at 12:40 giving him 78 points. Unfortunately, as is the norm with our sport, those were his last fish of the match.
Likewise, Adrian Bordinanu on next peg 43 found 4 slightly better Bass in that fourth hour including a double shot at 12:55 and like Martin they were his last fish of the match. Coming back from his long marital break Paul Kendrick on next peg 42 was also into the Bass in the final couple of hours finding 5 between 11:58 and 2:00 with one on his last cast. Not huge fish but good sport and 118 points on his card. Another person finding Bass in the last two hours was Shane Giles (Peg 36) who found 4 worth 114 points. It was a sad day for our ex-Asian and not so lucky Lokie (Peg 36) who found what he thought was the heaviest round of the match a 48cm Bass worth 110 points at 12:40 and also his last fish. Unfortunately, he found at the end it was pipped by 1cm so no Café celebration and it was back home for his usual King Prawns.
Still in zone B, after his initial haul of Flounders young Henry decided he needed something more serious and put some distance in his cast. This promptly secured him a nice 41cm Bass along with smaller version but that was it so back into the gutter for more Flounders resulting in a further 5, not particularly big but one of 29cm gave him 28 points. Zone B seemed to be producing the numbers of Bass but the quality ones were coming from Zone A. Here Bev Self (Peg 3) had 3 Bass up to 43cm, Kevin Green (Peg 5) also with 3 Bass up to 49cm with that fish coming at 12:19 and his last fish of the match.
Dan Jackson (Peg 7) also had 3 Bass up to 40cm with fellow Humber man Ian Nelson (Peg 8) with 2 up to 38cm but he also had 3 good Flounders up to 30cm. Uncharacteristically, Rob Tuck (Peg 12) could only find 2 more 30cm Bass to go with his first cast 42cm specimen. However, on next Peg 13, Steve Arthur found 4 Bass with one 40cm and the others in 30cm range putting 153 points on his card. Brett Cotter (Peg 15) managed 4 Bass up to 44cm with a 40cm specimen on his last cast which in total gave him 236 points.
Cameron Turner (Peg 22) found 3 Bass of 30cm, 44cm and 46cm with the 44cm one coming on his last cast all of which accumulating to 212 points on his card. The radar stretch once again lived up to expectation with just a few flatties and not much else. Well not quite much else except a couple who were slightly off their beaten track in Adie Copper (Peg18) who found a 32cm Mackerel early on as did Matt La-Flurrie (Peg 20) a 36cm version in the last hour but he did have a 40cm Bass on his penultimate cast.
At the whistle a few were thankful it was all over and there were others who were well pleased as the Bass did show in numbers. In particular that person whose tactics of refraining from going for bits really did work. That was NATHAN ELLIOTT (Peg B31) who did the business for the second week in a row (Holyhead Breakwater winner) with 6lb 11oz from 10 fish which included 6 Bass, 3 Dabs and a Flounder, well done Nathan. Runner-up was another Southerner, BRETT COTTER (A15) with 5lb 13oz from 8 fish comprising 4 Bass and 4 Dabs. Final podium slot went to a local man you can never discount in England International HENRY RANDELL (Peg B41) with 5lb 6oz from 14 fish comprising 11 Flounders, 2 Bass and a Coalfish.
As we had a good turn out the overall pay out went down to 5th place. So fourth place went to that Suffolk retired Gentleman who likes this shingle venue for Bass with his long traces in England International IAN BOWELL (Peg A16) with 5lb 0oz from 10 fish comprising 5 Dabs, 4 Bass and a Flounder. Fifth place went to another Southerner in STEVE ARTHUR (A13) with 4lb 14oz from 12 fish comprising 6 Dabs, 4 Bass and 2 Flounders.
Heaviest Flat Fish was that 33cm (15oz) Flounder taken by HENRY RANDELL (Peg B41). Heaviest Round Fish was a 49cm (2lb 5oz) Bass shared by KEVIN GREEN (Peg A5) and TONY THOMAS (Peg B28) on last cast at the whistle, lucky sod!. Altogether 214 fish (100 Dabs, 79 Bass, 30 Flounders, 3 Mackerel, 1 Plaice and 1 Coalfish) were recorded weighing 101lb 2oz.
As with the Overall the numbers allowed zone pay out to 4th place so in the Zones, Zone A was taken by the runner-up BRETT COTTER (Peg A14) with 5lb 13oz from 8 fish followed by IAN BOWELL (Peg A16) with 5lb 0 1/3oz from 10 fish. Third in zone was STEVE ARTHUR (Peg A13) with 4lb 14 1/3oz from 12 fish and fourth was CAMERON TURNER (Peg A22) with 4lb 12 1/3oz from 5 fish ( 2 Dabs and 3 Bass). Zone B was taken by the winner NATHAN ELLIOTT (Peg B31) with 6lb 11 1/3oz from 10 fish followed by HENRY RANDELL (Peg B41) with 5lb 6 1/3oz from 14 fish. Third in zone was SAUL PAGE (Peg B37) with 4lb 10 2/3oz from 8 fish (1 Dab, 1 Flounder and 6 Bass) and fourth was ADRIAN BORDIANU (Peg B43) with 3lb 15oz from 8 fish ( 5 Bass, 2 Dab and a Mackeral).
At this time of year it can be grim but reports had shown that the Bass were around and the match did not disappoint. The number of fish recorded this year of 214 was just one fish more than the 213 recorded at the 2020 match on the same weekend but the total weight of 101lb was almost double that of the 57lb of 2020 with similar turn out. The main difference being that there was 79 Bass recorded this year against only 11 in 2020 which explains increase in weight with a decrease in number of Flatties being compensated for by the heavier Bass.
Analysis of the zones showed the number of fish recorded in each very similar with 101 in zone A at Kelling end against 113 in zone B at the wreck end. Number of Dabs and Bass were very similar but Flounders in zone B at 20 were double those in zone A mainly due to Henry's haul. It appears that the Bass in zone A were slightly bigger than those in zone B which led to zone A having more of the overall top placings.
As most found, this is an unpredictable venue to suss out with fish there one minute and gone the next. The changing movement of the tide may have been something to do with this and choice of distance was for some a big factor with bait choice less of one. Fish were caught at all distances but the winner had opted for distance which paid off and the use of fresh yellas may have given him the edge. With such unpredictability a few top anglers both local and from away struggled either to find a solitary fish or to find the Bass but that is the way it is on the shingle.
This was a Charity match in aid of Mundesley Independent Lifeboat. With no raffle Holt Sea Angling Club made a donation plus Saul Page donated his winnings from this year's Bass Festival, excellent gesture well done Saul! Saul presented his contribution to the Lifeboat representative and Club Secretary Mike Watts did the same for the Club. The donation included the 2020 match contribution with a total of £200 being handed over which the Lifeboat was very grateful for as the rep. explained that their shop has been closed do to Covid resulting in no income.
Another very successful Charity Open, probably the best for years. Thanks must go to Henry Randell for doing his usual excellent pegging, Hamed for opening the café for breakfast and for the draw, Kevin Green for doing the draw and Mike Watts for helping with the draw and results and more importantly everyone who participated who in some cases travelling some serious distances to support us, thank-you again! For some it was worthwhile and the top 3 will be receiving Penn points.
As last year, next Club match will be another one added to our immediate fixture list at BACTON via Castaways on SUNDAY 26TH SEPTEMBER fishing 12:00 – 5:00 HW 10:06 4.7m. Draw will be at Castaways from 10:30 and will everyone please wear a mask as appropriate. This fixture has been added because we have the first Sea League match of this season there 2 weeks later on a similar tide. More info for both these matches will be text out closer to the date. Stay safe and well away from this Covid-19 stuff, it's still around! … Tony T
Top 10 Individuals (on the day) …
1...Nathan Elliott……………6lb. 11 1/3oz…(10 Fish) (Peg 31)
2…Brett Cotter……………….5lb.13oz…….….( 8 Fish) (Peg 15)
3...Henry Randell…………..5lb 6 1/3oz…….(14 Fish) (Peg 41)
4...Ian Bowell………………..5lb.0 1/3oz.......(10 Fish) (Peg 16)
5...Steve Arthur……………..4lb 14 1/3oz…..(12 Fish) (Peg 13)
6…Cameron Turner…………4lb 12 1/3oz…..( 5 Fish) (Peg 22)
7…Saul Page.………………...4lb.10 2/3oz……( 8 Fish) (Peg 37)
8…Kevin Green…..…………..4lb.9oz……….….( 6 Fish) (Peg 5)
9…Bev Self…….………………..4lb.5oz …….……( 5 Fish) (Peg 3)
10.Ian Nelson………….………4lb.1 1/3oz…...( 8 Fish) (Peg 8)
------..------