Holt SAC West Norfolk Challenge 2017 Round 1 (Report)
Sunday 21st May 2017 - Kings Lynn Estuary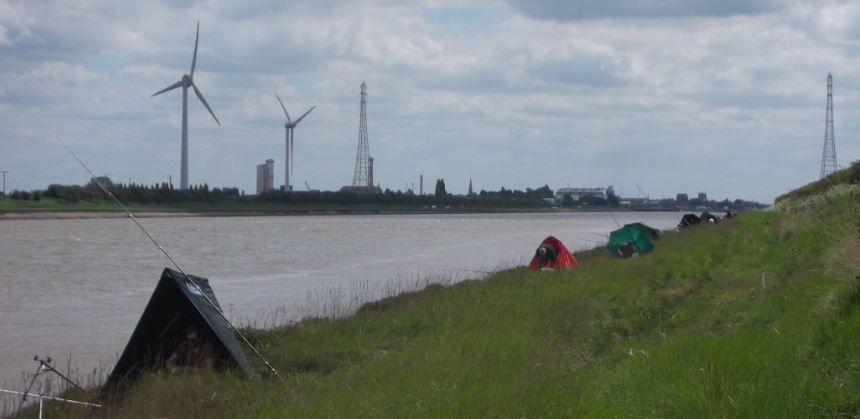 The 1st Round of this year's West Norfolk Challenge was played out on the north end of the West Bank of the Ouse Estuary at Kings Lynn on Sunday 21st May. This also included the 4th Leg of the Club's Summer Accumulator for Club members. The West Norfolk Challenge competition is being run the same as previous years with Overall day and Zone winners, Heaviest Fish, Free Pairs, Mystery Pairs and accumulation of Zones points over all matches to produce a West Norfolk Challenge Champion. This year there are only 3 rounds and all rounds count towards the Champion's score without worst score being dropped unless a 4th round is arranged.
The reduction in number of rounds was primarily due to the lack of enthusiasm for the competition in previous years and it appeared that it was going to be no different this year. However, there was a reasonable turn out for this one with a healthy showing from the Humber and North Lincs. area along with a smattering from Kent, Essex, Suffolk and Cambs. but it was disappointing to see only a few Club Members supporting the event. The turn out included two previous Champions in Richard Burt and Simon Drayton although this year Simon will find it difficult to retain the title as he is missing next round. The Club appreciates the support given to this competition by these anglers and we will try and reciprocate in their events particularly on the Humber.
Weather for the day was no rain, broken sunshine and a light south south westerly and they were spot on with this forecast. Unlike previous years all three rounds are to be fished on the last of the flood, over the top and first of the ebb. By doing this we would be avoid the mud and creating two of three slots when the fish in theory should feed. In addition, the small tide would allow scope for different distances without the tide ripping through. Pegging for this one was Zone A just a short distance south of the northerly culvert with Zone B following on south towards the Treatment Works but well short of that complex.
By the time of the whistle the tide had nicely flooded to provide plenty of water from the off. Although the mid-stream option was there the majority were a little more conservative but those that tried closer in soon got in the boulders at the foot of the bank leaving a few leads there. Flounders and the odd eel started to come ashore during this state of the tide but it certainly wasn't frantic. For those that know how to find big flounders they certainly found them, not many but with a few well into the 30cm meant good points on the card. Others were struggling particularly those who had little previous experience of this venue but there were those seasoned estuary-ites who were amongst this group.
As the tide eased at the top there was the option of rolling around in mid-stream but whatever was there was not interested or there was simply nothing there. Slack water normally produces some big eels but nothing serious came ashore. There were a few eels here at this state of the tide but they were very small , very very small and close in, very very close in. As is the norm on small tides here, slack water doesn't last long and as the tide picked up the small eels were replaced by small Flounders which were replaced by some more serious Flounders well into the 30cms as a surge of specimens came through. Even so they still had to be found and not only had they to be found but the right techniques and rigs had be used. For those that struggled earlier they continued to struggle although one or two did get themselves out their hole by the end.
At the close it was GEORGE SMITH who took the honours from Peg A9 who took full advantage of the two 37cm Flounders taken early on and a nice 63cm Eel near the end finishing with 7lb 15oz from 12 fish. Runner-up was DAVE READ on Peg A3 with 7lb 5oz from 15 fish helped by 35, 34, 32 and 31cm Flounders and a 52cm Eel. Final podium place went to RICHARD BURT on Peg A10 with 6lb 15oz from 12 fish helped by a 36cm and two 35cm Flounders. Heaviest fish of the day was a 39cm (1lb 7oz) Flounder which was shared by GARRY HUTSON Peg A11 and SIMON DRAYTON Peg B21. Altogether 152 fish (124 Flounders, 26 Eels and 2 Blennies) were recorded weighing 70lb 11oz.
In the Zones, Zone A was by far the more productive where the top two winners were in this Zone. Zone B was taken by SIMON DRAYTON on Peg 21 with 6lb 11oz from 11 fish who found fish early on including that big Flounder and another one of 35cm. Runner-up in the Zone was MIKE WATTS on Peg 20 with 4lb 12oz from 8 fish.
In the Club match, 4th Leg of the Summer Accumulator was taken by TONY THOMAS on Peg A7 with 5lb 7oz from 18 fish which included a few of those small Eels and Flounders. Runner-up was MIKE WATTS on Peg B20 with 4lb 12oz from 8 fish followed by ALBERT "PIFFY" RANDELSOME on Peg B26 with 1lb 15oz from 6 Fish.
Certainly a better Round 1 than last year with more fish and better quality Flounders. Although not many Flounders,the last time we reported this a couple or so years ago the Commercials were in there trawling straight away and that was the last time we had some good Flounder. This could happen again but the majority this time came from the rough edges at the bottom of the bank which is slightly more difficult to trawl. Let's hope they leave them alone this time.
Next Round 2 is on Sunday 4th June fish same time 12:00-5:00 and similar tide HW 4:00 4.0m but this time just south of the A47 bridge. Next Club match is at KELLING on SATURDAY 27TH MAY fishing 5:00-10:00 HW 8:33 5.0m. … Tony T
Top 10 Individuals (on the day) …
1…George Smith.……7lb..15 1/3oz…..(12 fish)
2…Dave Read…………7lb..5oz…….…....(15 fish)
3…Richard Burt………6lb 15 1/3oz…..(12 fish)
4…Simon Drayton….6lb..11 1/3oz……(11 fish)
5…Mark Taylor.……..6lb..3 2/3oz……..(14 fish)
6…Garry Hutson…….6lb…1 2/3oz……..(14 fish)
7…Tony Thomas…….5lb…6 2/3oz……..(18 fish)
8…Mike Watts……….4lb …12oz………….( 8 fish)
9…Nathan Elliott…….3lb…14 2/3oz……( 8 fish)
10.Karl Nangle……….3lb…7oz……….……( 8 fish)
------..------