Holt SAC West Norfolk Challenge 2017 Round 2 (Report)
Sunday 4th June 2017 - Kings Lynn Estuary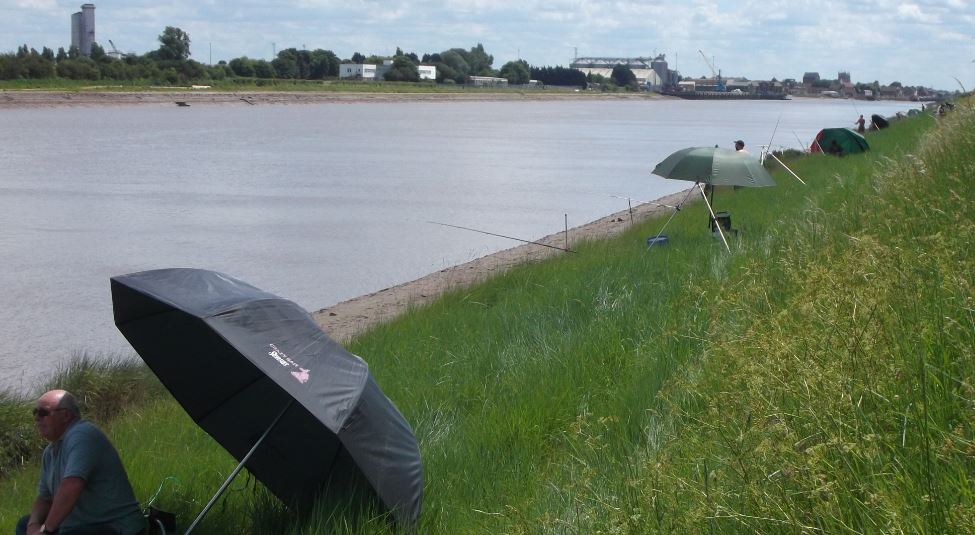 It was the intention to run the Holt SAC West Norfolk Challenge Round 2 and 6th Leg Summer Accumulator just south of the A47 Ouse bridge on the West Bank opposite Palm Paper at Kings Lynn but the 2016 Fly Tippers had put paid to that plan. Their action had resulted in the private access road being gated and closed so plan B had to be hurriedly put into action and that was Clockcase Lane and south through the Serengeti to just below the pylons. Many thanks to Readie for his quick action to get the pegging done on schedule. The venue change was soon communicated to all, well nearly all as there is always one namely Goochie whose contact phone was at home and the one in his motor switched off. Old technology soon sorted that problem, a piece of paper!
The communication worked well including the paper and all were soon at the new venue having the usual pre-match banter. This included a couple of new guys trying out this river Ouse stuff for the first time in Adrian Bordianu and Ronnie Cockett. For them it was different and a very steep learning curve but it was good to see them giving it a shot. With the majority of the Humber mob Chapel Six Marsh-ing and others opting out after a dismal Round 1 performance turn out was going to be low but at least we made double figures.
Forecast for the day was clear blue sky to start and clouding over later with a gentle westerly and a 7% chance of a drop of rain. Well they got this spot on including the 7% and thankfully the wind had enough west in it to prevent the noxious fumes from the Treatment Works wafting over us . For this one we were fishing the last of the flood and the beginning of ebb which is always comfortable on the West Bank with no real sloppy mud or steep bank to negotiate, just the grass. There was plenty of water at the beginning with surprisingly very little flow in comparison to the previous Round 1 match. All distance options were available from the off but those selecting very close had to be aware of the boulders lining the bottom of the bank and these were to catch a few out as the match wore on.
With some tidal flow Eels are always the first to show and this match was no different. For most not many at this early stage mainly singles as they took the bait and went off with the tide. Some nice specimens but plenty of small stuff amongst them along with the odd Flounder. As the tide started to ease and slacken so did the Eels which seemed to then bring on the Flounders . Slack water brought out the Flounders in numbers and the odd big Eel. The Flounders were relatively small to start with but increased in size as the ebb started to pick up with a few in the high 20cm and 30cm range. As the water started to drop the big Flounders started to ease off being replaced by the smaller variety and the small Eels came back on until the end.
Kings Lynn is all about knowing what to when and to have the right rigs and bait without which you are going to struggle. This lesson was thoroughly leant by the easy winner of this match in MIKE WATTS (peg 23) who was whopped by Simon Drayton on next peg in the previous round so he took on board everything Simon was doing and this was the result. An Eel or two a chuck in his first 11 fish recorded and then a 34cm (1lb) Flounder followed by more Eels and a few good Flounder for 10lb 12oz from 24 fish. Runner-up was RICHARD BURT (Peg 7) who was finding some big Eels at the started followed by some good Flounders up to 33cm (15oz) towards the end for 6lb 11oz from 12 fish. Final podium slot went to a regular these days in our matches in DAVE BURR (Peg 1) from North Lincs. who managed to find a couple of big Eels and a few useful Flounders for 4lb 9oz from 10 fish. Heaviest fish was that 34cm (1lb) Flounder to MIKE WATTS. Altogether 91 Fish (56 Eels and 35 Flounders) were recorded weighing a total of 40lb 14oz.
In the Club 6th Leg Summer Accumulator match MIKE WATTS was also victorious and he also took the Club's Heaviest Flat points with that Flounder as well as Heaviest Round with a 52cm (12oz) Eel. Second place went to TONY THOMAS (Peg 2) who seems to be focusing these days on the small stuff with 7 Eels and 7 Flounders for 4lb 2oz. Third place went to NEIL SMART (peg 20) on his first trip to Kings Lynn finding 3 Eels and a nice 30cm (11oz) Flounder at the end for 1lb 14oz.
Others on the pegs … On his first trip to Kings Lynn Adrian Bordianu (Peg 3) achieved his first objective, not to blank and then his second to catch an Eel and a Flounder ending up with 2 Eels and 2 Flounders for 1lb 7oz and 9th place, he will do better next time. Mark Gooch (peg 4) continued to struggle from his round 1 disappointment and could not find his trademark specimen fish and with his biggest a 48cm (10oz) Eel ended up with 3lb 0oz from 7 fish and 6th place. Struggling for numbers of fish was Dave Read (Peg 6) and a 56cm (13oz) Eel early on was his only saving grace but then found 29cm (9oz), 30cm (11oz) and 31cm (12oz) Flounders at the end to bump up his score to 4lb 6oz from 8 fish and 4th place.
Richard Ling (Peg 8) at last broke his duck after 10 hours on the river Ouse with a 25cm Flounder. Fishing with crutches he continues to persevere and hopefully the leg Op will have done the job, well done Richard and thanks for the lift back! On the next two pegs was the Oulton duo, with John Carter (Peg 16) struggling yet again to find fish. Two small Flounders and two Eels was all he could muster although one of the Eels was 49cm (11oz) giving him 1lb 9oz and 8th place. His travelling partner Albert Randelsome (peg 17) fared even worse with just two Eels although one was also 49cm finishing with 1lb 3oz and 11th place. Mind you, these were all on worm and he has threatened to use crab next time for the first time at Kings Lynn so watch this space. Final person on the pegs was Ouse rookie Ronnie Cockett (peg 21) who unfortunately or fortunately whichever way you want to look at it was pegged next to that 24 fish man Mike Watts. However, his first fish was a 32cm (13oz) Flounder but could only manage an Eel to add to this for 1lb 5oz and 10th place and maybe some useful tips from Mike.
Another Kings Lynn match which defied the usual predictions where the Eel for once was the prevailing species. No real stonking versions which probably bodes well for the future as in theory all these small ones become that size eventually. There were some decent Flounders amongst those recorded but none of the real quality and quantity we have had in the past from this stretch of the river. Many lessons can be taken from this match particularly it is so important to use the right rigs, the right hook size and the right rod height on the rest. You definitely need crab which has to be spot on and not too big all of which has to be placed at a distance totally dependent on the height and flow of the tide, lessons, lessons, lessons!
We'll have to see if we have learnt any of these in the next Round 3 on SATURDAY 17TH JUNE at KINGS LYNN – WEST BANK (North) access at north end of Clockcase Lane (PE34 4BZ) fishing 9:00-2:00 HW 12:14 4.3m. Draw from 7:30 and bookings to 07780793141.
The Next Club match is the SUMMER OPEN at KELLING via Muckleburgh Collection on SUNDAY 11TH JUNE fishing 10:00-3:00 HW 8:21 LW 3:12 4.7m. Draw from 8:00 in the Muckleburgh Collection Café (NR25 7EH) with Breakfasts from 7:00 and all bookings to 07780793141 … Tony T
Top 5 Individuals (on the day) …
1…Mike Watts.……..10lb..11 2/3oz…..(24 fish)
2…Richard Burt …… 6lb..11oz…….…..(12 fish)
3…Dave Burr……… 4lb 9oz…. (10 fish)
4…Dave Read ……. 4lb..5 2/3oz…….( 8 fish)
5…Tony Thomas.…..4lb..2oz…………..(14 fish)
Top 5 League Positions (after 2 rounds) …
1 Mike Watts 3 Penalty Points…..32 Fish…..743 Fish Points
2 Richard Burt 4 Penalty Points…..24 Fish…..655 Fish Points
3 Dave Read. 5 Penalty Points…..23 Fish…..560 Fish Points
4 Dave Burrs . 9 Penalty Points…..18 Fish…..361 Fish Points
5 Tony Thomas 10 Penalty Points…..32 Fish…..444 Fish Points
Full set of results at … Holt SAC West Norfolk Challenge Round 2 Results
------..------