Holt SAC West Norfolk Challenge Round 3 and 6th Leg Summer Accumulator (Report)
Sunday 20th June 2021 - Kings Lynn Estuary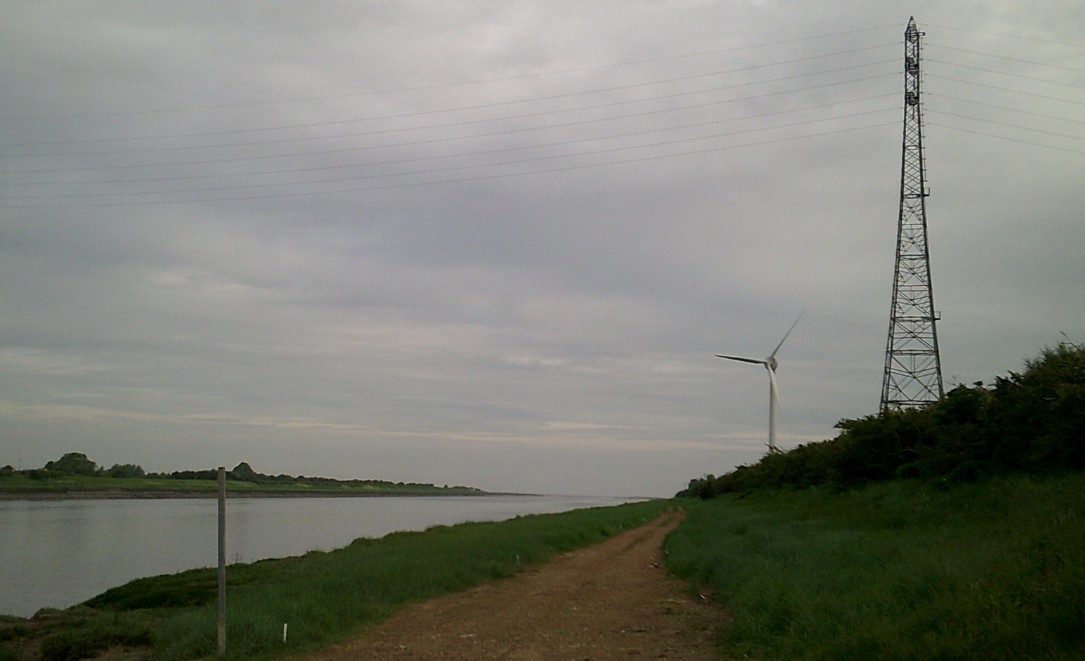 The 3rd Round of Holt SAC's 2021 West Norfolk Challenge Series and 6th Leg Club's Summer Accumulator was held on the Ouse Estuary at KINGS LYNN on SUNDAY 20TH JUNE. After a bit of lobbying by some of the older set of Challengers for a comfortable session it was back to the East Bank instead of the West Bank dead opposite the selected stretch. It was also hoped that those big Eels would also still be there after last match and to some extent they were but not in the numbers of 2 weeks previous.
Just to make it slightly different to that match, pegging was all north of the culvert so it was grass for everyone. Zone A was from the culvert north and it was drive to your peg up to Peg 13 where the hard track finished and from there for the rest of zone B it was a rather dubious rutted track which no one dared to risk. Not exactly that comfortable location that most had come to expect from this stretch. However, we were fishing the flood and over the top so a bit more comfort keeping away from the rocks at the base of the bank.
The weather for the day was thankfully dry after the overnight rain and drizzle. Did make the grass wet and mud a bit sticky but we all have got used to that by now. Thankfully, the wind was not strong and north easterly which meant that the noxious fumes from the Treatment Works opposite were kept on the west bank and all we had to put up with was the woosh, woosh of the turbines.
A reasonable turn out of 17 with the new Humberites abstaining to North Wales but they were replaced by the others from that neck of the woods who now had 4 wheels for their motor and were back to stay in contention for the champions title. The usual local contingent were joined yet again by a few of the Suffolk boys, good to see them coming up and across to support the challenge league. Unfortunately, "lucky" Lokey didn't make it to one of his favourite river venues, his really ready peelers were all prepared but "Mr Organiser" forgot to inform him that he had some peelers ready for him, apologies Peter! Maybe next time.
At the whistle everyone seemed to prefer mid-stream rather than risk close in at the bottom of the bank. The tide was nicely flooding and Eels started to come in thick and thin. First cast saw George Smith (Peg 7) bring in a nice 66cm specimen at 11:10 and at the same time Dave Read (Peg 12) one of 47cm and Henry Randell (Peg 18) one of 35cm. Plenty more Eels followed along the whole stretch and all of reasonable size, none of those boot lace versions. So many Eels that only 4 Flounders got a look in, in the first 3 hours.
Lot of sludgy weed along with plenty of rafts of grass, yes grass! Either the rain overnight had washed it in or EA had been doing some bank grass maintenance. The trouble was on the flood it was trundling upstream and when the ebb started it all came back, but there that's fishing for you. Nothing really serious unless you picked up one of those rafts but fishing mid-stream meant heaving in lots of the stuff although it was easy to get off.
In the first 4 hours lots of eels in the 30cm, 40cm and 50cm range with a few 60cm+ and one in the 70cm+ range. Unfortunately, none of the quality and numbers of the previous match which were exceptional. Surprisingly, it wasn't until the last hour as the ebb started to pick up a bit when the Flounders started to show. Not many but one or two good ones up to 35cm and 37cm. Finding a few of these close in helped to boost score cards as they do accrue better weight points than even decent Eels.
MATCH RESULTS
In the end it was that river man again in HENRY RANDELL (Peg 18) who showed those around him and everyone else how to catch fish particularly Eels. His tactics were simple banging it into mid-stream and sticking to crab with none of this mixed concoctions. Observed from afar he was seen struggling, hauling in yards of weed only to have two or even three decent Eels rise to the surface. Amazing those around him who could only manage the occasional single Eel using identical tactics. Until we can suss out what he does differently (bait presentation?) he is always going to slaughter us on these venues. Anyway he recorded 10lb 8oz from 18 fish comprising 16 Eels and 2 Flounders, well done Henry!
Runner-up and some way (4lb) behind Henry was GEORGE SMITH (Peg 7) with 6lb 8oz from 10 fish comprising 7 Eels and 3 Flounders up to 37cm. Final podium slot went MARK GOOCH (Peg 20) with 5lb 11oz from 10 fish all Eels up to 58cm.
Heaviest Flat was a 37cm (1lb 4oz) Flounder taken by GEORGE SMITH (Peg 7). Heaviest Round was a 73cm (1lb 6oz) Eel taken by MIKE WATTS (Peg 19). Altogether, 112 fish (93 Eels and 19 Flounders) were recorded weighing 63lb 0oz which is only just under a pound more than previous match but with 13 more fish. This probably demonstrates the quality of the Eels at that previous match.
LEAGUE RESULTS
Having now buttoned in the results of the first 3 rounds into the results model we now have current positions in the league although these could be academic as worst scores are to be dropped after final round.
Current Individual leader is HENRY RANDELL with 3 penalty points after 3 zone wins in the 3 rounds and now cannot be beaten even if he doesn't fish the last round, well done Henry. Current second place is DAVE BURR with 7 penalty points and third place is TONY THOMAS with 12 penalty points although a few of the contenders have missed a round so those big scores will be deducted after last round.
In contrast, the two pairs competitions do no drop any scores so the accumulated weight of the two partners over all 4 rounds determines winning pair. Currently Nominated Pairs leaders are HENRY RANDELL & BILLY TEMPLE with 25lb 12oz. In second place are MIKE WATTS & TONY THOMAS with 16lb 2oz and in third place are ALAN DOY & MARK SHARMAN with 15lb 6oz.
For the Mystery Pairs currently HENRY RANDELL and BEV SELF are leading with 24lb 12oz. In second place are GEORGE SMITH & TONY THOMAS with 14lb 15oz and in third place are ALBERT RANDLESOME & JACK TOPPING with 10lb 1oz.
Another successful round of our West Norfolk Challenge with a similar number of fish to the previous round at the same venue. More importantly was the number and quality of Eels recorded in both matches. This seems to be the pattern over the last 3 years where the number of and quality of Eels has steadily increased, good sign! Whereas the number of Flounders has slowly decreased over the same period although most have been quality fish.
The final round 4 will be an interesting match where the pairs competitions will be decided. It looks as though HENRY RANDELL has retained the champion's title and may well do a clean sweep by taking both the pairs. Next Club match is the final 4th Round of the West Norfolk Challenge on SUNDAY 4TH JULY at SUTTON BRIDGE south of bridge (PE12 9XE) fishing 1:00 – 6:00 HW 3:08.
Please stay safe! … Tony T
Top 10 Individuals (on the day) …
1...Henry Randell………10lb. 8 1/3oz..(18 Fish) (Peg 18)
2…George Smith………..6lb.8oz………..(10 Fish) (Peg 7)
3...Mark Gooch……….…5lb 11oz.……..(10 Fish) (Peg 20)
4…Mike Watts………….…5lb.10 1/3oz..( 8 Fish) (Peg 19)
5...Dave Burr…………....4lb.15oz……….( 9 Fish) (Peg 4)
6=.Alan Doy……………….4lb.6oz…………( 6 Fish) (Peg 10)
6=.Adrian Bordianu..….4lb.6oz……….(10 Fish) (Peg 3 )
8…Albert Randlesome..4lb.2oz………...( 9 Fish) (Peg 6)
9...Simon Drayton.…….3lb.14.1/3oz….( 8 Fish) (Peg 31)
10.Bevan Self.............2lb.8 2/3oz……( 6 Fish) (Peg 8 )
------..------