Holt SAC Rocket House Open and Janet Waller Cup (Report)
Sunday 30th December 2018 - Salthouse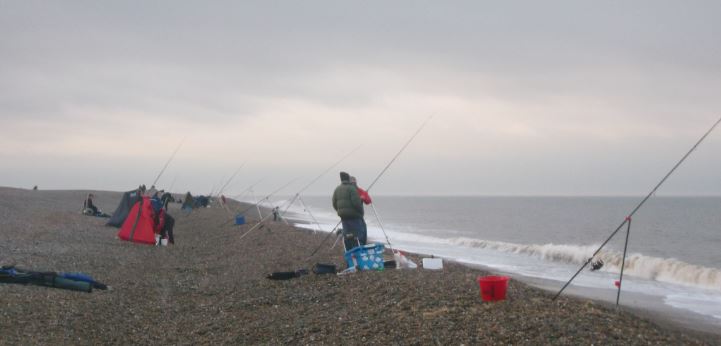 Holt SAC's Annual ROCKET HOUSE Open was held at SALTHOUSE on SUNDAY 30TH DECEMBER. As seems to be the norm with this match the turn out was low not helped by a competing match not too far away. It's a pity we cannot avoid such clashes, it only takes a little coordination and communication, maybe next year! Anyway there were some loyal supporters of this match who had come considerable distances from as far afield as Stafford, Ely, Corby, Humber, Kings Lynn, mid-Norfolk, "round the corner" and a couple of local men. Their journeying was not in vain as this was a good match with plenty of fish and a few good quality.
Forecast for the day was moderate westerlies with broken cloud and none of this dreadful dampness of the previous Sunday along with some nearly double figure temperatures and they were almost right. Not a big tide but fishing over the top meant none of this following the tide down. This coupled with a good 3-4ft swell meant everyone was optimistic that the fish would be there particularly as we were fishing over High Water which we rarely do and there were not too disappointed.
Pegging for this one was from around 100 yards west of Beach Road to just past Little Eye Mount with two small Zones in this stretch. Even with the distances concerned most arrived on time with one or two a bit tardy and they were all soon trudging across the horrible Salthouse shingle (wrong size) to their drawn pegs. With this being the Club's only "Length" (no conversion) with every fish counting tactics were obvious. With everyone leisurely parked on top of the shingle bank for the duration the baiting up of multiple traces was soon in full swing. In one way this was going to be a relaxing session but it was going to be hectic and for some it was.
At the whistle everyone was in shingle mode, not too much distance as a quick retrieve allowed another of those baited traces to be launched within seconds, speed was the essence in this one. It was soon apparent that the fish were there as buckets could be seen moving between pegs but it was quite as expected with both the quality and numbers of fish. When you start reeling in solo Rockling you know it's not brilliant.
At the start there were plenty of Whiting around quite a few very small but there were some really good fish well into 30cm. The Dabs were there also but the majority were painfully thin and in the low 20cms and below. A good tide flow at the start and over the top which should have brought more quality fish through but sadly not. However, it did bring some weed through at the top not serious stuff but enough to require leader knots to be cleared on each retrieve. Enough also to send the lines of the pyramid lead brigade steaming eastward much to the annoyance of adjacent peg.
Slack water, what there was of it did slow the fish down a bit for some but others continued to catch. Like the rest of the Shingle ridge you can never predicted at Salthouse where the fish are along the stretch as each day here is different. For this one the quality Whiting were on the lower pegs and in numbers whereas the Dabs were predominant in the middle of the stretch but were not exactly quality fish. The High pegs got the short straw with just a few very small Dabs and Whiting and for the poor sole on end peg 16 a nice juicy heft at 100 + yards. Though, he did know the remains of the Rocket House was just there plus all the fish were being found inside.
In the end everyone had notched up a few fish on their cards but it was RICHARD JACOBS (Peg 9) who stormed it with 726cm from 36 fish with 24 Whiting up to 34cm and 12 Dabs up to 25cm. Runner –up was end peg man from Stafford, DAVE SHORTHOUSE (Peg 1) with 660cm from 30 fish comprising 26 Whiting two of which were 36cm and just 4 Dabs. Third place went to MIKE WATTS (Peg 12) with 648cm from 32 Fish comprising 24 Dabs, 3 Rocking and just 5 Whiting and just could not find enough serious Whiting. With no Zones Furth place went to GARY MEDLER (Peg 5) with 591cm from 30 fish comprising 21 Whiting, 6 Dabs, 1 Rockling and one nice 29cm Flounder.
Longest Flat fish was GARY MEDLER's 29cm Flounder and Longest Round fish DAVE SHORTHOUSE's 36cm Whiting. Altogether 316 fish (156 Whiting, 135 Dabs, 23 Rockling, 1 Flounder and 1 Bass) were recorded with a total length of 6432cm.
Another interesting Rocket House Open which probably didn't quite come up to expectations with the quality of Whiting and numbers of fish were down on 2017 when there was a lower turn out. Let's hope 2019 brings a better result and also avoiding a clash with other Opens in the area.
The next Club match and Open is the New Year Open but with the weather turning more northerly the prospect of plenty of quality fish does not look good. The Club's next match at Gorleston on Sunday 6th January has been cancelled due the majority of the regulars being away. The next Club match after the New Year Open will be Round 4 of the North Norfolk Sea League at Salthouse on Sunday 13th January.
Happy New Year to all Club Members and Readers … Tony T
Top 10 Individuals (on the day) …
1...Richard Jacobs...... 36 Fish...726cm (Peg 9)
2...Dave Shorthouse...30 Fish...660cm (Peg 1)
3...Mike Watts.............32 Fish...648cm (Peg 12)
4...Gary Medler...........30 Fish...591cm (Peg 5)
5...Paul Marshall..........24 Fish...503cm (Peg 10)
6...Mike Topping..........22 Fish...494cm (Peg 3)
7...Tony Thomas..........21 Fish...395cm (Peg 16)
8...Kevin Green............20 Fish...387cm (Peg 7)
9...Albert Randlesome...20 Fish...387cm (Peg 13)
10...John Carter...........18 Fish...384cm (Peg 2)
------..------