Holt SAC West Norfolk Challenge 2019 Round 3 (Report)
Saturday 13th July 2019 - Sutton Bridge

The Final final Round 3 of the Club's West Norfolk Challenge Series and 7th Leg Summer Accumulator was fished at SUTTON BRIDGE on SATURDAY 13TH JULY on a smallish flooding tide. The match stretch was on the West Bank just south of the bridge but unlike last year the friendly farmer had not mown the grass so it was a precarious Serengeti drive to the pegs. With plenty of space between the pegs (sorry about last match!) not really a problem as at least you could lazily fish from your motor well except those who were been driven and got the short straw or were keeping their motors nice and clean at home.
A reasonable turn out of the regulars with a few opting out not fancying small eels or on holiday or because of the lack of fresh crab. For a change it was more of Norfolk versus Lincolnshire with splattering of Tractor boys and the odd Corbyite (not too odd Paul!) for this. Many thanks for all your support of the Club's West Norfolk Challenge this year and previous years, you have kept this competition alive and much appreciated by the Club.
Another typical sunny summer's day with a light northerly keeping everyone a little temperate. Although the match stretch was littered with boulders and other rubbish leaving rigs and hooks firmly on the bottom and raising the temperatures of those concerned. This of course is the main river Nene shipping lane a passing timber ship (yes ship!) created its own challenge and from personal experience there is probably now a rig and 6oz pyramid sitting in Wisbech dock.
At the start there was just a gentle flow up stream as the tide was starting to flood and ideal conditions for finding fish anywhere along the stretch. With a few small Bass leaping everyone was full of optimism and they were right to be so as the odd one got carded at the start. These were soon followed by a number of Eels and the odd Flounder although it wasn't hectic. As the tide picked up the number of Eels picked up but the Flounders were slow to respond.
Some decent Eels were being found but it needed those special eel techniques to find the decent ones. A few of the recent Irish rigs were coming into play but probably without those infamous damn silver beads. This used to be a cracking Flounder venue with or without silver beads but they were not there in numbers this year although one decent one was recorded. As the tide started to ease a few more Flounders were found and the odd Eel continued to be recorded. Slack water triggered the vermin to come on strong and trebles of the blighters were coming ashore and stripping the bait. However, for some proven eel techniques were producing some decent Eels even as the tide started to ebb.
In the end it was ADRIAN BORDIANU (Peg 24) whose eel techniques was producing a card full of Eels who did the business. Fortunate to have an end peg he took full advantage of this and found 23 fish weighing 8lb 4oz made up of 20 Eels and 3 Flounders. Runner-up was the local hero savouring his Gold from the previous week's Homes in Ireland (well done Henry!), HENRY RANDELL (Peg 5) with 5lb 8oz from 13 fish. These comprised 8 Eels, 3 Flounders and 2 reasonable Bass caught at the end, although I doubt if he used his silver beads. Final podium slot went to DAVE BURR (Peg 22) with 5lb 1oz from just 7 fish comprising of 4 Flounders and 3 Eels. However, one of the Flounders was36cm or 1lb 3oz and one of the Eels was 83cm or 1lb 13oz with both of them taking the Heaviest Flat and Round.
In the Sections, A was taken By ADRIAN BORDIANU (Peg 24) and the runner up was DAVE BURR (Peg 22). Section B was taken by HENRY RANDELL (Peg 5) followed by MARK GOOCH (Peg 2) with 2lb 11oz from 6 fish. Altogether 109 Fish (67 Eels, 36 Flounder and 6 Bass) were recorded weighing 45lb 7oz.
In the Club's 7th Leg Summer Accumulator the overall winners were all Club members.
This was the final round of the West Norfolk Challenge and with four in contention for the title on the day it was yet again the superior skill of HENRY RANDELL that did the business with a perfect score after worst is dropped of 2 penalty points. As last year lacklustre day by joint leader PAUL MARSHALL meant he had to rely on his previous two scores to take the runners-up slot with 3 penalty points. Final podium slot in the league went to the ever apparent SIMON DRAYTON with 5 penalty points. Amazingly this was an identical result to last year.
This meant that HENRY RANDELL was crowned West Norfolk Challenge Champion for the fourth time after taking the title in 2013, 2015 and 2018, well done Henry yet again! Must purchase some of those silver beads for Ireland in September!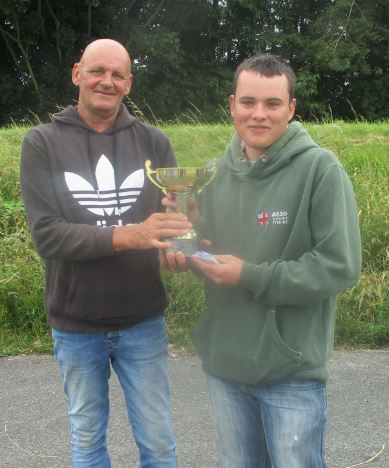 The Challenge also included two Pairs competitions where the total weights of each partner over the three matches are added together. The FREE Pairs where each competitor nominates his own partner was taken as last year by HENRY RANDELL & DAVID READ with 1041 points from DAVE BURR & PAUL MARSHALL as again like last year with 976 points and GEORGE SMITH & SIMON DRAYTON with 856 points. The MYSTERY Pairs were decided at the first match from the result of that match where the pairs are decided by randomly pairing those in the top half of the results with the bottom half. The winners here were HENRY RANDELL & RICHARD HIPPERSON with 982 points from SIMON DRAYTON & IAN NELSON with 824 points and PAUL MARSHALL & TONY THOMAS with 768 points.
That completes another successful West Norfolk Challenge where attendance was about the same as previous years with an average of 20 per round. The series has highlighted a definite reduction in fish particularly Flounders although the Eels seem to be making a comeback. Many thanks to all who supported the Series who in some cases came some considerable distances to participate, thank you again! The continuation of this event will be determined by Holt SAC in the new year.
Next Club Match is the Charity Open and 8th and final Leg Summer Accumulator provisionally scheduled for SUNDAY 1ST SEPTEMBER at KELLING via Muckleburgh Collection fishing 10:00-­3:00 HW 8:21 5.4m. The proceeds from the raffle will be donated to Mundesley Independent Lifeboat and the Draw will take place from 8:00 in the Muckleburgh Café where breakfasts will be served from 7:00. Further announcement will be made closer to the date and should have Penn Points.
Top 10 Individuals on the day …
1...Adrian Bordianu ……..8lb.4 1/3oz..(23 Fish)
2...Henry Randell..........5lb.8 1/3oz...(13 Fish)
3...Dave Burr……………....5lb.1oz.........( 7 Fish)
4...Dave Read ………….….2lb.14 2/3oz.( 6 Fish)
5...Mark Gooch …….......2lb.10 2/3oz.( 6.Fish)
6...Simon Drayton........2lb.10 1/3oz.( 6.Fish)
7=.Mark Sharman ………2lb.7 2/3oz..( 5.Fish)
7=.George Smith ………..2lb.7 2/3oz..( 5.Fish)
9...Brian McKenzie……...2lb.7oz........( 6 Fish)
10.Richard Hipperson….2lb.1/3oz.....( 6 Fish)
------..------