Holt SAC 2020 West Norfolk Challenge Round 4 (Report)
Sunday16th August 2020 - Sutton Bridge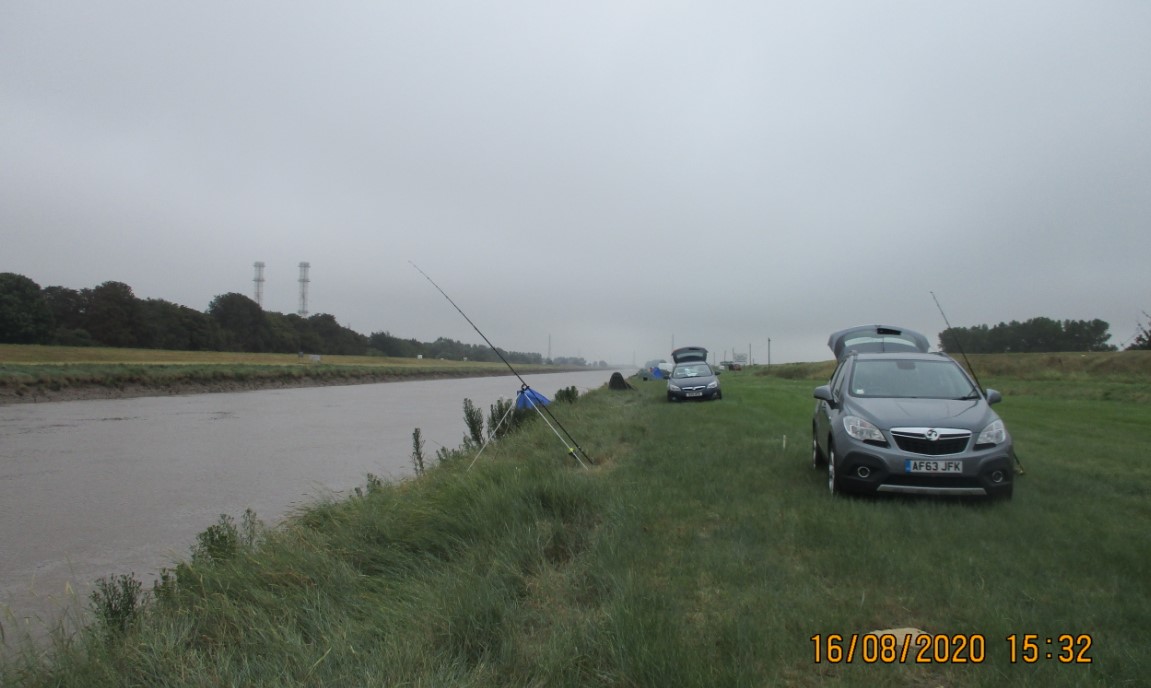 The 4th & Final Round of Holt SAC's 2020 West Norfolk Challenge Series and 6th Leg Club's Summer Accumulator was held on the NENE Estuary at SUTTON BRIDGE on SUNDAY 16TH AUGUST. Venue for this one was on the West Bank just south of the A47 bridge. An earlier 12:30 p.m. start than advertised to try and have more of the bottom before the flood charges through.
The usual good turnout of regulars, including the good clutch of Humberites, a few Suffolkites and others from round the corner, the Norfolk Sand & Shingle brigade, the Cam & Ouse express bunch, including the Heacham flyer who said he would never fish Sutton Bridge again after last match and finally the Purfleet Romanian who is beginning to get a measure of this estuary scene. Most were there nice and early and partaking in some social distancing banter although struggling with the masks. All except Alan "Huey" Doy who text to say he was feeling a bit rough and wouldn't be there. Had picked up cold like symptoms from work and thought it better not to come, just in case. Well done "Huey", hats off to you thinking about the rest of us and has had a test which should be negative as were those from his work.
Pegging for this one was from just before the small outflow pipe south, apologies Adrian for the crap peg next to this pipe and to Henry for placing his peg next to the electric cable that runs across the river. As with the previous round, parking right beside your peg which for some was important given the impending forecast. A forecast that gave some serious dampness throughout the afternoon which was spot on particularly in Norfolk where home base Sheringham was struck by a 30 minute flash flood but we were in Lincolnshire and we missed the most of thoseheavy squalls. The breezy north easterly kept the humidity down but everyone was a bit apprehensive with their carbon rods as the thunder & lightening rolled across.
Next to no dampness at the beginning as everyone soon got into Sutton Bridge mode at the whistle, testing out the rocky bottom in front of them. With such conditions, expectations were particularly high for plenty of Eels in this one as they were there at the last round at Sutton Bridge. This was soon confirmed as the first three pegs in Section A with "Piffy" Randlesome (Peg 6), Bev Self (Peg 7) and Adrian Bordianu (Peg 8) on board had an Eel on their cards within 5 minutes of the start. Not to be out done the star act in Henry Randell in Section B on Peg 20 also had one in the same timeframe but had to go one or should say two better with a triple shot on that first cast. Plenty of Eels to some in the first 2 hours mainly small in the 30-40 cm range with the odd one or two up to 56 cm and good 39 points on the card.
Not to be out done a few Flounders decided to get in on the act with the first a nice 30cm specimen worth 32 points coming to Charlie Needham (Peg 17) after just 10 minutes from the start and a slightly bigger specimen of 32cm worth 40 points to Billy Temple (Peg 15) just 2 minutes later. It wasn't long before the flood started to rip through even though it was a very small tide the river at this venue is so narrow that it funnels the water and speeds it up. Even so the Eels kept coming, mainly small but points on card. Tricky little buggers as once they have the bait they dive into the rocks so the skill is to hook them as soon as they have a sniff of the bait and get them up and away from the bottom.
As the flood started to ease slightly the Flounders were expected to come on big time but not on this day. However, it appears that the Flounders were congregating in the middle of the stretch as George Smith (Peg 13) had 3 up to 29cm, Simon Drayton (Peg 14) had 6 up to 31cm and Billy Temple (Peg 15) had 5 up to 32cm. Just 9 more were caught along the rest of the venue. All being caught before high water which indicates you need a bit of flow to bring them in.
Top of the tide towards the end normally is a good time to find some decent specimens of both Eels and Flounders but not in this one. Unfortunately, slack water brought out the vermin in their hordes as bait, even crab was being stripped within seconds of reaching the water. Both Eels and Flounders disappeared in numbers or were beaten to the bait by the vermin and cards started to remain hardly touched. However, the slackening water did bring in a couple of Bass and a nice one of 38cm to Dave Read (Peg10) and a slightly smaller version to George Smith (Peg 13).
Some were still finding the Eels with Dave Burr (Peg 9) and Henry Randell (Peg 20) finding one with just five minutes left. However, HENRY RANDELL (Peg 20) had already done the business with a total of 16 Eels and 3 Flounders taking the top spot with 5lb 12oz. No real serious fish except a 47cm eel worth 30 points but a steady flow of fish throughout the match helped him keep his card topped up., he just has the knack of how to catch numbers of fish in these rivers. Runner-up on the day was a rejuvenated BEV SELF (Peg 7) who put his Breydon crabs to good use to find a card full of 14 Eels up to 44cm for 5lb 3oz. Slightly better quality Eels than Henry but had nothing in the last 53 minutes. Final podium slot on next peg 8 to Bev was ADRIAN BORDIANU on what he deemed a crap peg next to the pipe out flow with 4lb 10oz again with a full house of 12 Eels up to 51cm.
Heaviest Flat was a 32cm (13 1/3oz) Flounder taken by BILLY TEMPLE (Peg 15). Heaviest Round was the 38cm (1lb 2 1/3oz) Bass taken by DAVE READ (Peg 10). Altogether, 124 fish ( 100 Eels, 22 Flounders and 2 Bass) were recorded weighing 50lb 11oz.
In the Zones, Zone A was taken by the runner-up BEV SELF (Peg 7) with 5lb 3oz from 14 fish followed by ADRIAN BORDIANU (Peg 8) with 4lb 9 2/3oz from 12 fish. Zone B was taken by the winner HENRY RANDELL (Peg 20) with 5lb 12oz from 19 fish followed by MARIAN SPIREA (Peg 16) with 3lb 14 2/3oz from 13 fish.
The 2020 West Norfolk Challenge Champion for the 3rd year in a row with another superb performance was HENRY RANDELL with 3 penalty points and 815 fish points from 43 fish. Runner-up was ADRIAN BORDIANU with 6 penalty points and 653 fish points from 35 fish. Third was SIMON DRAYTON with 7 penalty points and 721 fish points from 28 fish. Also on 7 penalty points but with inferior fish points was DAVE BURR with 682 fish points from 22 fish and GEORGE SMITH with 585 fish points from 21 fish.
In the Pairs competitions the Nominated Pairs winners were HENRY RANDELL & DAVE BURR with 1847 fish points and 80 Fish, next was GEORGE SMITH & SIMON DRAYTON with 1579 fish points and 63 fish, followed by ADRIAN BORDIANU & MARIAN SPIREA with 1242 fish points and 64 fish. In the Mystery Pairs sterling performances in this last match saw ADRIAN BORDINAU & MARIAN SPIREA leapfrog those in front of them to take the competition with 1242 fish points from 64 fish. Although Richards new tactics worked they were not quite good enough to help his partner but did beat him which meant RICHARD HIPPERSON & SIMON DRAYTON slipped to the runners-up slotwith 1184 fish points and 49 Fish followed very closely by HENRY RANDELL & NEIL SMART with 1133 points and 36 fish with Neil having another one of those days.
This has been an incredibly competitive series this year particularly given the constraints of Covid-19. Even so a good turn out of the usual regulars made it even more satisfying to run. For whatever reason sourcing crab was difficult this year and if they had been more readily available we would have had more attending. The Covid-19 rules and procedures we adopted seemed to work well although social distancing was far easier to comply with than wearing a mask but everyone seemed to do their bit, thank-you!
This year we actually managed 4 matches instead of 3 which worked well with just two at Kings Lynn and two at Sutton Bridge instead of one. Kings Lynn did not perform as well as it usually does which questions the continuous use of the West Bank. The new Lighthouse venue at Sutton Bridge created it's own problems but I think we were aware that would happen. Determining the state of the tide to fish was and still is an issue at these venues particularly Kings Lynn. The biggest surprise was the number of Eels this year and the lack of Flounders in particular the quantity of quality fish. In total 379 fish were recorded over the 4 rounds of which 261 were Eels, 104 Flounders, 12 Bass, 1 Sole and 1 Smelt. If we run the series in 2021 there are a lot of variables to address particularly which part of these venues to peg and which part of the tide to fish.
HENRY RANDELL was again the star in this Series and with his 3rd win on the trot means he is entitled to keep the West Norfolk Challenge Cup. However, he says he's got no space on his mantlepiece so is donating it straight back to the club, well done and thanks! One or two of our members struggled this year, blanking next to winners so maybe if we run it next year Henry could give them a bit of tuition on crab presentation as we suspect that is their problem but thanks for sticking at it.
A rather damp presentation at the end although not as bad as in Norfolk as I found out on the way home. All of the winners who were there received their prizes and Henry his trophy. A few pictures are attached of the presentation and I am afraid our choreography is not as good as other clubs many apologies and we struggle with the masks but we are pretty good at social distancing. We'll get it right next time provided it's not raining.
Next Club match, 7th leg John Hardingham Summer Accumulator and Open is back to the shingle for our Annual Charity match in aid of Mundesley Independent Lifeboat at KELLING via Muckleburgh Collection on SUNDAY 6TH SEPTEMBER fishing 10:00 – 3:00 HW 9:28 5.0m. Draw from 8:00 in Muckleburgh Collection Café where breakfasts will be available from 7:00. If you are fishing this match please text Tony on 07780793141. Holt SAC Open match Covid-19 rules and procedures will apply. Match will accrue Sea Angler Penn Points if the league is being run this year … Tony T
Top 10 Individuals (on the day) …
1...Henry Randell……....5lb. 12oz…....(19 Fish) (Peg 20)
2…Bevan Self………….....5lb.3oz………..(14 Fish) (Peg 7)
3...Adrian Bordianu…...4lb 9 2/3oz….(12 Fish) (Peg 8)
4...Marian Spirea ….....3lb.14 2/3oz.(13 Fish) (Peg 16)
5...Richard Hipperson..3lb.6 2/3oz...( 7 Fish) (Peg 24)
6…Dave Burr……………….3lb 5 1/3oz...( 7 Fish) (Peg 9)
7…Simon Drayton.……..3lb.5oz……....( 8 Fish) (Peg 14)
8…Billy Temple…..……….2lb.15oz……..( 6 Fish) (Peg 15)
9...John Carter…….……..2lb.13.2/3oz ( 5 Fish) (Peg 19)
10.Albert Randlesome..2lb.13oz……..( 6 Fish) (Peg 6)
------..------