Holt SAC West Norfolk Challenge Round 4 and 7th Leg Summer Accumulator (Report)
Sunday 4th July 2021 - Sutton Bridge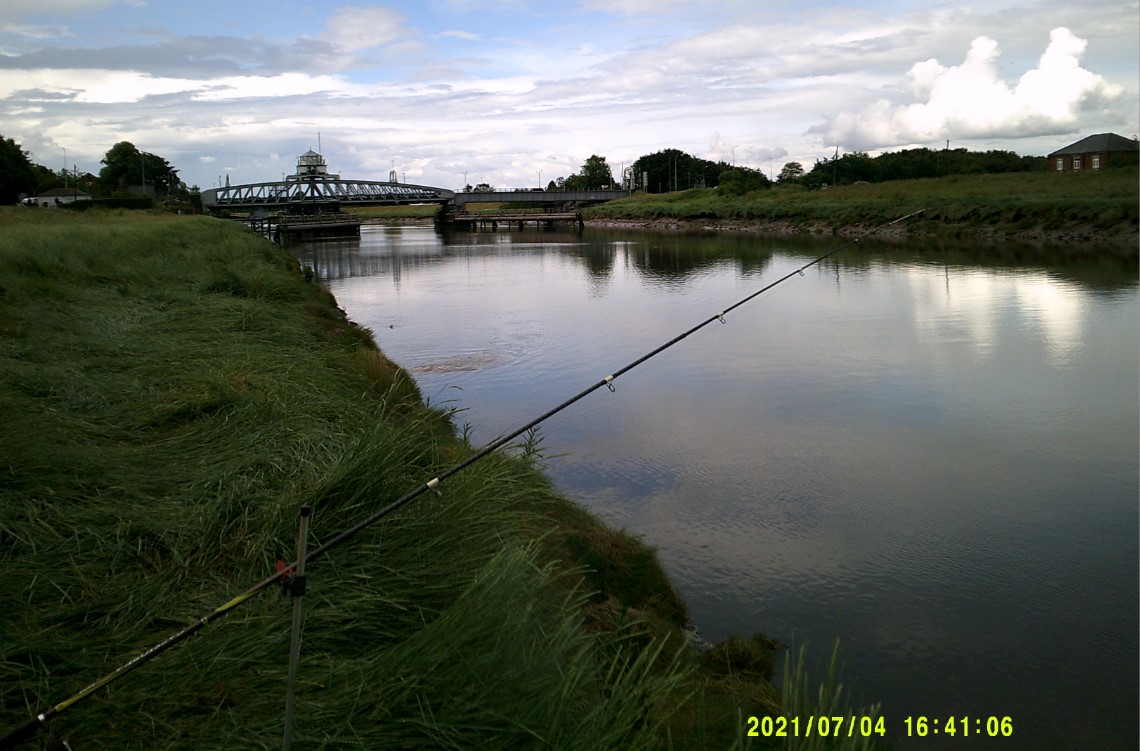 The 4th & Final Round of Holt SAC's 2021 West Norfolk Challenge Series and 7th Leg Club's Summer Accumulator was held on the NENE Estuary at SUTTON BRIDGE on SUNDAY 4th July. Venue for this one was on the West Bank just south of the A47 bridge. A 1:00 p.m. start enabled all to get there in plenty of time after detouring via MacDonalds plus gave time for recovery after the celebrations of the previous evening. Even so, the usual north Suffolk contender "Huey" had already made his mind up that his celebrations were going to be significant and had opted out of this one. With others peeler-less and other contenders with family health issues meant that it was a poor turn out and the lowest of the series.
Even so there was usual good turnout of regulars, including a good clutch of Humberites, a few Suffolkites and others from round the corner along with the Norfolk Sand & Shingle brigade. It was good to see the young Humber Rex again out to show his Dad that he could beat or maybe he was there for the breakfast on the way down. Keep coming Rex as one day you will beat him, just like Henry when we used to take him to the Humber, he used to like his breakfast or two but look what he does to us now, no contest! However, he was not going to do it to us at this one as he was not there because he was one of those peeler-less and he commented "waste of time fishing Sutton Bridge without crab" which also meant no grandad (Billy) for that big Eel.
Forecast for the day was not good with rain, rain and more rain all match. Fortunately, it was nowhere as bad as the first round at Kings Lynn but we did have the odd down pour particularly at the end when after presenting the match monies the heavens really did open up which curtailed the League monies presentation as everyone (nearly everyone) buggered off home, didn't blame them! A light southerly breeze helped to push the showers through and probably helped to keep the biters away.
Pegging for this one was from just after the small outflow pipe south, although need to have a word with the Environment agency for not cutting the grass like on West Bank at Lynn. As with the previous round, parking right beside your peg which for some was important given the impending forecast. The Club Covid-19 rules were in place and although the social distancing was strongly adhered to with 35 of TT's paces (as requested by "Piffy") between the pegs there seemed to be an early relaxation of the 19th July ruling on face masks, has the pandemic really gone away?
Next to no dampness at the beginning as everyone soon got into Sutton Bridge mode at the whistle, testing out the rocky bottom in front of them or casting into the rocky bottom on the other bank. With the flood still picking up and with the small amount of weed and grass in the water it was difficult to hold bottom on the other side or even in mid-stream but many persevered. There was much expectation of plenty of fish even from the maestro Henry especially as he wasn't there. First to record a fish was Dave Burr (Peg 7) at 1:08 with a nice 51cm Eel worth 34 points and then it went quiet for all until George Smith (Peg 10) found a 45cm Eel at 1:30 followed by Mark Taylor (Peg 17) at 1:41 with a 51cm Eel and then Bev Self (Peg 10) with a 43cm Eel at 1:45.
Things started to improve towards the top of the hour with John Carter (Peg 14) finding a 44cm Eel at 1:50, Adrian Bordianu (Peg 5) a 32cm Eel at 1:55 and at the same time Mike Watts (Peg 4) had a double shot of 35cm/37cm Eels. With just 8 Eels in the first hour the prediction of plenty of fish at Sutton Bridge was looking in serious doubt. However, as the tide started to ease the number of Eels started to pick up with "Mr Organiser" getting a double shot of small ones on his usual end peg (Peg 3) at 2:00 with a further 4 up to 54cm during that 2nd hour. Neil Smart (Peg 12) managed to find his customary only fish of the match at 2:00 in a 46cm Eel, come on Smarty you can do better than this.
Some struggled during those first two hours but as slack water came and the ebb began so the Flounders started to show their face and the situation started to change for most as match cards were soon being used. For the final 3 hours the Eels were elusive with just a handful recorded but instead cards were being filled up with Flounders. The sudden appearance of these Flounders certainly improved the fish score on the day. Not a lot of monster specimens although there were a couple of 34cm and a few more over 31cm bringing some good points on to the cards.
MATCH RESULT
At the whistle it was a card full of Eels particularly a couple at 50cm towards the end that gave ADRIAN BORDINAU (Peg 5) victory with 5lb 8oz from 13 fish comprising 12 Eels up to 50cm and a single quality Flounder of 30cm. Runner-up was TONY THOMAS (Peg 3) with 5lb 3oz from 14 fish comprising 6 Eels up to 54cm and in contrast to Adrian 8 Flounders up to 25cm. Final podium slot went to Humber man MARK TAYLOR (Peg 17) with 4lb 4oz from 10 fish comprising 5 Eels up to 51cm and 5 Flounders up to 34cm. Junior winner on the day was REX TAYLOR (Peg 18) and although he could not match his Dad's performance on this occasion recorded 15oz from 2 Eels and a Flounder. Well done Rex!
Heaviest Flat was a 34cm (1lb 0oz) Flounder shared by MATT PERRY (Peg 9) and MATT TAYLOR (Peg 17) both caught on last cast. Heaviest Round was a 63cm (15oz) Eel taken by MIKE WATTS (Peg 4). Altogether, 96 fish (44 Eels, 51 Flounders and 1 Bass) were recorded weighing 42lb 9oz.
In the Zones, Zone A was taken by ADRIAN BORDIANU (Peg 5) with 5lb 7 2/3oz from 13 fish, followed by TONY THOMAS (Peg 3) with 5lb 3oz from 14 fish. Zone B was taken by MARK TAYLOR (Peg 17) with 4lb 4 1/3oz from 10 fish followed by BEV SELF (Peg 11) with 4lb 2oz from 10 fish.
LEAGUE RESULT
The 2021 West Norfolk Challenge Champion for the 4th year in a row and 6 times overall with another superb performance was HENRY RANDELL with 3 penalty points and 934 fish points from 33 fish and he didn't even have to turn up for this final round match. Runner-up was DAVE BURR with 7 penalty points and 582 fish points from 20 fish. Third was GEORGE SMITH with 9 penalty points and 517 fish points from 19 fish. Also on 9 penalty points but with inferior fish points was TONY THOMAS with 458 fish points from 21 fish.
In the Pairs competitions the Nominated Pairs winners without fishing the last match were HENRY RANDELL & BILLY TEMPLE with 1243 fish points and 41 Fish. Next was TONY THOMAS & MIKE WATTS with 1214 fish points and 48 fish, followed by ALBERT RANDLESOME & JOHN CARTER with 819 fish points and 35 fish. In the Mystery Pairs the winners were HENRY RANDELL & BEV SELF with 1385 fish points from 52 fish. Runners-up were GEORGE SMITH & TONY THOMAS with 1094 fish points and 44 Fish followed by JACK TOPPING & ALBERT RANDLESOME with 620 points and 25 fish.
Another competitive series this year particularly given the constraints of Covid-19. A reasonable turn out for all matches and the usual regulars made it even more satisfying to run. As with last year, the sourcing of crab was very difficult which led to a number of the regulars and others unable to make it to some of the rounds. The Covid-19 rules and procedures we adopted again seemed to work well although social distancing was far easier to comply with than wearing a mask but everyone seemed to try and do their bit, thank-you!
This year we again managed 4 matches for the Challenge with 3 at Kings Lynn and 1 at Sutton Bridge. The first round was on the West Bank of the Ouse in atrocious conditions with rain and wind throughout which ruined the fishing for most with 7 failing to register a single fish. For a change we fished over low water which probably did not help particularly with the amount of fresh water coming into the river. Rounds 2 & 3 were for the first time on the East Bank with the first again over low water and the second over high water. Plenty of fish recorded in both these matches with round 2 over low producing an astonishing number of really big Eels with Eels out numbering the Flounders.
Round 3 produced a lot of Eels but not quite the same quality stamp as previous round but the Flounders were a little more prolific. The pattern seemed to be Eels up to High Water and Flounders on the ebb. Round 4 At Sutton Bridge also produced a lot of fish but the Eels were not of the same quality as at Kings Lynn. Likewise, plenty of Flounders but again they were not of the same quality as Kings Lynn although there were more. As at Kings Lynn, the majority of the Eels were recorded up to High Water and Flounders at the start of the ebb. This answers a few of the questions we had after the 2020 Series and I think we now know when to fish these two venues in future.
In total 326 fish were recorded over the 4 rounds of which 204 were Eels, 120 Flounders and 2 Bass.
HENRY RANDELL was again the star in this Series and with his 4th win on the trot means he again is entitled to keep the West Norfolk Challenge Cup. However, he says he's got no space as he needs room for the nursery so is donating it straight back to the club, well done Henry and congratulations Kim and Henry from myself & the Club for your impending new Club member in December. One or two of our members struggled this year particularly in the first match. Maybe we should find out how Henry does it and give him a bit more competition next year.
As mentioned earlier the rain held off for this match presentation but not for all the league stuff so will either get winnings distributed when I see winners or do it next year. Thanks to all who participated for supporting the event and Club, hopefully will be doing it again in 2022 if we have the numbers and we now have a better idea of venues and tides.
In theory, the next Club match will be the postponed Mackerel Bash at Cley. Date will be broadcast as usual and could be a mid-week session. We'll probably wait until more Mackerel become sizable (30cm) to save us catching just for the sake of it.
If that doesn't happen then the next Club match will be 8th leg John Hardingham Summer Accumulator and Open which is back to the shingle for our Annual Charity match in aid of Mundesley Independent Lifeboat at KELLING via Muckleburgh Collection on SUNDAY 5TH SEPTEMBER fishing 9:00 – 2:00 HW 6:20 4.5m. If allowed, draw from 7:00 in Muckleburgh Collection Café where we expect breakfasts will be available. If you are fishing this match please text Tony on 07780793141. Holt SAC Open match Covid-19 rules and procedures will apply. Match will accrue Sea Angler Penn Points. Please stay safe! … Tony T
Top 10 Individuals (on the day) …
1...Adrian Bordianu……5lb. 7 2/3oz…(13 Fish) (Peg 5)
2…Tony Thomas……….5lb.3oz………..(14 Fish) (Peg 3)
3...Mark Taylor……….…4lb 4 1/3oz….(10 Fish) (Peg 17)
4...Bev Self…………..….4lb.2oz……….(10 Fish) (Peg 11)
5...Mike Watts………….3lb.15 1/3oz.( 8 Fish) (Peg 4)
6…Dave Burr……………..3lb 14oz…….( 8 Fish) (Peg 7)
7…Matt Perry……...…….3lb.2 1/3oz…( 5 Fish) (Peg 8 )
8…Albert Randlesome..2lb.13 2/3oz.( 5 Fish) (Peg 15)
9...George Smith...…….2lb.10.1/3oz..( 5 Fish) (Peg 9)
10.David Read…………...2lb.9 1/3oz….( 6 Fish) (Peg 16)
STOP PRESS: In conjunction with SAMF the Club will be running the SAMF Summer Pairs event at Kings Lynn and Sutton Bridge on Saturday 31st July at Lynn and Sunday 1st August at Sutton fishing 10:00 – 3:00 on both days. This will be all bait EXCEPT CRAB as crab is so difficult to get for everyone at this time of year. More details will be on the Club's and SAMF's facebook pages shortly. Apologies for the short notice but we needed the results of the Challenge matches to see if we could run what effectively are WORM only matches which worked well at these venues in the past.
------..------