Holt SAC North Norfolk Bass Festival 2020-21 (Report and Results)
Saturday and Sunday 22nd/23rd May 2021 - Cley-Salthouse-Kelling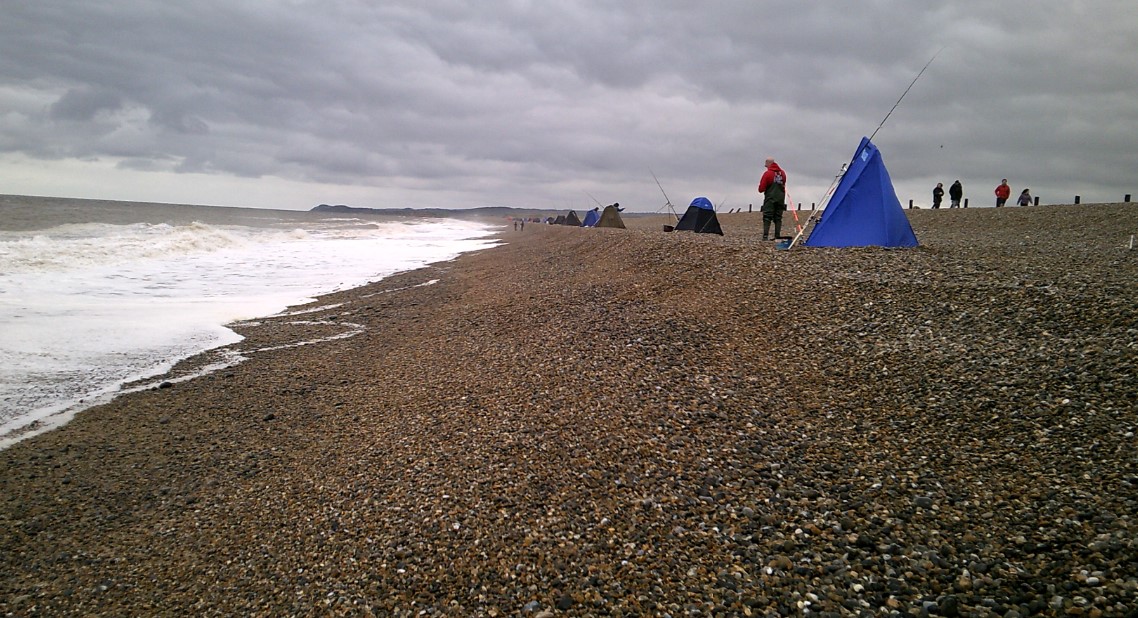 Bass Festival 2020-21 Results ... Bass Festival 2020-21 Full Results
I am pleased to report that Holt SAC ran its delayed and postponed 2020 North Norfolk Bass Festival event on the North Norfolk Shingle Ridge over the weekend of 22nd/23rd May 2021. This was the 8th running of the event and because of the postponement of the 2020 event this was dubbed the 2020-21 competition. The Covid-19 pandemic obviously led to many changes in the way the event was organised and run, in particular the introduction of the online draw and presentation. Holt SAC Covid-19 rule and procedures based on the Angling Trust guidelines were in place throughout the weekend and in the main were adhered to, thanks to everyone for complying!
The Festival was again sponsored by Kelling Heath Holiday Park and supported by Sea Angler magazine. The event this year again also included the UK Ladies Championships sponsored and supported by Tronixpro, the North Norfolk Juniors Tournament sponsored by Holt SAC, and Breakaway and supported by Country Cars and the teams of four competition in the Shannock Quads supported by Sheringham Carnival. Holt SAC would like to thank these organisations for their continued sponsorship and support of this event
Like previous years this again was a highly successful event attracting 126 anglers from around the country including even more high profile match anglers than in previous years and plenty of country Internationals. This created intense competitiveness particularly between the eventual winners of the event over the weekend. In the end there were three anglers who had 2 zone wins over the two days giving all three 2 penalty points so it was down to their total fish weight points to determine their podium positions. From these points it was clear who was third but for the top two it was not as straight forward as just 3 weight points separated them. Both previous winners, who wanted to be the first to have their names on the Shield twice. They both worked hard over the whole weekend to achieve this goal where quality fish and numbers of fish were a priority.
In the end it was Essex's ROB TUCK who was crowned Festival champion with 2 penalty points and a total of 1025 weight points from just 36 fish seriously helped by a 90cm Hound on Day 2 worth 392 points. Runner-up in this battle of previous champions was Worthing's DARREN BOND also with 2 penalty points and a total of 1022 weight points from 74 fish, just 3 points in it! Final podium slot went to Kent's MARK ROGERS again with 2penalty points but with an inferior weight points total of 878 from 66 fish. Although Mark had two reasonable Bass on Day 1, he needed a really serious fish to put him in contention. Well done to all three for their outstanding performances considering the quality of the competition at the event.
Eight Ladies participated in the Ladies competition. Winner of the UK Ladies Championships was a new lady to grace the event in MARALYN WICKS. Her debut produced two day wins giving her 2 penalty points with a total of 325 weight points from 20 fish over the two days. Runner-up was a previous winner, HEATHER LINDFIELD with 5 penalty points and a total of 225 weight points from 22 fish. Final Ladies podium slot went to KAY BROWN with 6 penalty points and a total of 204 weight points from 17 fish. Well done to all the winners and to all the Ladies who took part. The winning lady received a TronixPro rod and runner-up a TronixPro reel plus all ladies received a TronixPro lead bag. Many thanks to TronixPro for their continued sponsorship and support of this event. As well as a monetary pay out the winner also received the TronixPro perpetual shield.
Disappointingly just three juniors participated in the North Norfolk Juniors Tournament which is a shame as this is a rare opportunity for local juniors to showcase their skills. Junior winner was Holt SAC member JACK TOPPING with 3 penalty points and a weight points total of 269 points from 21 fish. Runner-up was MARK BANHAM also with 3 penalty points but with an inferior weight points total of 167 from 10 fish. Final Junior podium place went to BRAYDEN ALDOUS with 6 penalty points with 89 weight points from 7 fish. Each Junior received a Breakaway rig wallet and terminal tackle goodies and Breakaway badge plus monetary contribution from Holt SAC, many thanks Norman Bickers for your continued support of the Juniors. Winning Junior also received the County Car perpetual shield, many thanks to Paul Kendrick and Country Cars for their support.
The four man team event was taken yet again by East Anglian TEAM BREAKAWAY with a total of 3071 weight points from 154 fish. Runners- up were the South Coast contingent THE MAGGOTS with 2662 weight points from 192 fish. Final team podium slot went to the Humber mob in ANYFISH ANYWHERE ASSO with 2385 weight points from 172 fish. The top four teams receive a monetary pay out and the winning team the Sheringham Carnival perpetual shield.
There was also a Mystery Pairs competition over the two days where after Day 1 match anglers in the top half of the results are randomly paired with those in the bottom half of the Day 1 results. Winners of this competition were GARETH GARDINER & BARRY DIAPER with accumulated penalty points score of 17 with a total of 1308 weight points. Runners-up were RICHARD BURT & GRAHAM ADAMS with 19 penalty points and 1406 weight points. Final podium slot went to MATT LAY-FLURRIE & BEN PRICE also with 19 penalty points but inferior weight points score of 1018. Pay out for this competition went down to sixth place which was all monetary.
Over the two days there was a heaviest daily catch pay out which went to ROB TUCK for his 868 weight points (18lb 1oz) total on Day 2 on Peg 77 at Kelling. In addition, there was a pay out for heaviest fish of the event which went to GARETH GARDINER for his 91cm (8lb 8oz) Hound on Day 2 from Peg 1 at Cley. Apart from the monetary pay outs from the entry fees there was a Short Break Holiday donated by the main sponsors of the event, Kelling Heath Holiday Park. This was for the biggest Bass of the event and this year went to that old south coast stalwart TONY ROYALL for his 3lb 5oz Bass on Day 1 from Peg 123 at Kelling.
The above details the results of the main 2 day competitions but in addition to these there were daily competitions for heaviest all fish bag, Bass bag and Flattie bag along with heaviest Bass and heaviest Flat. The bag competitions went down to 4th place and heaviest fish to 3rd place. In addition, there was the daily optional zone pools where pay out was to 3rd place for all 8 zones. Altogether, 120 "envelopes" were handed out, most being done electronically with the total monetary pay out £6,960. Some of the physical Ladies and Juniors prizes to be distributed separately. Breakdown of the whole pay out and event balance sheet can be provided on request with a legitimate reason for the request.
The following reports on the daily events and daily category winners.
The draw for the event was done electronically on line on the Wednesday prior to the weekend. This went reasonably well except for the slowness of Facebook which meant the computer announcement of individual peg assignments stuttered a bit. Each individuals match card both days were placed on their Day 1 peg in a plastic storage bag. Many thanks to Henry Randell for assisting with the pegging, much appreciated Henry, thank-you! Pegging was done on Friday evening prior to Day 1 and over-night there was some continuous heavy rain but thankfully there was no reports of damp cards, the bags did their job!
To add to these concerns pegging was done with a flat sea and light off shore wind which overnight switched to a strong on shore north westerly. This created a 4-5 ft swell, in theory ideal Bass sea but also scoured out junks of the shingle bank. Knowing this was going happen there was some concern that come Saturday morning all the pegs would be drifting down to Cromer and was prepared to nip home and print off 126 new cards for the day. Thankfully, we had placed the pegs high enough up the beach to avoid this happening. Thanks Henry for heeding my advice to place them high up the beach. Our pegging process therefore worked very well.
The HQ for the event was Kelling Heath Holiday Park which was just a few miles from the three match venues. Many of the anglers stayed at this complex over the weekend with others finding local accommodation in the surrounding towns and villages.
The venues were Cley with pegging west from the beach car park (zones A & B), Salthouse west from the end of beach road (zones C & D) and Kelling from 100 metres west of Weybourne wreck to way past where the block box used to be at Kelling on to Kelling Hard (zones E, F, G & H). Peg spacing was 20m and Close pegs were allocated in zone B at Cley & H at Kelling for those with difficulty walking on shingle with no such pegs at Salthouse.
Two weeks prior to the event the East Anglian Sea League fish a round of their league at Kelling on a similar tide and the Hounds were prolific plus there was one serious Bass so expectations were high of some quality fish over the weekend. Hopes were dashed slightly by flat calm seas in the week leading up to the event which would dampen the prospect of Bass but could encourage Hounds to come in and feed. There was of course the reliable Dabs that were always there to avoid blank cards.
Match times on both days was 5 hours from 9:00 a.m. with Low Water an hour and 2 hours after the start on respective days Small 4.1m and 4.3m tides are not particularly good but that match 2 weeks previous produced plenty of fish, we were hoping for a repeat.
DAY 1 weather was as predicted thankfully dry after some overnight relentless atrocious rain. Winds had switched from a light off shore to a strong north westerly giving a 4-5ft swell rolling in and a good lump on the sea. A good swell rolling in which should have enticed the Bass to feed but grey sludge was in the water and they just don't like that at all so there was no repeat of numbers of BASS of previous years. Likewise the Dogs and Hounds all hunkered down and there were just 3 and 2 of them respectively from all venues.
However, there were the usual raft of the loyal Dabs across all venues along with a few Flounders but they were more sporadic and mainly concentrated at Cley. The surprise species was the Whiting which were there in reasonable numbers, a bit spent as you would expect but they should have gone by now.
Cley Zones A & B produced 37 Flounders with both Colin Crosby (peg 2) and Billy Johnson (peg 5) finding a 37cm specimen. 106 Dabs were recorded along with 80 Whiting, 14 Bass, 2 Rockling and 1 Coal fish making up the 220 fish recorded at Cley. Zone A was taken by JOE WALES (Peg 4) with 9lb 5oz from 15 fish comprising 3 Bass up to 48cm, 3 Flounders, 3 Whiting and 6 Dabs. Zone B was by MARK ROGERS (Peg 21) with 7lb 13oz from 20 fish comprising of 2 Bass up to 47cm, 1 Flounder, 9 Whiting and 8 Dabs.
Salthouse Zones C & D did not produce any really serious fish with the biggest being a 49cm Bass to GEORGE SMITH (Peg 55). Just 183 fish were recorded comprising 7 Bass, 12 Flounders, 108 Whiting, 41 Dabs, 1 Hound, 1 Dog, 10 Pout and 3 Eels. Zone C was taken by ROB TUCK (Peg 42) with 3lb 4oz from 13 fish comprising 2 Flounders, 6 Whiting, 3 Dabs, 1 Pout and 1 Eel. Zone D was won by DARREN BOND (Peg 63) with 9lb 2oz from 20 fish comprising of 2 Bass up to 47cm, 1 Flounder, 9 Whiting, 6 Dabs, 1 Dog and 1 Eel.
Kelling Zones E & F were located either side of the now non-existent block house on Kelling Hard with a similar pattern of fish to the other two zones at Kelling. No real serious fish here with largest being a 49cm Bass to ALAN DOY (Peg 95). Altogether just 169 fish were recorded in these 2 Zones comprising 6 Bass, 8 Flounders, 97 Whiting, 50 Dabs, 6 Pout, 1 Coal fish and 1 Eel. Zone E was taken by SHANE RUSSELL (Peg 72) with 4lb 1oz from 10 fish comprising a 48cm Bass, 5 Whiting, 3 Dabs and a Pout. Zone F was won by RALF CROSBY (Peg 86) with 3lb 13oz from 7 fish comprising a 45cm Bass, 1 Flounder and 5 Whiting.
Kelling Zones G & H were in front of the radar and west of the wreck and was the best stretch at Kelling on the day. Tony Royall (Peg 123) found a serious Bass of 55cm worth 158 points (3lb 5oz) and the biggest Bass of the Festival and close behind was Liam Roper (Peg 107) with a 51cm Bass worth 129 points (2lb 11oz). 209 fish were recorded comprising of 7 Bass, 6 Flounders, 104 Whiting, 79 Dabs, 1 Hound, 2 Dogs, 9 Pout and a Rockling. Zone G was taken by DAVE FALK (Peg 99) with 4lb 11oz from 19 fish comprising of 16 Whiting and 3 Dabs. Zone H was won by TONY ROYALL (Peg 123) with 7lb 0oz seriously helped by that big Bass from 16 fish comprising 1 Bass, 1 Flounder, 2 Whiting and 12 Dabs.
Altogether 801 fish (389 Whiting, 276 Dabs, 63 Flounders, 34 Bass, 25 Pout, 3 Dogs, 4 Eels, 3 Rockling, 2 Hounds and 2 Coalie) were recorded weighing just 16lb 11oz which is a huge contrast to the 2019 Day 1 total of 500lb.
OtherWinners on the day were …
ALL FISH ……………………9lb 5oz …Joe Wales (Peg A4).
BASS ONLY ………………..4lb 8oz ….Joe Wales (Peg A4)
FLATTIE ONLY…..………..4lb 7oz ….Colin Crosby (Peg A2)
HEAVIEST BASS …………3lb 5oz ….Tony Royall (Peg H123)
HEAVIEST FLAT FISH …1lb 4oz …..Colin Crosby (Peg A2)
(Flounder)..……………………………….....Billy Johnson (Peg A5)
TOP LADY …………………..1lb 4oz ……Maralyn Wicks (Peg G112)
TOP JUNIOR ……………...2lb 13oz ….Jack Topping (Peg A13)
TOP TEAM ………………...18lb 1oz ……Team Breakaway
On the day it appears that venue CLEY performed the best with numbers and quality of the fish but it was pretty even overall
DAY 2 saw the wind drop and change direction to more off shore which helped to flatten off the swell and less of a lump close in. This helped to improve the number of fish recorded which was more than double the number the previous day. Such a change of conditions at these venues does help to bring the fish closer inshore particularly the flat fish and this was definitely the case.
Cley Zones A & B produced 62 Flounders, 10 of more than 30cm with Ralf Crosby (peg 13) finding a nice 36cm specimen but not quite as big as his brother Colin's 38cm fish in the same zone the previous day. Some quality Round fish also came out of these zones in particular a nice 91cm (8lb 8oz) Hound to Gareth Gardiner (Peg 1), a 73cm Dog to Dave Shorthouse (Peg 12) and a 49 cm Bass to Gary Wood (Peg 31). A total of 714 fish were recorded just slightly less than the whole of Day 1 match comprising 8 Bass, 62 Flounders, 209 Whiting, 401 Dabs, 4 Hounds, 26 Dogs, 3 Pout and 1 Sole.
Zone A was easily taken by GARETH GARDINER (Peg 1) with 15lb 11oz from 23 fish seriously helped by big Hound along with 1 Bass, 2 Flounders, 4 Whiting, 13 Dabs and 2 Dogs. Zone B was won by GRAHAM ADAMS (Peg 20) with 12lb 12oz from 36 fish comprising of 11 Whiting, 23 Dabs and 2 Dogs.
Salthouse Zones C & D improved in numbers of fish to the same extent as the other venues. Plenty of Dogs in the 61/62cm range and the most on the day compared to other venues. Again, like previous day no real serious fish with just 1 Hound and 1 Bass being recorded. A total of 364 fish were caught comprising of 1 Bass, 21 Flounders, 155 Whiting, 140 Dabs, 1 Hound, 35 Dogs, 1 Rockling, 1 Sole and 1 Eel. Zone C was taken by BEN PRICE (Peg 41) with `10lb 7oz from 20 fish comprising 7 Whiting, 9 Dabs and 4 Dogs. Zone D was won by STEPHEN ADAMS (Peg 51) with 11lb 10oz from 16 fish comprising 4 Whiting, 3 Flounders, 3 Dabs, 5 Dogs and a Rockling.
Kelling Zones E & F located around where the old block house used to be produced a lot more fish than Day 1 which included a few more serious fish. In particular a 90cm (8lb 3oz) Hound to Rob Tuck (Peg 77), a number of Dogs up to 62cm and a couple of 38cm (1lb 1oz) flounders to Sam Cooper (Peg 65) and Rob Tuck (Peg 77). Altogether 566 fish were recorded in these zones comprising 1 Bass, 36 Flounders, 111 Whiting, 396 Dabs, 2 Hounds, 11 Dogs, 8 Pout and 1 Coal Fish.
Zone E was easily taken by ROB TUCK (Peg 77) with 18lb 1oz from 23 fish seriously helped by that big Hound along with 2 Flounders, 6 Whiting, 12 Dabs and 2 Dogs. Zone F was won by BILL LINDFIELD (Peg 95) with 10lb 0oz from 37 fish comprising of 2 Flounders, 9 Whiting, 24 Dabs, 1 Dog and 1 Coal Fish.
Kelling Zones G & H again like previous years outperformed all other zones for numbers of fish but there was not one serious fish amongst them. Being close to the wreck you would expect something big, in fact the largest fish was a 31cm (12oz) Sole to George Smith (end peg 128). The majority of fish being Dabs followed by Whiting and altogether 794 fish were recorded comprising 5 Flounders, 172 Whiting, 600 Dabs, 16 Pout and 1 Sole.
Zone G was taken by MARK ROGERS (Peg 99) with 10lb 8oz from 46 fish comprising of 2 Whiting, 41 Dabs and 3 Pouts. Zone H was won by DARREN BOND (Peg 127) with 12lb 2oz from 54 fish comprising 11 Whiting, 40 Dabs and 3 Pout.
Altogether 2438 fish (1537 Dabs, 647 Whiting, 124 Flounders, 72 Dogs, 35 Pout, 10 Bass, 7 Hounds, 3 Sole, 1 Rockling, 1 Coal Fish and 1 Eel) were recorded on Day2 weighing 703lb 3oz.
Winners on the day were …
ALL FISH ………………..18lb 1oz ….Rob Tuck (Peg E77)
BASS ONLY ……………...3lb 5oz …..Mark Taylor (Peg A8)
FLATTIE ONLY…..……....9lb 3oz …..Mark Rogers (Peg G99)
HEAVIEST BASS ……….2lb 9oz …..Kenny McCoy (Peg F81)
HEAVIEST FLAT FISH ..1lb 5oz …..Sam Cooper (Peg E65)
Flounder………………….....1lb 5oz……Rob Tuck (Peg E77)
TOP LADY ……………….....5lb 8oz ….Maralyn Wicks (Peg B26)
TOP JUNIOR ……………....3lb 2oz ….Mark Banham (Peg A11)
TOP TEAM ………………...45lb 15oz ..Team Breakaway
Over the two days there was a total of 3239 fish recorded comprising 1813 Dabs, 1036 Whiting, 187 Flounders, 75 Dogs, 60 Pout, 44 Bass, 9 Hounds, 4 Rockling, 3 Sole, 3 Coal Fish and 5 Eels)
Another cracking Bass Festival with plenty of competitive competition. Lots of fish but mainly small with probably the lowest number of Bass of 44 recorded since the Festival began. Unfortunately, the usual supporting Hounds did not play ball but the Dogs did try to make amends but they are not really of the equivalent weight. The weather particularly the swell played its part in number of flat fish on the day with Day 1 numbers way down on Day 2.
Many thanks to Kelling Heath for their support and sponsoring of the event and to the other organisations for their sponsorship and support, Breakaway, Holt SAC, Sea Angler Magazine and TronixPro. Many thanks to Holt SAC members who helped to run the event and to all the participants without whom this all would not happen. A lot of new top match anglers this year let's hope you return for the challenge next year and hope we can attract a few more.
Unfortunately, the weekend was marred by Kelling Heath issues created by anglers who were staying at the complex. These have been described in a separate post but can be broken down into two issues relating to disruption to a family's short break stay and speeding at the complex.
The family issue was about a family staying in a lodge situated amongst our anglers' lodges. During the weekend there were gatherings at these lodges particularly Saturday night which were noisey and disruptive to the family. Apparently, a request by the family to reduce the noise and tone down the language went unheeded. The result of this was that the family complained and checked out Sunday morning whereby Kelling Heath had to refund the family for their break and give a discount for a future break at the complex.
The complex has a 10 mph limit because of the number of children rushing about and with a long run in, it was so easy to exceed this limit. However, some anglers were seriously exceeding this limit and were caught by the Security Guard and challenged for this action. I am aware of one popular angler who was caught, admitted speeding and apologised. However, there was another who was caught and simply told the Security Guard to f*** off which is not exactly an appropriate response to someone doing their job.
Noise and disruption are all subjective and probably our (anglers) level of this is not compatible with other members of the general public. However, the bottom line is that Kelling Heath had to pay compensation for our actions. The speeding abuse has undermined the respect that Kelling Heath now has for our angling community. We have been working with Kelling Heath for more than 10 years with no previous problems and these issues have seriously affected our relationship with Kelling Heath. To an extent that the 2022 Bass Festival is now in doubt unless we can recover the situation.
Those persons who created these issues know who they. It therefore wouldn't be amiss for them to send an email apology to Kelling Heath, contact details Sophie Cross sophie.cross@kellingheath.co.uk. If an apology is not forthcoming and my investigations independently identifies the persons who booked the lodge and made the speeding abuse then these persons will be banned from any future running of the event.
I do not want to take such action but to avoid a repetition of this situation then this has to be done. I will do whatever I can to avoid cancellation of the 2022 event, which could mean using other fishing venues or looking for another HQ all of which is dependent on those creating the situations owning up to their actions. Provisional dates for the potential 2022 Bass Festival have been discussed but I do not want to advertise them until all these matters have been resolved.
Apologies for the delay in preparing this report but the above has overshadowed all that I have done and requires some thought into way forward. Sorry to end on such a dim note after a cracking weekend.
On a brighter side Sea Angler's editor Cliff Brown had despatched a photographer (Paul Fenech) to report event on Day 2 and I believe was able to get a picture of Gareth's Smooth hound and this along with a short event report may appear in the next issue of Sea Angler, thanks Cliff!
Included in the full set of results is a breakdown of all the winnings to each angler in the frame. The majority of this distributed via Bank Transfer with one by cheque and Saul Page's winnings were donated to Mundesley Independent Lifeboat which will be presented at the Club's Charity match in aid of the lifeboat in early September, many thanks Saul.
Holt SAC is keen to support SAMF and ran the event as a qualifier for the SAMF Ian Golds UK Masters 2022 or 2023 if already qualified. A full list of those who qualified is in the full set of match results
Tony T
Holt SAC Chairman
-------------------------